Best Lumbar Support Cushion For Office Chairs | Home Office HQ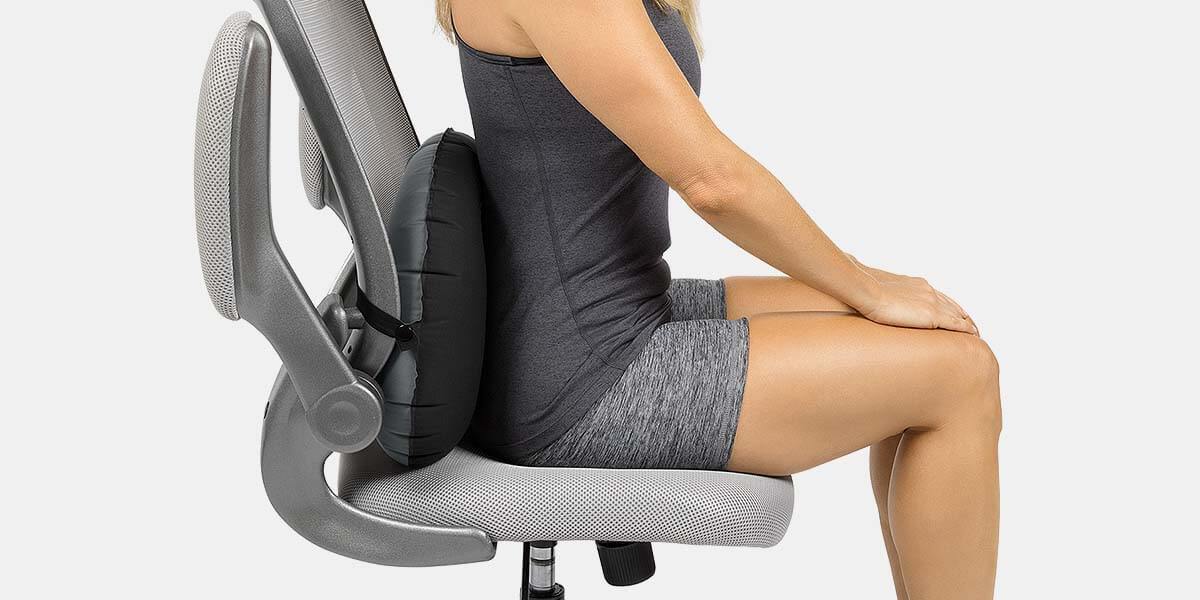 Finding the best lumbar support cushion for office chairs can help ease discomfort and back pain. I should know. After all, I still remember one of the first times my back "went out," it was right after I had my second child. Grace was just a few weeks old, and I remember crawling over to care for her where she lay on a blanket on the floor. I was in excruciating pain, and just picking her up into my lap took all the force of will I had. I was exhausted, and I hurt terribly. It was a very difficult time.
Currently, Grace is a beautiful 15-year-old teenager, but even after 15 years, I still remember the agony of that back pain (while surprisingly I don't remember the pain of childbirth.) Back pain is no joke, and if you are a chronic sufferer, you understand how an ounce of prevention is worth its weight in gold.
If you currently are suffering from back pain, or if you have ever suffered before, keep reading. In this article, you will learn the causes of back pain and the types of lumbar support systems available to help. You will also learn how to keep your back from hurting and how to maintain a healthy back. Along with of this useful information, you will also learn about the latest and greatest back support products available on Amazon. Learn how to alleviate your back pain for between $20-30.  Here is a quick guide to our top choices for lumbar support cushions:
Causes of back pain 
According to the Mayo Clinic, there are five leading causes of back pain.
Repeated heavy lifting or a sudden awkward movement can cause a muscle or ligament strain. When my back goes out, I usually tell people that my ligament strain was from rock climbing, even though most of the time it's from getting up from a nap on the couch.
Another cause of back pain is bulging or ruptured disks. There are soft disks between the vertebrae in your spine. This soft material can protrude or rupture and press on a nerve. Obviously, this causes pain. Sometimes this requires surgery and may be the result of degenerative disk disease.
Osteoarthritis is arthritis of the lower back. You can also get arthritis of the spine, which is especially debilitating.
Scoliosis is a condition in which your spine curves to the side. This and other skeletal irregularities cause back pain. Each year of grade school, the school nurse would call us into her office and have us stand with our backs to her while we leaned down to touch our toes. She was checking for scoliosis.
Common in older women, osteoporosis occurs when your bones become porous and brittle. This is another cause of back pain and can be tested for and prevented with calcium and Vitamin D supplements.
Back pain prevention
We know back pain is debilitating and painful. So how do we keep it from happening to us? One way to ensure a healthy back is to use proper body mechanics. In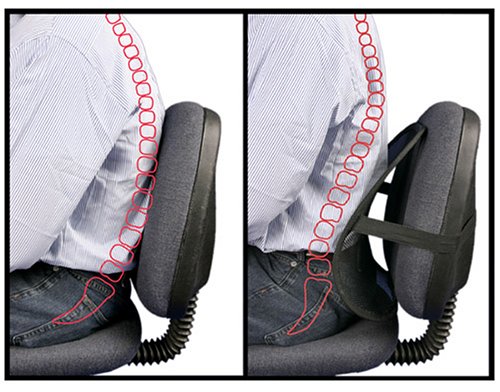 other words, move your body correctly!
We need to remember to lift smart. If you have to lift something heavy, keep your back straight and let your legs do the work. Don't twist your body and remember to hold your load close to your trunk. Avoid jerking motions and try to lift smoothly from the legs.
Related: Best Home Office Chair
We need to stand smart. We need to maintain good posture, with your shoulders back. If you have to stand for long periods of time, try placing one foot on a low stool. Just pretend you are George Washington crossing the Delaware in that famous painting.
And finally, we need to learn how to sit smart. (You never thought you would be reading an article about "how to sit," did you?) According to the Mayo Clinic, your chair should have good lower back support. Keep your knees and hips level and make sure your chair has armrests and a swivel base. If you don't have a chair with good lower back support, you are reading the right article for you. Read on to discover the best lumbar support Amazon has to offer.
Risk factors for back problems
Do you enjoy good back health and think that lumbar support is just for "old people?" Consider the following risk factors. Just because you do not suffer from back issues today, doesn't mean you won't at some point in your life. Risk factors include a lack of exercise and excess weight. Some diseases, such as arthritis or cancer can contribute to back pain.  Those suffering from depression or anxiety have a higher risk of back pain than those who don't have those conditions. Oddly enough, smoking also can contribute to back pain. Smoking keeps your body from delivering enough nutrients to the disks in your back. Your back may feel fine now, but are you a ticking time bomb?
Types of lumbar support systems
Americans spend millions of dollars each year on back-pain products, billions if you count the costs including surgeries. Sufferers turn to stinky creams and balms and addictive painkillers. Millions visit chiropractors, physical therapists, and doctors to get some relief for chronic pain. Some try acupuncture. Others get massages. There are stores specializing in products for the back. You can spend a lot of money on back-friendly office chairs, mattresses, and zero-gravity chairs. Let's not forget about the shoe insert industry.
If you suffer from back pain, consider trying a lumbar support system before you head to the doctor. Lumbar support systems are much more economical than any other method to alleviate pain. Lumbar supports can be inflatable, but the modern styles usually are made from memory foam. Read on to find out about some of the best sellers on Amazon.
Ranking and Reviewing the Best Lumbar Support Cushion for Office Chairs
 Are you all sitting up a little straighter now? Are your shoulders back? Mine are as I am typing this. But I know that as I continue working my shoulders are going to inch forward, and I will begin to slouch. This is why you (and I) need to purchase good support products for our back.
I have researched for you on the best lumbar supports Amazon has on the market. I will be discussing seven products. Find out how much these products are on Amazon. Compare the sizes and features. I will also give you a snapshot of the best and worst things real life customers have to say about these products. This way you can make an informed decision before clicking that orange "buy now" button we all have come to love.
About the product/price
Manufactured by Soft&Care, this product is sold as a set. It comes with a seat cushion, which supports the coccyx (tailbone), and a cushion to support the lower back. Both cushions are sold as a set on Amazon for $37.61. It can be purchased through Amazon Prime.
Product features
The SOFTaCARE has a non-slip bottom to grip the surface of your chair. It has a built-in handle to make it easier to transport. The seat cover can be taken off to wash. It was designed with an awkwardly-placed pocket on the side of the back cushion to store your cell phone. (One reviewer said the pocket was about half the width of his cell phone.) There are two adjustable straps to hold the product in place. These straps are only on the back support cushion because the bottom cushion has a non-slip surface that grips the chair.
Materials
This product is made from memory foam. The lumbar cushion is made of breathable dark gray mesh to keep you from getting too hot.
Measurements
SOFTaCARE's back support pillow is 13" x 12 ½" x 4". The coccyx cushion is 18" x 4" x 3".
Both cushions weight 2.4 pounds. There is a cutout in the groin/coccyx area for pressure relief.
Recommended uses
The product listing says this product can be used for any hard sitting surface. Specifically, try this cushion on the chair in your office, your car seat, your desk chair at home, and the airplane seat while you travel. Some users report using the bottom cushion in the driver's seat to help elevate them into the correct driving position. This may be helpful for some of you vertically-challenged individuals.
Product Warranty
Soft&Care has a 30-day, 100% money-back guarantee.
Positive notes
There are mostly positive reviews of this product. People with chronic back pain report relief after use. Others purchased this product having experienced no back pain, but then realized after using the product that the pressure on their lower back was relieved. Perhaps you'll find you need less pain medication every day because of this cushion. Similar products can cost nearly double at a brick and mortar store. Several reviews mentioned positive experiences with the customer service department.
Related: Best Office Chair for Back Support
Negative notes
Most of the negative reviews concern the bottom cushion. Almost all complain that the cushion flattens over time, rendering it completely useless. Several users complain that the bottom cushion is so small that medium-sized people are spilling out over the cushion. If you prefer the back of the cushion is higher than the front, which would enable your hips to placed more elevated than your knees, this might not be the best option for you. Also, the straps are too short to go around larger car seats.
Other notes
This cushion is large enough for plus-sized users. The cushions are only sold as pairs on Amazon; you are unable to purchase each cushion individually. Amazon recommended that customers who bought the SOFTaCare system also might enjoy a footrest cushion for under the desk. Sometimes elevating your feet just a few inches will also alleviate pressure on your back while sitting. The product often purchased together with the SOFTaCARE system was not made by the same company, but it is still a good idea for those sufferers who can't find relief with just a traditional cushion.
---
About the product/price
Manufactured by Fortem, this product is sold as a set. As with the previous product, it features a seat cushion and lumbar cushion. Both cushions are sold as a set on Amazon for $39.99. It can be purchased through Amazon Prime.
Product features
The Fortem lumbar cushion set has a strap to hold the product in place. Users can carry the seat cushion with the attached carrying handle. Also, like the previous competitor, the bottom of the seat cushion has a non-skid base which holds the product in place. Both cushions covers can be removed for washing.
Related: Best Office Chair Under $500
Materials
This product is made from memory foam. The cover is made of a 3D ventilated mesh, which wicks away sweat and moisture, keeping the person sitting nice and fresh. The cover feels as if it is made of velour. It comes in black.
Measurements
The only measurements I could find on the Amazon listing were 17.5" x 13.5" x 3". It is unclear if this is the measurement of both cushions together or the size of the box it comes in when delivered. Both cushions weigh 1.5 pounds. There is a cutout in the groin/coccyx area for pressure relief.
Recommended uses
This product was designed to alleviate pain associated with lower back issues. It prevents pressure on your coccyx, spine, hips, and thighs. The company says that people with specific conditions will find relief by using this product. Conditions include herniated discs, tailbone injuries, sciatica nerve damage, a sore back, and inflamed hemorrhoids. Those who are pregnant or are in a wheelchair will also enjoy this product.
The company says this is the perfect travel companion and will fit in most cars, SUVs, vans, and trucks. The cushions are also compatible with office chairs, gaming chairs, rocking chairs, wheelchairs, recliners, armchairs, and sofas. Customers report using the product on airline, train, and bus seats. An Amazon customer asked if the product could be used on his motorcycle. Hopefully, he was kidding.
This product can also be used as an adult booster seat when driving. Several of these products can be used for this purpose. Some people may not have ever suffered any back issues, but they just need a lift to see over the steering wheel.
Warranty
Fortum has a one-year warranty, and a 100% satisfaction guarantee.
Positive notes
Most of the positive reviews come from users who use the product while traveling. Some have had back problems in the past and received comfort from sitting in a more comfortable position. Others use it as a booster seat for driving. Several positive reviews give a shout out to the Fortum customer service department. Someone wrote a complaint about the cushion's strap on his Amazon review, and later the customer service department contacted him and sent him a replacement product. We've heard that the Fortum product has helped some people with sciatica pain.
Negative notes
Like the first product, most of the negatives relate to the bottom cushion. Largely, because the cushion flattens over time. The material on the bottom of the seat cushion flecks off and sticks to the leather of some car seats. A few users complained about the chemical smell of the product.
Other notes
The product arrives in a vacuum-sealed package. It may take several hours to acclimate and plump up to full size.
---
About the product/price
U-Are Products LLC manufactures this product. It comes with a cool gel memory foam seat cushion and lumbar support. It comes with a rain cover and is listed as a three-piece set, which seems a little cheesy since one of the pieces is a rain cover. The set sells on Amazon for $39.99. It can be purchased through Amazon Prime.
Product Features
The Cool Gel Memory Foam product boasts memory foam support with a heat disbursement gel top. It has a slip-resistant base and a handle to carry the product. The rainproof cover converts your indoor cushion to an outdoor sporting event cushion. Ok, that is pretty cool. It comes in a zipper bag that can act as a travel case.  
Materials
This product is made with memory foam that is embedded with a heat disbursement gel. It has a breathable mesh material covering the seat. A customer comment mentioned that the cushion covers are removable and washable, but the product listing did not confirm this. Customers also recommended that the cover is air dried to maintain the size and shape of the cover.
Measurements
The product listing for the Cool Gel Memory Foam set does not have the measurements, but a customer reported that the back cushion is 12" high and 13" wide. Another customer reported that the bottom cushion measures 17.5" x 13.5". The product dimensions for both cushions are listed at 19.6" x 16.1" x 6.6". The item weighs 3.05 pounds.
Recommended uses
The Cool Gel Memory Foam cushion set's main product listing says that this is recommended for an office chair, but it can also be used for an outdoor cushion during sporting events after equipping it with its waterproof cover. The Cool Gel Memory Foam cushion set can also be used in your car, kitchen chairs, wheelchairs, airplane seats, and truck seats.
Related: Best Executive Office Chair
The company promises pain relief from aching backs, hips, and herniated discs. They also say that those with pregnancy back pain, tailbone injuries and hemorrhoids will find comfort while using this product.
Plus, it can be used as a booster seat to reach the steering wheel.
Warranty
The Cool Gel Memory Foam cushion set has a 100% money-back guarantee.
Positive notes
Most things about this product are positive, and it is commonly used for commuting. It can help with sciatica and lower back pain, perhaps even preventing the need for things like a Lidoderm patch. It also makes an inexpensive alternative to replacing a costly desk chair. 
Negative notes
Like the other sets reviewed in this piece, the bottom cushion tends to flatten too quickly. Also, the straps are a little short and it may require some readjusting to hit the sweet spot. It might work better for office chairs as opposed to your car chair.
Other notes
If you are satisfied with this product and wish to purchase another for a family member or friend, watch for an email from the company. The customer service department will give you a discount code to use on your next purchase. That's a great deal since many people report having to purchase several sets.
The company compares using this product as to sitting on a cloud. I'm not sure about that, but it creates a lovely image in your mind.
You may need to remove the cushion from your car during periods of extreme heat and extreme cold. Apparently, after sitting in both conditions, the gel absorbs the environmental conditions and makes the product uncomfortable until it acclimates to the temperature of the running car. Yikes! It gets very cold where I live. I can't imagine jumping in my already cold car to find myself sitting on an ice block.
The cooling gel in the pillow is particularly helpful for warm offices. If your office tends to run a bit chilly, this might not be the right product for you. If you already have a sweater on the back of your chair, and another sweater as a back-up, this product may not be the right one for you.
---
About the product/price
This product is exactly as the name implies. It is a lumbar pillow designed to provide back support while sitting. It does not come in a set with an accompanying seat cushion. The list price on Amazon is $34.90. It can be purchased through Amazon Prime. 
Product Features
The Lumbar Pillow RS1 has adjustable and removable straps. Note: this is the first product reviewed that mentions that the straps are removable. The cover keeps the air circulating and is removable and machine washable. The lumbar pillow is ergonomically designed to match the alignment of your lower back. I'm not sure why this product is labeled RS1. Does that mean there will be a RS2? Inquiring minds want to know.
Materials
This product is made from memory foam. The product is covered with a 3D cotton cover.
Measurements
The Lumbar Pillow is 16.5" x 4" x 8.3". It weighs 15.2 ounces.
Recommended uses
According to reviews, what makes this pillow different than the competition is the size. It is smaller than other pillows and supports the lower back while sitting. It fills in the gap between the lower back and the back of the chair. Most people describe using it as a travel pillow.
Warranty
The Lumbar Pillow has a 100% money-back guarantee.
Positive notes
This product is soft but firm at the same time and is commonly used as a travel pillow. Some people are happy with the small size, but others may find it too small. Several customers claimed this was one of the best products they have ever purchased. That's high praise indeed!
Negative notes
No product is perfect. Some people may find this pillow to soft, while others think it is too firm. In addition, it may be too small for some and too big for others—you can't win them all. This may be one of those examples of a product that is best used for a specific body shape. Body shapes and sizes vary so much that mass-producing a product that fits every type would be near impossible. Unless you make leggings and one size really does fit all, right?
Related: Best Office Chair Under $100
Other notes
This product is the only one reviewed so far that comes in a variety of colors. Customers can choose between black, tan, and gray. Wow, what a fantastic color palette! This product is suitable for individuals with short torsos, or should I say "vertically-challenged torsos."
---
About the product/price
The Desk Jockey is a family-owned and operated small business out of Central Florida. Their product is a lower back lumbar support cushion. It claims to eliminate back pain by keeping your head, shoulders, and hips in alignment. It can be purchased through Amazon for $23.99 and can be purchased through Amazon Prime.
Product features
The Desk Jockey includes a breathable, removable, and machine-washable cover. It also includes an extension strap. This longer strap may be needed to make sure the product reaches around all car seats. The product has a built-in handle and comes with a storage and travel bag.
Materials
This product is made from "therapeutic-grade" memory foam. The cover is described as "velvety," but no product type is mentioned.
Measurements
The pillow is 14" x 13" x 4". It weighs 2 pounds.
Recommended uses
The product says it reduces pain while sitting. It is described as best used for long car rides and while sitting at work. The company says to use their product "anywhere you sit."
Warranty
The Desk Jockey has a 100% money-back guarantee.
Positive notes
This product offers a lot of positives, like the ability to drive long distances without suffering from back pain. It is often described as being soft but firm. Many people use a lumbar support cushion instead of purchasing an expensive office chair. In fact, it can even improve a very expensive office chair. One person bought this item for her mother who had nine fractured vertebrae (ouch!). She said this product was essential to her recovery. One of the main selling points on the product's website is the absence of a smell on their product.
Related: Best Ergonomic Office Chair
Negative notes
Most of the drawbacks for the Desk Jockey concern the strap system. The strap does not always work correctly. Also, it does flatten out over time with repeat use. In general, this is a widespread complaint about memory foam cushions. There are also the same old complaints about products such as these that the cushion is too small or too big.
Other notes
This pillow, the Desk Jockey, was designed in conjunction with a physical therapist. The company was founded by a man who suffered body pain after sitting long hours at a desk. The company describes this pillow as "your new best friend." Since this product is a stand-alone backrest, customers also purchase a wedge system in conjunction with this product. The wedge system can be used in a car to elevate your hip's height. Sometimes keeping your hips above your knees alleviates pressure on your back and makes it more comfortable.
---
About the product/price
This Fellowes system is designed to strap to the back of a chair and offers support to the lower back and spine. It has three cushions built into the product that supports the curvature of your back. It sells on Amazon for $33.19 and can be purchased through Amazon Prime.
Product features
This product looks different from the others mentioned thus far because of its triangular shape. Its three memory-foam sections curve with your body. It is covered in a microban antimicrobial protection to keep the product clean and odor-free. The Fellowes product has a tri-tachment system, which means that three straps meet at one center point at the back of the chair. Strapping this product in securely is essential.
Related: Best Office Chair Under $300
This system features a mid spinal support, which promotes good posture. It also alleviates the lower back pain often associated with poor support on the lower back.
Materials
This product is made from polyurethane foam. As mentioned, it is covered with an antimicrobial material.
Measurements
The Fellowes product is 2" x 15" x 14.5". It weighs 1.37 pounds.
Recommended uses
The Fellowes Professional Series Back Support is designed to work with an office chair. Some users describe using it in their cars, but only if the car has bucket seats.
Warranty
Fellowes offers service and support for this product for one year after purchase. 
Positive notes
Most things we should say about this product are positive. Not only does it offer lumbar support, but also, it offers thoracic support. The best part of all? It doesn't seem to flatten out over time like the other best lumbar support cushions on this list. The product is used in low-back or high-back office chairs. This product also supports the lower sides of the body, which not many of the other cushions claim to do. The design and type of support it gives also doesn't make the user too hot while in use.
Negative notes
Most of the drawbacks concern the straps, which are not of the highest quality and are prone to breaking. Additionally, this lumbar support cushion does not fit properly with curved-back chairs. This product seems to be one that if you do not adjust this correctly to your body, it may hurt you more than help you.
Other notes
Keep in mind that the Fellowes system is made to be customizable. If you sit in someone else's chair, the product may not feel as good to you.
This product is made for a specific use – flat-backed office chairs. It will not work on airplane seats or most other traditional chairs. Customers report they do use this product on some vehicle's bucket seats.
---
About the product/price
This product is a chair cushion designed to be placed behind the lower back. It's larger than the previous support pillow. It sells on Amazon for $23.95 and can be purchased through Amazon Prime. It is designed to help alleviate back pain and improve your posture. This is done by improving blood circulation and promoting a healthy spine alignment.
Product features
This product has dual, adjustable straps to hold the pillow in place during use. The hypoallergenic mesh cover can be removed and hand-washed. The mesh cover keeps your back cool and comfortable.
Materials
This product is made from memory foam. The cover is made of a hypoallergenic mesh material. The seat cover is black and lined with gray piping. The outer cover can be hand washed with cold water. The company recommends that you air dry the cover and do not iron it.
Measurements
The product measures 13" x 12.5" x 4.25". It weighs 2.25 pounds.
Recommended uses
The product listing says this product can be used for the office, home desk chair, or car seat. The company says it can be used it for gaming, traveling, and sleeping as well. Customers describe using it at church and in recliners.
Warranty
I did not find any specific warranty information regarding this product.
Positive notes
We have mostly positive things to report about this best lumbar support cushion. It does what it says it will do – provide support for the lower back. You may even feel immediate relief after using this product. This cushion is commonly used to help assist during the recovery period following lower back surgery.
Negative notes
The drawbacks (for some) will include a narrow seat and an overly squishy feel. Squishy is a technical term, right? Still, some people may find it too firm—it's all about personal preference.
Other notes
At $23, this is the least expensive product on the list. If your goal is to find a product to place behind your lower back to relieve your pain, this might be an excellent product to consider, especially if money is an issue.
---
Product Similarities Between the Best Lumbar Support Cushion for Office Chairs 
Most everything about the seven lumbar support cushions described above were positive. These pillows provide some sort of support for your rear end and upper/lower back. They provided relief for many who suffer from back pain.
Whether you like it or not, memory foam seems to be the material of choice. All the products discussed used some form of the material. Many of the customer reviews on the products complained the product becomes "flat" over time.
Each cushion, except for the Fellowes system, comes with a removable, washable cover.
All cushions had a similar warranty and sold for between $23-$39.
Each office chair cushion was designed for use in a flat-backed office chair.
The back support systems, with the exception of one product, came in black or dark gray.
Product Differences Between the Best Lumbar Support Cushion for Office Chairs
Even though most of these products say, "one size fits all," that's not really the case. Some cushions are too small or too large depending on your size and frame. This makes sense. How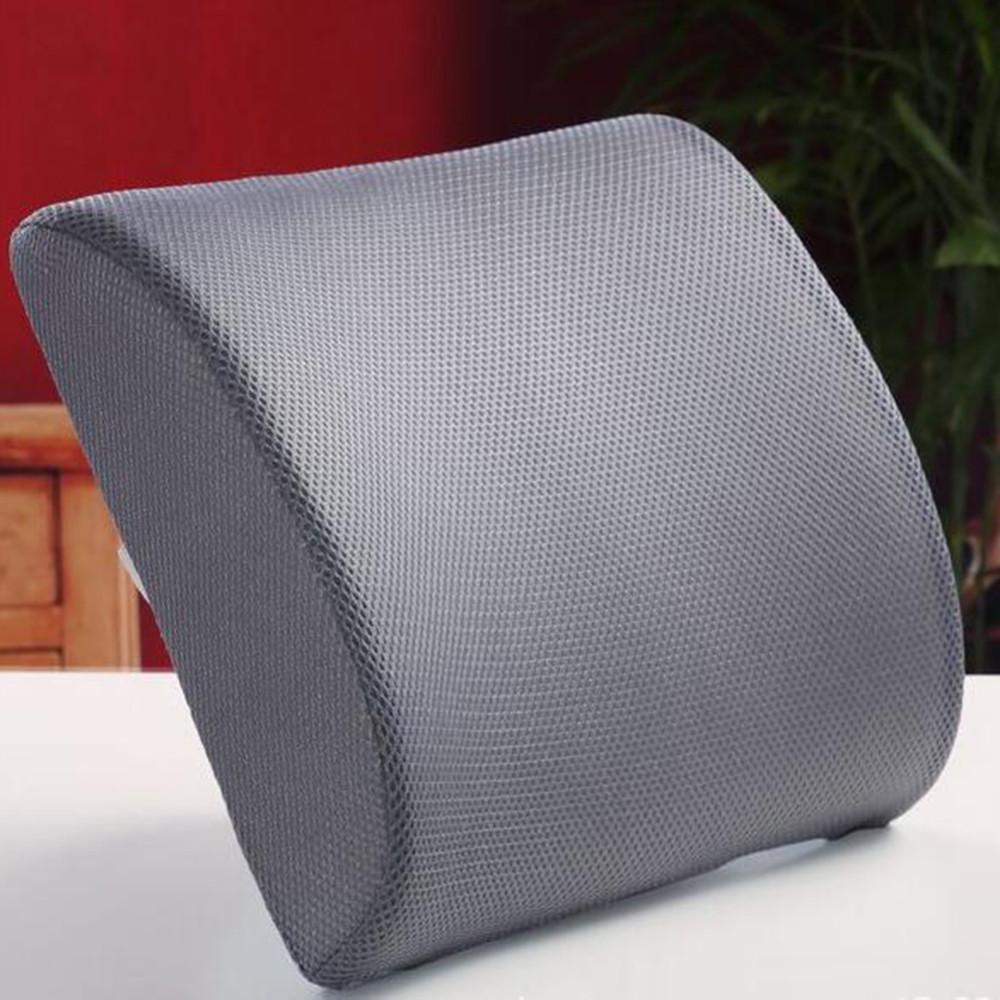 could a product that is designed to fit in a person's lower back adjust to work for the largest of men and the smallest of women? Pay attention to the measurements of the products. Purchase the product to fit the size of the person who will be using it.
Just as people come in different sizes, back problems are not universal either. What feels right for one person's back issue may hurt another person.
If you are merely looking for support for your lower back, all of these products will provide that. If that's all you are looking for, consider buying the least expensive option.
Another thing to remember is that even though pillows may alleviate pressure on the lower back and spine, these products will never cure you of the issues causing your back pain. That would be a miracle cure!
Product picks
I know this sounds unsatisfying, but pick the product that fits your body shape and size the best. If you are using the pillow in multiple locations several times a day, purchase one that is easily transferrable and has a handle built into the side. If you only need one for your desk at
work, consider buying the Fellowes Professional Series Back Support. Keep in mind the best reviews came from products that support just the lumbar region and not the "seat cushion" style products. The seat cushions often are reported to lose their lift after use.
How to maintain a healthy back
Did using one of these products help rid your back pain? Along with following good practices in standing, sitting, and lifting, you can keep your back healthy by exercising – particularly low-impact aerobic activities. Make sure these activities don't strain or jolt your back. Consider a brisk walk or a refreshing swim to keep your body healthy and moving.
Build your muscle strength to maintain a healthy back. Complete these core-building exercises to tone the muscles around your back. Think of those muscles as the girdles holding your back in place.
Stay bendy and flexible. Do yoga to increase your flexibility in your hips and upper legs. Plus, yoga lowers stress and allows you to enjoy a calming, relaxing moment.
Finally, maintain a healthy weight for back health. Being overweight strains your muscles and may cause back pain. Put down that Big Mac and order a salad instead!
Another way to maintain a healthy back is to purchase a back-support device like one listed above. How do they help?
Using a lumbar pillow reminds the user to sit with correct posture. The cushions relieve some of the stress on the back and neck. Used correctly, they reduce back and neck pain and stiffness. They may even reduce the risk of back injury.
Don't get discouraged if the lumbar support system you purchased wasn't an immediate fix. Try pairing it with yoga, increased water consumption, and a leg or footrest to see if that relieves some of the issues. Also, back issues take time to heal. None of these products claim to be an overnight fix, even though some customer reviews say they received immediate relief.