Best Big and Tall Office Chair | Ranking The Top Rated Big & Tall Office Chairs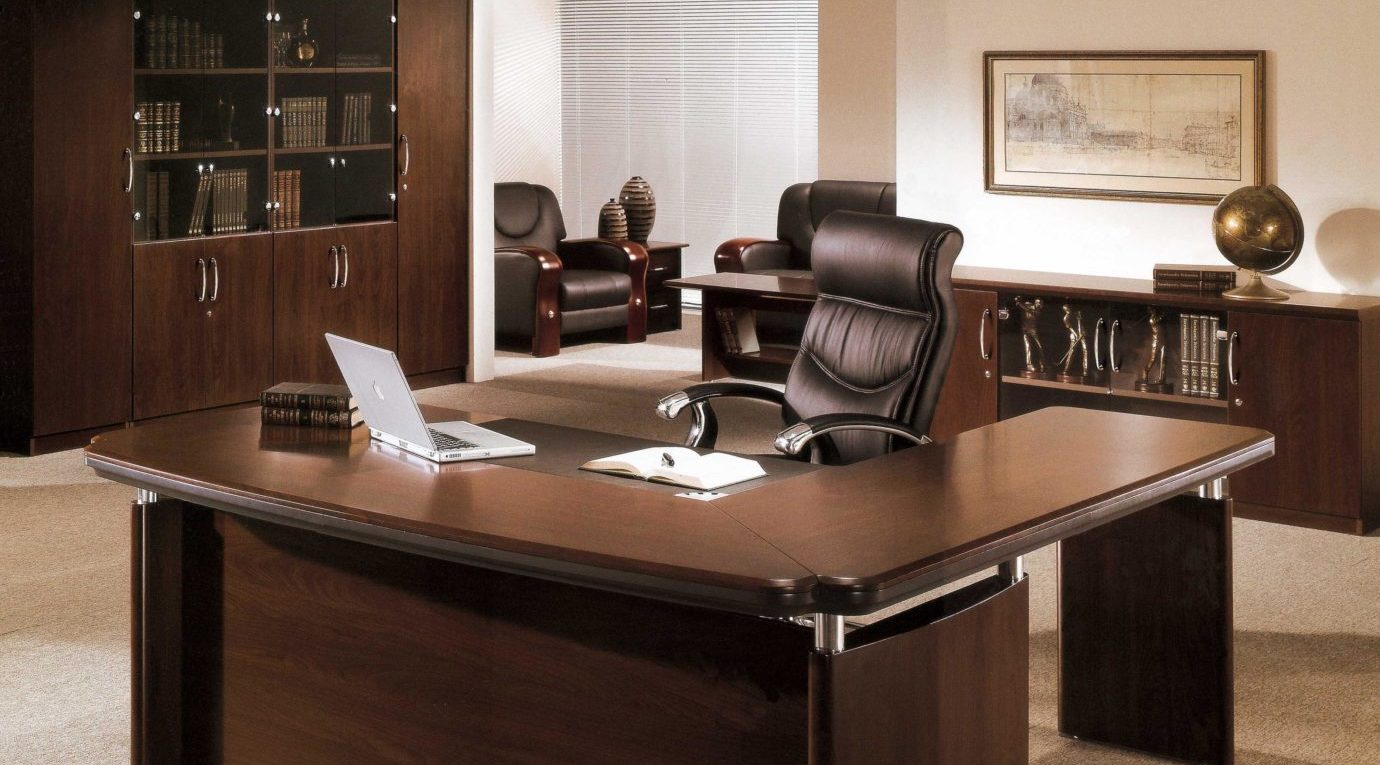 The best big and tall office chair is crucial to comfort in the workplace. After all, studies have shown that Americans work an average of 34.4 hours weekly. Over the next ten years, an average office worker will spend at least 15,000 hours sitting behind their desk. If you account for the late nights and weekends that you must stay back at the office to work, the numbers go up significantly.
More research into how work lifestyle affects our well-being revealed that sitting for long periods has detrimental effects on the health. Add that to a bad, uncomfortable chair and it worsens, potentially subjecting you to long-term posture defects and other health risks. As you sit through your work hours at the office, a good chair offers remarkable health benefits and eliminates undue stress. Long story short, investing in a good and comfortable chair that puts your body at ease over long hours of work has great and positive returns.
When it comes to shopping, larger customers must put in a little more work to find the best big and tall office chair. It's not just getting the right fit for shoes and clothes, even office chairs. Most of the office chairs in the market are designed primarily for people of about 6 feet (182) and up to 300 pounds. The design, including dimensions of the backrest, seat, the cushioning, and the hydraulic piston is made to operate securely and conveniently within those ranges. The chairs come with different adjustability options that allow users to customize it to suit their size and height. What's interesting is that big and tall people require more assistance from ergonomic chairs because of their body and the strain it exerts on their health. Hence, why finding the best big and tall office chair is so important.
Related: Best Budget Office Chair
As big or tall user seeking to purchase an office chair, you should consider those factors and pick a chair that will not only accommodate you conveniently but also ensure long-term use. Luckily, several manufacturers make big and tall office chair. In this guide, we reviewed 11 of the best big and tall office chairs that can support at least 350 pounds, designed with wide backrest and seats, and cushioning that will stay inflated over long periods. Chairs designed for tall or large people usually have designs that allow them to withstand the weight. There are higher adjustable seat height and much heavier padding. The frame, base, and casters are sturdier than conventional chairs. If there were an armrest, it would be wider and stronger for a seamless fit.
The Best Big and Tall Office Chair: Why you need a good ergonomic chair
If a good part of your day isn't spent working at a desk or in front of a computer, you probably don't need to invest in one of the best big and tall office chairs on this list. If all you do is sit sometimes to check emails or play games, you can buy any chair that is comfortable or looks good.
One fact you should know is having a good chair does not necessarily exempt you from the negative effects of a sedentary lifestyle. Studies over the years have shown that the health risks associated with the workplace lie not only in uncomfortable chairs but staying sedentary (sitting or standing) for long hours. More studies have also revealed that you are prone to health risks such as obesity, heart disease, diabetes, and few types of cancer by staying inactive for long periods. So, which the best big and tall office chair will help maintain better health and comfort, you must pair it with other things. Such as, getting up to move and stretch throughout the day.
Related: Best Lumbar Support Cushion
A good ergonomic office chair will help you keep a proper posture. Conventional chairs like wooden chairs without ergonomic features cause slouching and tend to cause undue pressure on the sacrum and your lumbar region. A good ergonomic office chair helps lessen this by keeping the natural curvature of the lumbar intact. You also must worry less about neck pain.
Studies have shown that an ergonomic office chair has noteworthy effects on productivity in any office environment. Employee's productivity significantly increases when they are comfortable while working. Strains like back pain or neck pain have negative effects due to constant distraction.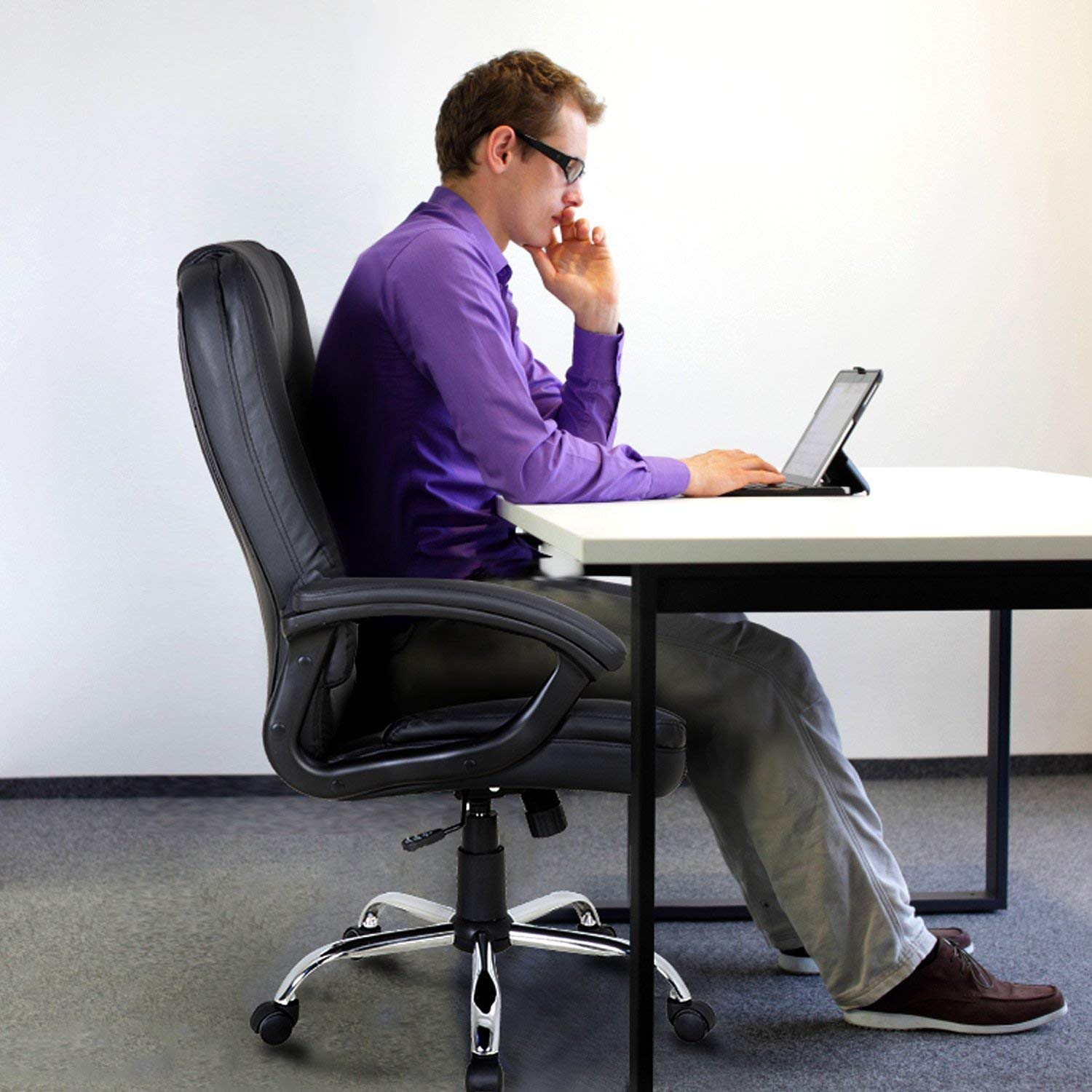 How to Choose the Best Big and Tall Office Chair
According to Alan Hedge, an ergonomics expert, choosing the best big and tall office chair is similar to getting a nice pair of shoes. You do not want to choose it for design alone, but also the quality, materials, and aesthetics. The ultimate aim is finding the one you will be comfortable in.  Before paying for a chair, we strongly recommend you try it and ensure it can be adjusted to fit your body type. Below are important factors you should consider before making your pick.
Since no two people are alike, it is important that a chair is adjustable for different body types. Chairs that offer little adjustability options leave users at the risk of experiencing debilitating issues. Adjustability options ensure that you sit in the natural, correct position for a long time. This will significantly reduce back pain, eyes strain, or carpal tunnel syndrome. The following adjustable controls must be present in your chair.
The backrest of the chair is essential for providing spine support. An ideal backrest should provide support in a way that it encompasses the whole spine and the natural curvature of the spine. An adjustable back height will allow you to slide the back up or down to position the user's lower back precisely on the lumbar curve. The back should be adjustable in back and forward angles and equipped with a locking mechanism that prevents it from going further back when the most convenient angle has been set.
Proper sitting posture is important if you spend long hours in sedentary. Armrest should be customizable so you can put your lower arm and elbow on them comfortably when typing. Ergonomics experts recommend that your arms be positioned parallel to the floor. The armrest must be high enough so that there isn't tension on your shoulders. Also, your arms must lie conveniently on the armrest. Any chair you are considering must allow you to modify the armrest's height and width.
Because of your height, you need a big and tall chair that allows you to place your feet conveniently and flatly on the ground. Your thighs must be horizontal, and arms placed at the height of the desk. The height must be adjustable with a pneumatic adjustment lever to accommodate these ergonomic features. It is essential that the chair's height aligns properly with the height of the desk. The ideal chair height for any user is between 16 – 21 inches.  The depth of the chair must be sufficient and allow the user to sit with back placed on the backrest and still have 2 to 4 inches left between the seat and the back of the knee.
Swiveling is essential to help you maneuver around to reach items on your desk. An ergonomic chair must allow rotation so that you can easily access different areas of your desk without difficulty or unnecessary strain.
Your regular office chair must have different recline options that ensure proper posture through an adjustable tilting feature. The seat tilt should be adjusted in a way that  Heavier users will enjoy the ability to configure their chair to support their weight when they lean backward.
This feature, which can be moved up or down, provides support to your lower back. There is an inward curve to the lumbar spine, which must be supported if you are sitting for long hours. Sitting without support causes slouching and back pain. A good chair must have lumber adjustment so you can get adequate support for the inward curve of the lower back.
Related: Best Office Chair for Back Support
Experts stress that people are different and have varying requirements. Depending on the kind of work you do, finding the perfect and comfortable chair is subjective. Despite that, the rule of the thumb is to find a chair that you can sit in for several hours without experiencing back pain or strain. An example of such comfort features could be the use of mesh upholstery instead of foam. This will keep the user cool in hot weather.
Related: Best Ergonomic Office Chair
Warranties give you the assurance that the chair's manufacturer can vouch for its durability. Average chairs come with covers of one or two years. However, high-end, more expensive chairs come with up to 10-year warranty, during which the manufacturer is obligated to replace broken parts. Preferably, choose chairs with a minimum of 5-year warranty or longer.
Construction and Durability
An excellent office should have solid steel frames that can stand the test of time and withstand extended use. It should at least be useable throughout its warranty cover, if not longer. Many seemingly small things can happen to a chair – from cracked knobs, loose arms, squeaky sounds, and creaks to broken pieces – all of which are common with cheap chairs. If the chair isn't made from sturdy materials, it will probably not lost long enough.
Cheap chairs, usually below $200, are manufactured from cheap plastics and steel, and come with limited warranties. To get a chair a desirable chair with adjustable features and high-quality materials, you should be prepared to spend about $300 or more. You get more options and most importantly, long warranty covers. However, if you are not prepared to shell out that much, we have a few options that would fit right into your budget without compromising quality.
Related: Best Office Chair Under $500
Although appearance should never be prioritized over comfort, it isn't bad to include aesthetics in your factors. Choose a chair that is pleasing to the eyes, but doesn't do that at the expense of comfort.
Two popular types of upholstery are used in ergonomic chairs – mesh and leather.
Mesh office chairs are preferred because they are breathable. While other fabrics have a tendency of trapping heat, mesh chairs provide an escape route for heat through the pores. Although this may seem like an insignificant factor for short-term chair use, especially in office environments with climate control, long-term use may cause heat retention that many users want to evade.
Related: Best Home Office Chair
Another benefit of mesh chairs is that you don't have to worry about sweats. They don't trap liquid and are therefore tend to stay clean and odor-free, an essential benefit in an office space where cleanliness is important for creating a professional environment.
Mesh Chairs are also very resilient. While the fabric appears lightweight and sometimes thin, the fibers are closely interwoven and do not degrade easily. This makes mesh chairs a better investment if you want something for long-term use.
Alternatively, leather office chairs are usually elegantly stylish and beautiful furniture manufactured from premium materials. They are usually much more comfortable to sit on and add sophistication to the office.
Most users would find leather office chairs more encompassing and versatile, as opposed to being rigid or unyielding. They feel smooth and less abrasive to clothing or skin. This is particularly great for users with sensitive skins who could find mesh chairs inconveniently rough.
If you work in a warehouse or industrial space where airborne materials are prevalent, you should consider choosing a leather chair. This is because mesh chairs are likely to get the material trapped in their pores, which could make it hard to clean properly. Leather chairs are also impervious to liquid material. Spilled liquids or beverages can be wiped off easily with a cloth.
The Best Big and Tall Office Chairs
Finally! Our list of the best big and tall office chairs. To make this list, we chose chairs that offered the best value for your money and with a record of many satisfied customers. To help you decide, each review has been broken down into specifications, ratings, review, pros and cons, and verdict. Let us begin.
First on our list is the Hercules series 500 pound-rated black leather executive chair from flash furniture. The chair belongs to a category called 24-hour office chairs, built for workers who sit for long hours. If you work in a call center, control room, 911 dispatch office, government office, etc. then this chair is for you. It is a well-built, sturdy chair that can support big and tall people comfortably for long periods.
Specifications
Product Dimension: 31 x 28 x 50 inches
Product Weight: 66.3 pounds
Adjustable Tilt Tension
500 lb. Weight Support
Fitted Lumbar support
Tilt Lock Mechanism
22″ Seat Width
Swivel Seat
Adjustable Seat Height
The Design, Feature, and Benefits
The first obvious feature of this product is the polished black leather covering which makes it stylish, soft, and resilient. It also has a fabric option if you are not a fan of leather seats. In the class of the best big and tall office chairs, the Hercules chair stands prominently with a massive weight of 66.3 pounds and a substantial seat width of 22″ to ensure large users have ample space to rest comfortably. According to the manufacturer, it has been tested to hold weight of up to 500 pounds.
Extra Padding and Bonded leather
We can never overemphasize how much we love a chair with good paddings, and the Hercules Series 500 lb. did not disappoint in this aspect. The 4″ thick foam, a double padded seat is all you need to seat for hours at a stretch without feeling inconvenient butt pains afterward. The seat is contoured to disperse pressure points to guarantee improved relief. The backrest is also sufficiently padded for support and extra comfort.
Built-in Lumbar support and headrest
The integrated Lumbar support is another feature we like in this chair. You can be sure your posture won't suffer any significant dent from consistently using this chair. The high back stretches to the upper back to provide support for the lumbar and improve your posture.
The headrest is plush, fully supporting, and engulfing your head as you lean back on it.
Adjustable height and Tilt functions
The Hercules Series 500 lb. is fitted with pneumatic seat height adjustment. This will allow you to easily customize the height of the chair to your taste. Depending on your height, the seat can go up from 21.5″ to 24″. Even at its lowest point, the seat is still high.
Related: Best Executive Office Chair
The tilt lock mechanism on the chair provides you with a reclining or rocking motion. The tension adjustment knob can be turned clockwise or anticlockwise to reduce or increase the resistance of the rocking motion. Once the chair is reclined, you can lock it in that position until you want to sit up. This is particularly helpful if you need to take a break or doze off occasionally.
Warranty
Flash Furniture offers 2-year cover for this product. Within this period, they will replace any broken or faulty part of the chair.
Pros
Easy Product Assembly
500 lb. capacity
Comfortable head and backrest
360 degrees swivel
Heavy-duty metal base, strong build
Double seat padding
Adjustable Height
Cons
It could get uncomfortable after long hours of use
Occasional need to retighten screws.
Verdict
Finding a chair that can support heavy weight without sagging quickly can be a bit of a hassle. The chair is very sturdy and comes with a good price. The seat is wide enough for large users. The bottom cushion doesn't have a waterfall edge style which may make it less suitable for 8 hours long office use. We think it is a good option for those who have a home office or work only a few hours per week.  The chair's high back design ensures that every inch of your back experiences adequate comfort.
---
Next on our list is an executive chair from Kadirya. The high back executive chair highlights ergonomics as its major strong point. The chair is perfect for people seeking luxury and comfort without suffering bad posture from consistent hours of sedentary. Hence, how it made our list as one of the best big and tall office chairs.
Specifications
Product Dimension: 33.2 x 26.7 x 18.3 inches
Product Weight: 62.2 Pounds
Material Type: Synthetic Leather
Adjustable Backrest
Detachable head and Lumbar Support
Recline Locking mechanism
Ergonomic Design
Adjustable Headrest
Design and Benefits
A first glance at this product and the quality of the finishing, careful stitching, and its luxurious soft bonded, black leather jumps right at you. The relaxation features complement the executive use of this chair. In this chair, you have a product you can use extensively for your official duties and take a nap when you feel tired.
Strong and Sturdy Build
Out of the box, the Kadirya reclining leather office chair comes with a tough nylon base, fitted with nylon rolling casters that make it extremely easy to maneuver around and stay steady while at work. The chair is very easy to assemble and you can have everything set up in no time if you follow the manual that comes with the package. The chair has been tested to hold up to 250 pounds.
Sufficient Padding
From the headrest to the armrest, down to the seat, the manufacturer has held no padding back from making the chair. The thickly padded armrest is triangle solid, and the headrest supports your neck, shoulders, and head to prevent neck and shoulder pain after long use.
Quality Materials
To ensure you get optimal delivery in style and comfort, the manufacturer employed the correct materials. The covering is made from PU leather and is largely responsible for its stylish look. The synthetic leather provides you with maximum comfort. You can be confident that this chair will serve you for a long time with remarkable experience.
Waterfall Seat Edge and Lumbar Support
Everything you need to be able to use a chair for long office hours lies in the comfortability of the chair. An uncomfortable chair causes body pains and makes it impossible to focus on work. The seat edge has a waterfall design that reduces pressure to the back of your legs and improves blood flow. This helps you stay comfortable if you must stay sedentary for hours. For optimal lumbar support, the chair has a high back design, which will not only help your posture but also help you sit conveniently.
Related: Best Office Chair Under $100
Retractable Footrest and Flexible Reclining Angle
The unique feature of this chair and perhaps its highest selling point is the retractable footrest. The chair has been highly customized to ensure you get every inch of comfort possible from your chair. The chair has an ergonomic recline that goes from 90 to 180 degrees. It also has a locking mechanism to keep it securely in that position. Additionally, the footrest under the seat can be used as a recliner if you ever need to take a nap. Just pull it out and turn it over.
Warranty
Every chair you buy comes with a 1-year warranty, throughout which every issue you have with the chair will be resolved free of charge.
Pros
Easy Assembly
Quality Finishing
Optimal comfort
Flexible recline and footrest
Plush Padding
Cons
The Synthetic leather peels after years of use.
Verdict
The chair is very comfortable for use. The leather also feels remarkably nice. More importantly, its multipurpose use is a big plus.
---
Designed for executive use in offices, conference rooms, nurse stations, dispatch centers, call centers, this best big and tall office chair is a classic one with many desirable features. It can withstand extended use and multiple-shift situations.
Specifications
Dimension – 29 x 32 x 45.5 inches
Weight – 56 pounds
500 lb. weight capacity
Adjustable Lumbar Support
High Back Design
Ventilated Mesh Back Design
360° Swivel
Design and Benefits
This chair takes a break from the usual all leather design common with big and tall office chairs. If you prefer mesh back chair that can support 6″ or taller or weights of up to 500 lb. then this is the chair for you. The chair has a sturdy chrome base with dual wheels for easy movement. Out of the box, you should be able to assemble the chair in no time.
Breathable Mesh
The Back has a ventilated mesh fabric backrest. This feature will save you from having to worry about sweating when the weather gets warmer while working through the day. The mesh is comfortable and will keep your back ventilated. The plan is to increase your productivity all day long.
Lumbar Support and Seat Edge Mechanism
The integrated lumbar support in the chair is the evidence of its unique and ergonomic design. The lumbar support lessens the strain on the lower spine. The molded foam seat disperses pressure points for more comfort. The front seat edge has a waterfall design to reduce pressure on your lower leg and increase blood flow around your leg.
Related: Best Office Chair Under $300
Seat Dimension
The seat measurement is 25.5″ wide and about 22″ deep from the front to the back. The chair has a pneumatic adjustment mechanism that enables the user to conveniently adjust the seat to their desired height. The height ranges from 18″ to 22″ measured from the floor to the top of the seat cushion. The back side has a width of 23″ and height of 25″ and is designed to support the mid to upper back region. This dimension is to ensure tall and big users have ample space to seat conveniently without cramps.
Tilt Lock Mechanism
If you ever need to take a break from work to relax, the tilt lock mechanism allows resting back in rocking or reclining motion. Although you can lock it back in tilt mode, you can lock it at 90 degrees to stop it from tilting. This means you have to keep the pressure on the chair to stay in tilt mode.
Adjustable Armrest
The armrests can be adjusted to relieve pressure from the neck and should to keep you as relaxed as possible. You can push the armrest up or down, depending on your height.
Pros
Easy Assembly
Breathable Mesh Design
Ergonomic
High Back design
Cons
Occasional need to retighten nuts
Verdict
The chair is heavy, strong, and very comfortable. The chair's stylish design would make it a nice addition to any office.
---
One noticeable feature jumps right at you – the quality and premium feel of the LCH high-back executive chair, one of the best big and tall chairs on the market.
Specifications
Product Dimension: 30.2 x 25.8 x 14.3 inches
Product Weight: 40 pounds
Supports 250 lbs.
Ergonomic Design
Nylon Base Material
Tilt and 360-degree Swivel
Bonded Leather
Design and Benefits
Covered with black leather, the chair redefines luxury by giving its user a comfortable and pleasurable experience. The seat is 20.9″ wide and 20.5″ deep, measured from back to front. The backrest has a width of 20.9″ and height of 29.9″. The product's dimensions offer enough room for comfortable sitting for long periods.
The sturdy base is nylon and can support weights of up to 250 lbs. The base is fitted with 360-degree swivel wheels for easy maneuver around your desk and stability. If you are in the market for a big and tall office chair with a premium look without having to break the bank, then you should definitely consider this product.
Pneumatic Controls
The chair has easy pneumatic controls that allow you to elevate or lower the seat. Depending on your height, the chair can go from 17.7″ to 21.7″ You can also adjust the height of the backrest to a more comfortable position. To adjust the recline angle; simply tilt the tension knob beneath the chair. The reclining angle can go from 90° to 110°. While at the rocking angle, you can lock it in with the recline locking mechanism.
Ergonomic Design
The LCH high back executive chair has an incredible lumber support system and waterfall seat edge design to give you maximum comfort and improve your posture.  The backrest is high and double padded to improve healthy blood circulation. If you plan to use your chair for long hours, you would not have to worry about back and leg pains.
Padded Armrest and Headrest
The curved armrest and headrest of this best big and tall office chair are padded to keep your arms and head at ease and relieve pressure. The headrest is positioned where your head should be to prevent you from slouching.
Warranty
The product is covered by a 1-year warranty and a risk-free 30-day money back guarantee if you don't like the product.
Pros
Thick Paddings
Ergonomic Design
High-quality Materials
Thick Metal Frame
Cons
Customers have complained about difficulties when assembling the product.
Verdict
If you desire a chair that is optimized for work and relaxation, then this chair is a perfect choice.
---
Life doesn't have to be serious all the time. Sometimes out of our busy daily schedules, we find time to play games. And this multifunctional office chair was built especially for gaming.
Specification
Ergonomic Design
Tilt Locking System – up to 150 degrees
Sturdy Metal Base
Adjustable height
330 lb. weight capacity
Product Weight: 54.6 pounds
Product Dimension: 27.2 x 19.7 x 48.4- 52 inches (W x D x H)
Design, Features, and Benefits
A first glance, this best big and tall office chair is aesthetically pleasing to the eyes. When the R&D team of Happygame set out to design the chair, they considered two important factors – comfort and long-term use. It wasn't just about building a chair you could use for office and gaming for long periods without experiencing discomfort. The chair is an embodiment of many quality materials, right from the heavy-duty metal base, the integrated frame, free rolling casters, and SGS tested hydraulic lift.
Dimensions
The seating area has a width of 20″ and depth of 19.7″. The backrest is 24″ wide and 32.7 inches tall. The chair has a large seating area and has a load capacity of up to 330 lbs.
Multifunctional Angle Adjustment
The versatility of this chair is perhaps its most interesting feature. The chair can incline from 90 to 150 degrees. At 90 degrees, you have a chair for gaming and office use. At 110 degrees, you have your tea or reading chair. Around 130 degrees, you can enjoy movies with comfort. 150-degree inclination gives you a safe resting position.
Extra Features
The armrest has a 3D lift, rotation, and can be moved forwards to suit your height and position. It has a soft PU padding that fits the arm's shape. The large wheels on the base can be locked into position or unlocked for seamless movement. The height goes from 13.3″ to 16.14," adjustable with the gas spring cylinder. Also, integrated with the chair is the footrest, made from the reinforced rod for stability and durability.
Paddings
The covering is quality PU leather material and available in red and black color. The PU Leather has high density and is made from molded sponge to make it impervious to water and extend the lifetime of the product. The bar frame is LWB reinforced to keep you safe and comfortable for long hours. The chair has a detachable headrest and lumbar pillow, making it an excellent choice for studying, gaming and working. The lumbar pillow gives you the support you need without arching your back uncomfortably.
Warranty
The manufacturer offers a 2-year warranty on parts and a lifetime warranty on the frame. If you do not like this best big and tall office chair for any reason, there is a 30-day free replacement or money back guarantee.
Pros
Multifunctional angle adjustment with tilt locking mechanism
Sturdy metal base
Versatility
High-density PU leather
Flexible 3D armrests
Detachable head pillow and lumbar cushion
Hydraulic Lift
Cons
Not for people with broad thighs and shoulders
Verdict
This best big and tall office chair is an excellent choice for larger gamers who want a lot of customization. The lumbar pillow provides you with just the right amount of support and doesn't arch your back uncomfortably. The armrests are not wobbly, so your shoulders don't feel uncomfortable. The package comes with a pair of gloves to help you assemble the products, which shows how considerate the manufacturer is.
---
If you are in the market for one of the best big and tall office chairs that'll let you make customizations to suit your body type, then the Vanbow high back executive chair is a good option to consider.
Specifications
Adjustable Height
Recline Locking Mechanism
Ergonomic Design
Dimension – 30.7 x 26.2 x 15.4 inches
Product Weight – 45.4 lbs.
Design, Features, and Benefits
The Vanbow High back executive chair is made from premium quality materials. Every part of the chair has been carefully designed to ensure you get the best value for your money. The chair is an embodiment of uniqueness and elegance, a fact impressed by the use of bonded leather. The synthetic leather is durable and can withstand years of consistent use. For big users who desire a luxurious office chair suitable for their body and status without sacrificing comfort, then this chair may be the perfect fit for you. The product is also very easy to assemble.
Optimal Comfort
Uncomfortable chairs make it difficult to concentrate and cause bad body posture in the end. This chair was designed for maximum comfort. The high back design offers optimal lumbar support to improve comfort and convenience. The seat is made of soft memory foam padding that makes sitting for a long time a pleasant experience. The waterfall edge design helps relieve pressure on the back of your legs for better blood circulation.
Ergonomic and Adjustable Design
Depending on your size, height, or personal preferences, you can adjust the chair to suit your convenient mode. It has a tilt locking mechanism that allows you to keep the chair at a right angle while you work. You can also recline the chair to the back if you need to rest. The armrest of the chair can also be adjusted using the flip up design.
Heavy Duty Build
The Vanbow high back executive chair has a sturdy nylon base with the capacity to hold up to 250 pounds. The base is fitted with nylon rolling casters to make movement around your working environment seamless and convenient. The manufacturer paid attention to detail to provide users with a steady and durable chair.
Warranty
The chair is covered by a 1-year warranty during which the manufacturer will replace broken parts. If you are not totally satisfied, they have a team of customer service representatives ready to meet your request.
Pros
Ergonomic Design
Full padding and waterfall seat edge design
Easy Assembly
Easy Customization Options
Cons
The chair is heavy
Few users complained about the smell
Verdict
The Vanbow high back office chair is well made and should last you a long time before replacement. The extra thick seat and back padding should provide you with a comfortable user experience. The ergonomic design will also help prevent strains and exhaustion while helping you improve your posture.
---
If you are looking to take a break from cheap chairs that fall apart in no time, you should consider buying the LCH PU Leather executive chair. The chair is an excellent option for people who spend several hours weekly at a desk. Plus, it's one of the best big and tall office chairs out there.
Specifications
Package Dimension – 28.1 x 23.7 x 13.3 inches
Product Weight – 37.8 pounds.
Weight Capacity – 250 lbs.
Material – Bonded Leather
Tilt and Swivel
Design, Features, and Benefits
The aesthetical and ergonomic features of this chair make it worthy option among big and tall office chairs. If you are tall and looking for a chair that allows you to sit conveniently for long without cramps, then you should consider buying this chair. It has a pneumatic height adjustment mechanism that raises the chair from 17.7 inches to 21.7 inches. The upholstery is made of PU leather, filled with highly dense reflex foam padding to make your sitting experience memorable. The base is sturdy (made with a metal plate for safe operation) and has a weight capacity of 250 pounds. The package comes easy installation manual, so the assembling process should be complete in no time.
Ergonomic Office Chair
The PU leather executive chair is integrated with an excellent lumbar support and full padding to ensure maximum comfort. The armrest is curved and padded with PU leather to support your arms. The chair has an S-shape design to keep your spine ideally aligned and support your lower back. The ergonomic design improves your posture and keeps you comfortable after long hours of sitting.
Padded Seat and Waterfall Edge Design
The seat is 12cm thick, filled with high-density organic polymer foam. The waterfall seat edge design keeps your lower leg free from the pressure that can inhibit blood circulation.
Adjustable Design
The height of the backrest can be adjusted to a more convenient position. The chair has an integrated tilt tension knob beneath the seat that allows you to customize the flexibility of your reclining angle. The chair can go from 90 to 110 degrees.
Warranty
The chair is backed by a 1-year warranty and risk-free 30 days money back guarantee.
Pros
Waterfall seat edge design
Properly set headrest and lumbar support
Flip-up armrest
Premium soft leather upholstery
Strong metal frame and base
Easy assembly
Cons
The product is bulky to move
Poor Assembly instructions
Verdict
Many users agree that this chair is very comfortable for users. It is a very strong and durable chair.
---
One of the core features every best big and tall office chair should possess is quality, and the AmazonBasics Big and Tall executive chair isn't lacking in this aspect. Designed for office use, the chair relies on the best materials to create the perfect chair for office use.
Specifications
360-degree swivel
Product Dimension – 27.25 by 29.5 by 47 inches overall (WxDxH)
Product Weight – 44.1 pounds
Adjustable Lumbar Mechanism
Curved Armrest
Convenient tilt with a locking mechanism
Supports 350 pounds Weight
Design, Features, and Benefits
Getting a good office chair with barely anything to complain about is sometimes a hassle. The AmazonBasics Big and Tall executive chair is designed for the big and tall user. The chair adopts a high-end materials and design to provide users with a professional and sleek office chair that is incredibly comfortable and steady. With the top-grade components used in its build, this chair can support up to 350 pounds. It also has a hardwearing design for extended, regular use.
The back has a length of 28″ and width of 21″. The seat is 22″ long and 21″ wide.
Pneumatic Height Adjustment
You can lower or increase the height of the seat easily using the pneumatic control handle. To increase the height, lift your weight off the chair and pull up the control handle. To reduce the height, remain seated and draw up the control handle until you reach the preferred height.
Adjustable Settings
The AmazonBasics high-back executive chair has customizable options and curved contours to provide support to your back and keep your body in good posture – an essential requirement if you stay sedentary for long hours. The chair's lumbar mechanism can be adjusted to increase support to the lower back. With the tilt mechanism, you can recline the chair to your preferred angle, which is particularly helpful if you need to take a break from work.
 Cushioning and Bonded Leather Upholstery
The chair's upholstery is made of gentle, flexible brown leather. The padded seat cushion and the contoured back cushion are both covered in supple brown leather. The seat cushion has been richly padded to provide a comfortable experience, even all day long. The AmazonBasics executive chair has an espresso-black curved armrest, splendidly padded with bonded brown leather to support the hand, wrist, and extra forearm.
360-Degree Swivel & Casters
For seamless multi-tasking, the chair rotates 360 degrees. The base is fitted with strong, durable casters for easy movement within the office environment.
Warranty
The product is covered by a 1- year limited warranty during which any defects or broken parts will be replaced by the manufacturer.
Pros
Firm Seat Padding
Easy assembly
It is inexpensive
Durable and sturdy design
Cons
One or two users have complained about the Lumbar support placement
Verdict
Many users have expressed satisfaction with the product. The AmazonBasics high back executive chair is an inexpensive alternative for users seeking luxury experience in an office chair. We particularly liked the bonded leather and the intricate attention to the design. With this chair, you are assured you are getting good value for your money.
---
Bonum is a popular office furniture supplier with a track record of producing excellent and durable ergonomic office chairs. This chair combines their global intelligence with high-quality materials to give its users a remarkable sitting experience.
Specifications
Product Weight: 47.1 pounds
Weight Capacity: 500 lbs.
360-degree Swivel
Size::27.2 x 31.5 x 43.3 – 45.7 Inch (L*W*H)
Material: Bonded Leather Material
Design, Features, and Benefits
The chair's upholstery is made from PU leather, which is strong, durable and water resistant. The chair has a sturdy nylon base that is resistant to heat and wear and lessens damage to the ground. It is incredibly easy to assemble and you should be ready to sit in no time. The chair after assembly is 20.5″ long, 12.25″ high, and 13.25″ wide. This dimension is to ensure that tall and big users can sit in it comfortably. The chair has an incredible weight capacity of 500 lbs.
The Bonum executive chair looks trendy with the styling and finishing touches. Much attention has been paid to making the chair a perfect and affordable replacement for your old chair.
Multipurpose Adjustment
The chair has an integrated pneumatic mechanism on two sides for easy seat height adjustment, depending on your height and size. The seat can go as high as 18 – 20.2 inches. The back can recline as far back as 150 degrees when you are chatting or taking a break from work.
Ergonomic Design
The Bonum executive chair has a waterfall seat edge design which helps to eradicate leg fatigue. It also has lumbar support and padded leather armrest for extra comfort. The chair has a chrome base and free rolling nylon casters.
Warranty
The product is covered by a two-year warranty during which the manufacturer will give you free replacements for broken parts.
Pros
Extra Thick paddings
Adjustable tilt
Elegant design
Adjustable height
Metal base
Cons
Poor Assembly Instructions
Verdict
The product is very comfortable, with perfectly aligned armrest, adjustable tilt, and padding. The materials used for the chair are durable and should, therefore, last you a long time.
---
The Sadie Big and tall office chair is a modern and dynamic office chair designed to provide quality at the best value. It is a beautiful combination of elegant style and functionality. This best big and tall office chair is a strong-looking, inexpensive, durable chair built for big and tall people.
Specifications
Product Weight – 44 pounds
Weight Capacity – 350 Pounds
Height Adjustment – 20″ to 23″
Product Dimensions – 30.3 x 30.3 x 42.9 inches
Design, Features, and Benefits
To ensure ample room for large users, the Sadie big and tall office chair has an amplified design. It packs most of the important features of an ergonomic chair with a sturdy build to support weights of up to 350 pounds. The base is fitted with durable wheels and smooth-rolling casters that are strong enough for heavy use.
Regarding its design, one noticeable element that makes the Sadie big and tall chair uniquely different from other chairs in the same group is the all-mesh curved backrest. The black mesh provides breathable support that expands to lessen pressure points. The sitting area of this chair is large, measuring 20.9 inches wide and 22″ deep. The seat is a covered with black fabric and sufficiently cushioned to give you maximum support throughout the day.
Customizable Features
The chair has a lumbar support that can be adjusted for the lower back. The armrests can also be lowered or increased, depending on your height to provide support for your shoulders and upper body. The height of the chair can be adjusted with the pneumatic control mechanism. You can also recline the seat to the angle that matches your comfort or work inclinations. 360-degree swivel gives you ease of access within your office space.
Ergonomic Design
While many may find the absence of a plush, adjustable headrest on the chair unappealing, we believe this design is what contributes to the uniqueness of the Sadie big and tall chair. The moderate contour of the chair's backrest gently follows the shape of your spine. Users with a history of back issues will find this chair much more comfortable. Although it is impossible to compare the comfort you get from a thick padded backrest with the mesh backrest, you will enjoy excellent ergonomics and heat dispersal after sitting for long hours. Regardless of where you use the chair – home or office – the chair provides you with a fashionable, ergonomic experience.
Warranty
The chair is covered by Sadie's limited 3-year warranty.
Pros
Ergonomic backrest design with Posture Support
Adjustable Armrests
3-year warranty
Sturdy build with metal parts
The package is delivered with assembly tools
Cons
The backseat cannot be locked when reclined
Poor assembly instructions
Verdict
We think that the lovely design and low price of this product make it a good choice for one of the best big and tall office chairs. With the Sadie Big and tall office chair, you get to enjoy substantial relief from lower back pain without breaking the bank.
---
What to Consider Before Choosing the Best Big and Tall Office Chair for You
There are few questions you should be able to answer before making your final decision. We've highlighted some of them below:
What kind of environment will you be using the chair in? If the working environment is prone to dust and dirt, probably an industrial area, you would be better off with a leather chair than a mesh chair. If the working space tends to get hot after a while, or if you will be spending long hours sitting in the chair, then you should consider getting a mesh chair. They are breathable and reduce heat retention.
What is your budget? There are many chairs out there to choose from to fit whatever budget you have. Prices can be as low as $50 for basic models and as high as $1000 for high-end models. Many of the chairs we reviewed here are less than $300, and although it would be impossible to compare them with the expensive ones, they should get the job done.
What is your body shape and weight? It is important that you get a chair that gives you enough room without cramps, yet not too wide that it feels awkward. We covered some of the best big and tall office chairs in this article. Many of these chairs have a weight limit that you should consider. If you weigh around 400 pounds, you should go for a chair that has a weight capacity of 400 pounds or higher.
How frequently will you use this chair? Depending on the nature of your profession, the frequency of use may vary notably. If you spend long hours in the office, we would advise you to invest in a quality chair that will keep you comfortable as you work. If you only work temporarily in the office occasionally or spend more time outside the office than inside, then you are better off with any comfortable ergonomic chair.
Final Note
We know how hard it can be to make a choice when there are too many big and tall office chairs to choose from. Whatever your specifications are, we hope that this article will help you make the right choice. All the best big and tall office chairs we reviewed in this article have been thoroughly researched to find the best value for your money. They are a result of multiple user reviews, experience, features, and observations over time. The pros and cons were chosen from the feedbacks many customers gave on retail shopping websites.
As the days pass, our lifestyles become more sedentary, in and out of office, and musculoskeletal conditions continue to rise. We cannot overemphasize the importance of getting a good ergonomic chair to combat these issues. Finding the best big and tall office chair is a worthwhile investment. It will not only increase your productivity and office moral, but also, it will help reduce health risks.