11 Best Office Chairs for a Petite Person in 2020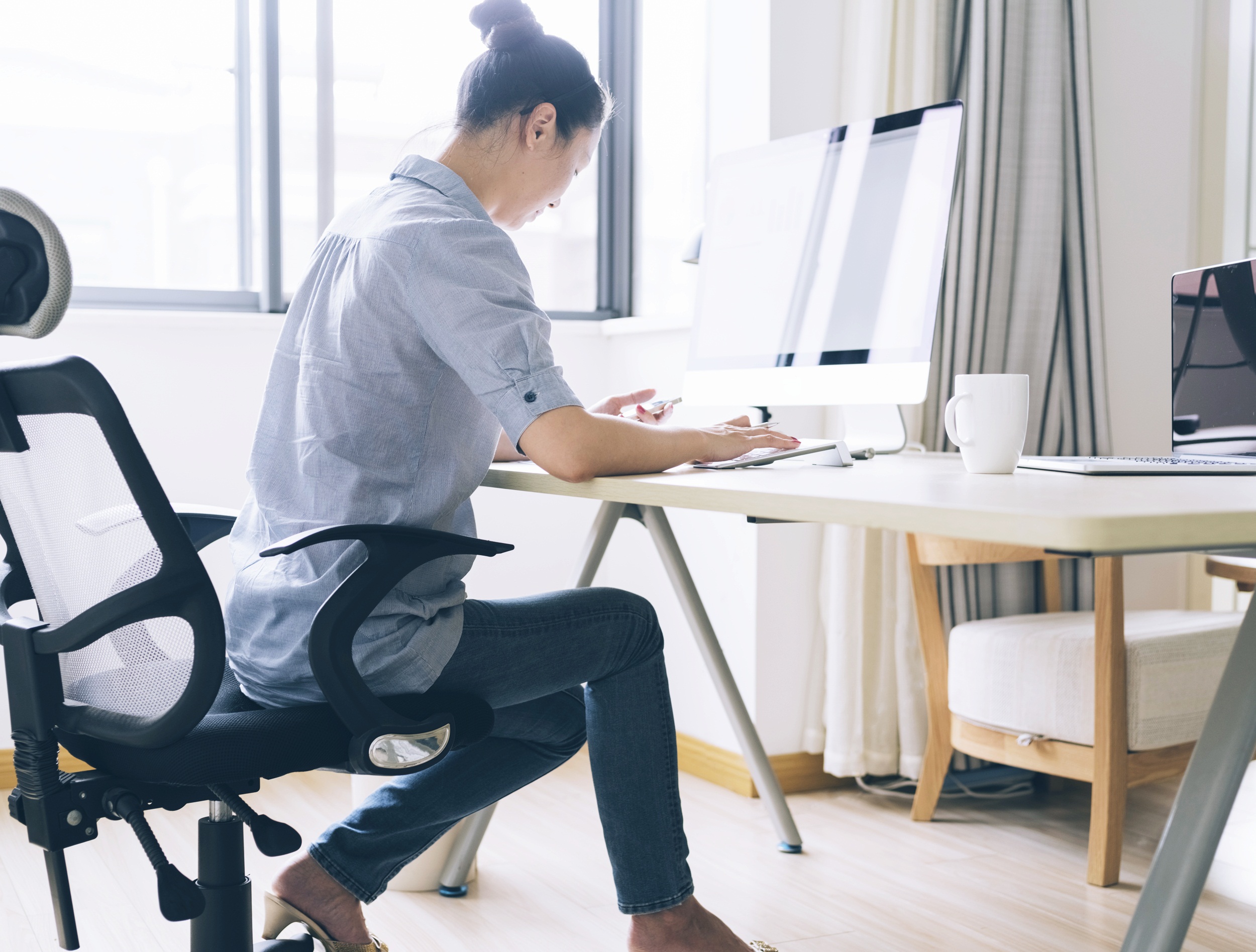 When your office chair is comfortable, working for long hours feels less stressful and more manageable. However, when you are short and petite, almost all office chairs feel too big or too wide. Being shorter than 5'5 means you'll have trouble adjusting to those executive chairs that have higher frames. But, fret not because this time we are here with the best office chairs for petite people.
If you are having a hard time adjusting to that bulky chair in your office, it's high time you invest in a petite chair. A chair that perfectly fits with your body frame will help you spend 8-9 hours in front of the computer screen without straining your neck and back. We have done the brainstorming on your behalf by shortlisting these office chairs for short people so that you have clarity about your options before purchasing. All office chairs on our list are comfortable, ergonomic, and sleek-looking, which can complement every office.
What are the Important Factors of a Petite Chair?
If you think that all adjustable/revolving chairs have similar features, you are mistaken. Because like every other object, there is a massive variety of functions in office chairs; some are upholstered, some are fixed, and some are contoured. To buy the best petite chair for your office, keep the following points in mind, and you won't mess up this purchase:
Seat depth
The depth of the seat determines the effort you have to put in to get comfortable on your chair. If it is longer than the gap between your buttocks and inner thighs, you'll have to tilt forward to reach the floor, which causes discomfort. Similarly, when the seat is shorter than it should be, it'll create distress in your lower back. That's why a petite chair should have a seat 18 inches or less because this is the ideal distance for anyone shorter than 5'5.
Seat height
When you have to bend or stretch your legs to reach the floor, it doesn't feel comfortable. However, since most office chairs have hydraulic valves, altering their height is not a problem. Chairs for short people should offer adjustable height so that they sit with ease. If your chair can be lowered to 20 inches or less, it's perfect for your short stature. Those that are limited to higher levels will give you sore legs and possibly disturb blood circulation.
Lumbar support
An ergonomic chair gives you thorough comfort and supports all major muscle groups. Petite chairs should also have contoured and textured lumbar support that molds with your spine's curvature and reduces strain.
Armrest width
This is the most crucial factor in chairs for short people. When the armrest gap is wide, you'll have to rest your arms in your lap while working on the computer, which eventually affects your posture. Similarly, when the arms are too narrow, your body will feel squeezed. That's when the alterable armrests come to the rescue. Most ergonomic office chairs offer this adjustment and are equally ideal for all body types.
Top 11 Office Chairs for Shorter People
1. Herman Miller Aeron Ergonomic Office Chair with Tilt Limiter
Herman Miller is the master when it comes to comfortable and portable office furniture. This Aeron chair is the perfect combination of exclusive technology and durable materials, making it an ideal choice for long term usage.
If you are petite and need a fully adjustable office chair, look no further than this ergonomic Aeron chair.
This high-quality chair is manufactured to meet the international quality standards and can easily fit in all office settings.

Its mesh back provides excellent ventilation and keeps your back muscles cool during long sitting hours. Also, if you feel confined in thick and padded chairs, this one is the solution.

Its effortless swivel motion helps you shift position and adjust according to the computer's screen. Since we cannot sit straight for long hours and keep changing our eye level, this smooth motion is a great feature for that.

Herman Miller has designed this sleek chair for short and petite people who need lower seats. You can quickly move the hydraulic valve and adjust your chair's position to keep your knees comfortable.

Also, the fully covered caster wheels are perfect for carpeted and polished floors, as they won't ruin them.

This chair's back offers varying levels of pressure on your back and smoothly curves with your spine's movement to keep you well-supported.

This fully adjustable chair fits all body types and never makes you uncomfortable or tired.
Pros
Excellent ventilation
Easy reclining
Fast swivel motion
High-quality caster wheels
Soft pellicle seat and backrest
Cons
Weaker lower back support
2. Tango Ergonomic Active Sitting Office Chair 
If bulky furniture cannot fit in your office, fret not. This tango active sitting chair is the perfect solution for your tired legs after continuous sitting.
Its fully padded seat and pelvic support keep your posture well protected so that you don't end with a strained back.
The lower lumbar support is good for your thighs and pelvic bone as it is curved to hug your body.
Petite people often feel uncomfortable in office chairs as they don't feel supported by the back and seat. But this tango chair is a solution to that.
You can turn your tiny home office to a comfortable, breezy sitting space and maintain your body's curvature with this chair.
However, since this one doesn't have an arm and headrest, you should consider any underlying pains before buying this chair.
Its stylish shape will give your office a sophisticated look without breaking your bank. Also, as this chair offers multidirectional movement, it is perfect for active sitting. You won't have to get up to reach your file rack or drawer, tilt your tango chair slightly, and comfortably move around the desk.
Pros
Great pelvic support
Ideal for people under 5'3
Soft padded seat
Stylish shape
Multidirectional movement
Cons
Not good for those with neck pains
3. Steelcase Amia Task Chair: Adjustable Back Tension
Freedom of movement during working hours is hard-to-find, and you feel stuck in the chair when the work shift prolongs. But luckily, that's not the case with the Steelcase Amia chair.
This modern office chair is designed to provide ultimate comfort and freedom of movement regardless of the time you spend.
Its arms are 4-way movable and come in handy when you have to work on the keyboard. You can easily uplift/lower the arms and adjust your comfort level.
Even though this is a full-sized office chair, its alterable style makes it the perfect fit for petite people.
You can change the back and arms' settings with slight pressure and ensure comfort throughout the day.
Whether you want to recline or bend forward while working on the desk, its 3D lumbar support will encase your spine and provide incredible comfort.
If you have any underlying muscle/bone problem, this 3D Steelcase Amia chair will alleviate it with its curved structure.
Pros
Contoured seat
Excellent back support
Waterfall seat for easy shifting
Exclusive flexors for lower back
Cons
The seat is thinly padded
4. SOHO Premier Mesh Drafting Chair
If you prefer a breezy sitting environment that looks stylish as well, this SOHO premier chair is your best bet.
Its tall shiny frame enhances an office's beauty and comfort altogether so that you don't have to worry about the theme.
Its curved back is excellent for lumbar support and enhances comfort during stressful working hours.
If you are shorter than 5'3, this SOHO chair will perfectly fit your legs and never cause any circulation problem to your feet.
The metallic footrest is there to assist your sitting position and increase freedom of movement. When you have to relocate while sitting on the chair, its covered caster wheels will make the task easier.
This portable chair is lightweight and doesn't occupy much space, making it an excellent choice for narrow spaces.
Pros
Sleek aluminum and chrome construction
Soft mesh seat and back
Quick height adjustment
Lightweight
Cons
5. CLATINA Ergonomic High Swivel Executive Chair with Adjustable Height
Seat depth is a crucial factor that decides your comfort level when you sit on the chair. That's the reason Clatina ergonomic chair is designed with a freely moving seat that adjusts according to the sitter's body shape.
If the gap between your buttocks and inner thighs is shorter than average, you can quickly reduce the seat depth and become comfortable in your Clatina chair.
This stylish chair comes with easy-to-move valves that don't waste your time and easily fit in heavy-traffic offices.
If you are to invest in ergonomic office furniture, go for this fully adjustable chair that is perfect for all body types.
The soft upholstered back makes long working sessions more manageable and reduces stress from your major muscle groups.
The soft waterfall seat keeps your legs well-maintained and doesn't exert unnecessary pressure on any joint.
Pros
Upholstered back
3D lumbar support
Easy adjustment
Comfortable waterfall shape
Cons
6. Safco Uber Office Chair, Black
Being petite and having back pains is nothing less than a nightmare because no chair wraps your lower back and makes the office errands easier.

But that's not the case with this Safco uber office chair. Its upholstered back has a 3D curvature that moves along with your spine and encases your lower body, eventually ensuring incredible lumbar support.

If you have to get up from the chair repeatedly during the day, go for this Safco office chair and make your life a lot easier.

High-traffic and compact offices don't go well with hefty chairs. But why worry when you have this sleek uber chair.

However, if the armrest is a must-have factor for you, this one won't suit you. Safco has specially designed this chair for short people who need lumbar support and natural movement while sitting.

Pros
Padded seat
The excellent lower back support
360 degrees swivel motion
Easy-to-recline
Cons
7. Black Drafting Chair – Ursa Petite Standing Desk Stool
If we were to name a chair for short people that ticks all boxes of goodness, it would be none other than Ursa petite chair.
This one right here is proof of elite craftsmanship and helpful features which make it ideal for all office settings. Ursa petite chair comes with an upholstered body that eases muscle strains and keeps your posture intact during long working hours.
Its metallic footrest enhances its usability to make it ideal for all heights. Whether you are short and petite or just have a thin bone structure, your Ursa chair won't cause any distress in your body.
Its alterable seat and arms operate with hydraulic valves that don't waste your precious time during working hours.
You can change the armrest's height according to your desk's level and ensure thorough comfort.
Its soft waterfall seat doesn't let your body weight disturb the blood circulation to lower legs and keeps your posture well-protected.
Even if you have any muscle discomfort, you can rely on this petite chair for exhaustive work sessions without any ambiguity.
Pros
Incredible adjustment capability
Perfect for posture maintenance
Soft seat edge
Contoured back
Easy paddle control
Ideal for higher work stations
Cons
8. Livinia Office Chair with Height Adjustable Design
If you seek style and comfort in your office, this Livinia chair has got your back. Its sleek padded design ensures comfort and complements your office's décor altogether.
This chair has a cushion-like outlook that performs amazingly in busy offices. If you have to relocate while working quite often, get yourself a Livinia chair and forget all worries.
Its ergonomic lumbar support won't let your spine remain in a weak position and provide ultimate comfort.
Also, its smart headrest increases its usability and gives excellent support to your whole body.
The covered caster wheels and swivel motion won't distort your office's floor. Moreover, the easy-to-adjust seat and armrest will provide you with freedom of movement and make those work hours less draining.
This chair's circular footrest gives your legs support and maintains a good lower body posture.
Pros
Easy to adjust
Soft and padded
Ergonomic lumbar support
Comfortable headrest
Smooth swivel motion
Cons
The armrest is not padded
9. Ticova Ergonomic Office Chair – High Back Desk
Comfort doesn't mean you have to compromise on style and exclusivity; this Ticova ergonomic chair is proof of that.
Its unique 3D shape is designed according to the human spine, and it doesn't let your posture move to the unhealthy side.
You'll feel fully wrapped and supported on this Ticova chair regardless of your body type.
If you are short, lower your chair's height and keep your legs comfortable throughout. Similarly, the easy-to-move arms won't confine your movement and reduce stress from your joints as well.
The breathable mesh construction is ideal for long-term usage as it offers good ventilation throughout the day.
The padded headrest will alleviate your neck pain so that your whole body is well snug and easy during the day.
This affordable office chair is an excellent choice for public and private offices because of its portability.
Pros
Great for ventilation
Soft mesh construction
Easy wheel movement
Easy to assemble
Cons
10. Hilo Series Ergonomic High Back Office/Gaming Mesh Chair
Pelvic support is the main concerning factor in office chairs because if your pelvis is in distress, you can never concentrate on the work.
This Hilo series office chair has a unique curved back that doesn't exert any stress on your spine and protects its shape.
Its thinly padded seat and mesh backrest make this chair a perfect fit for humid regions where ventilation is a problem.
Moreover, the smooth caster wheels are great for carpeted and polished floors because they don't leave marks when you move around.
Its contemporary style complements all office themes so that you don't have to compromise on style.
Pros
Ideal for every body type
Alleviates back pains
Contoured design
Mesh fabric construction
Cons
11. Emma + Oliver Mid-Back Black Mesh Swivel Ergonomic Office Chair
A padded seat and mesh back make this chair a handy option for high-traffic offices as you won't have to seek comfortable options anymore.
This stylish low-back chair fits in narrow spaces and is ideal for petite people. You can easily minimize its tilt and lock it in your favorite position. The hydraulic valve moves with slight pressure and can easily adjust with your body.
If you need a cozy seat to deal with the day, this Emma chair is your buddy. Its quick flip-up arms adjust with your body's position and reduce stress from your elbows by offering stable support.
As most padded chairs aren't suitable for long work stints due to their limited ventilation, this Emma + Oliver chair was designed with a soft mesh back.
You can enjoy a padded seat, breathable back, and adjustable arms altogether in this smart chair for short people.
Pros
Quick flip-up arms
Breathable backrest
Cozy seat
Easy tilt-lock mechanism
Sleek design
Cons
If you are short and petite, it doesn't mean you have to compromise on your comfort during work hours. The above-explained chairs for short people have smaller seat depths and lower heights to thoroughly support your body.
Whether you have back pain or simply need a chair that wraps your petite body to keep you comfortable, get any of these ergonomic chairs and avoid discomfort that big executive chairs can cause.