11 Best Office Chairs That Recline For Naps in 2020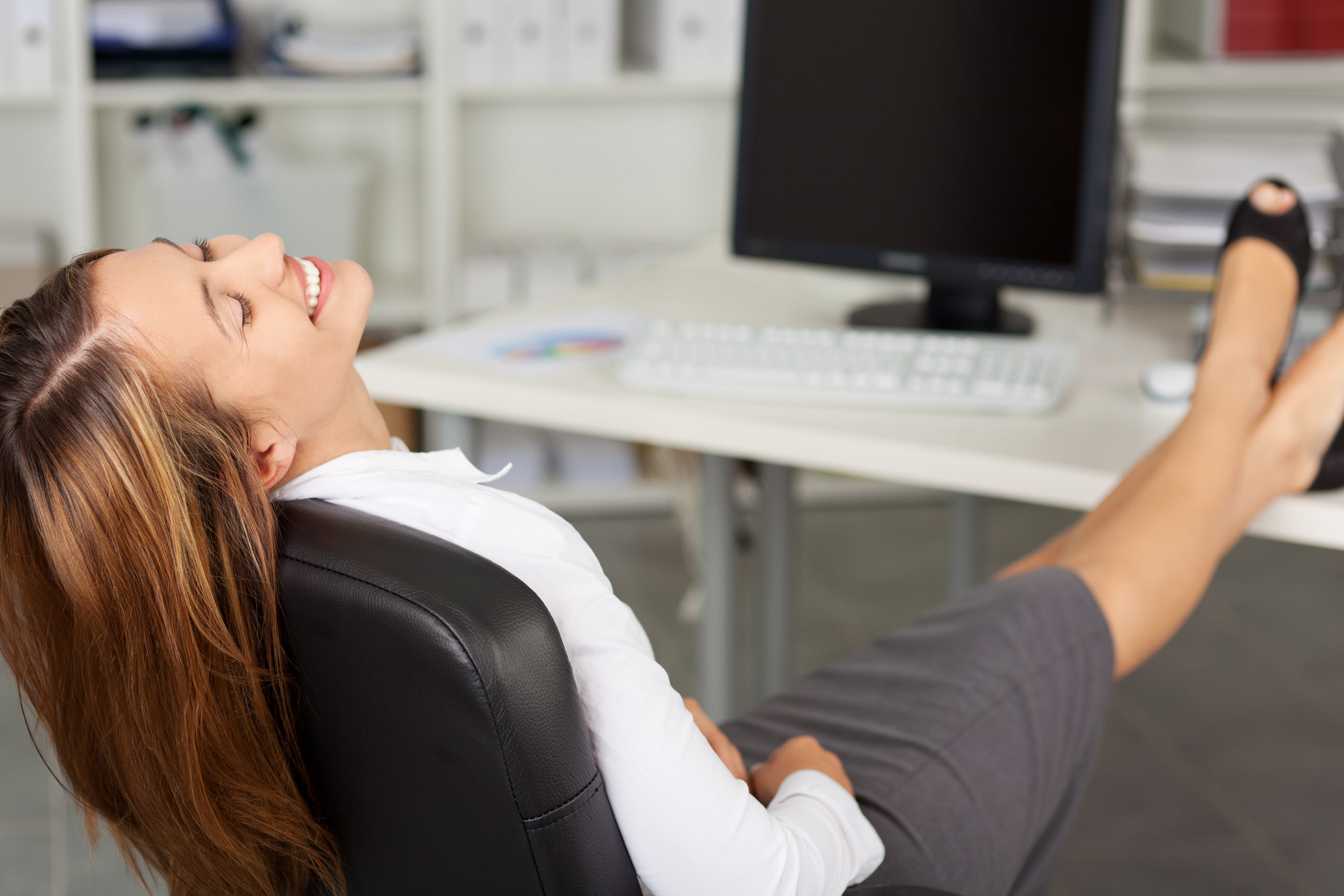 How long is your work stint per day? If it's more than 6 hours, you already know how tiring it is to sit in the office all day long. It might be time to look for an office chair that reclines for naps.
When you don't get time to take a power nap between work hours, your productivity can hit rock bottom by the end, especially if you have a desk job. But, when you have a reclining office chair with a footrest, you can relax and stretch your legs without even leaving your work space.
A napping office chair comes with multiple ergonomic features i.e., lumbar support cushion, reclining seat, footrest, etc. that collectively keep your body comfortable.
If you are in the market for a new office chair, invest in a high-quality napping chair to make your space more comfortable. I have collected 11 of the best office chairs for napping in 2020 that will enhance the beauty and comfort of your workspace.
What Do You Need In A Napping Office Chair?
If you randomly choose a chair thinking that it will serve the purpose of napping during the work break, you're wrong.
These chairs are exclusively designed for a comfortable sitting and reclining position to keep your muscles stress-free.
Here are a few important aspects of an ergonomic napping chair:
Reclining position
There are a few chairs that cannot take the bending pressure, and they'll break when you recline. However, a napping chair offers multiple reclining positions, irrespective of your weight. If you have to worry about reclining while sitting in a chair, it's definitely not made for napping.
Footrest
Napping office chairs have built-in footrests that can be retracted when not in use. When you get a little break from work, pull your footrest out and give your legs a good stretch. A chair doesn't feel comfortable for napping without a footrest.
Headrest
This is an essential feature of most office chairs because it supports your upper body and doesn't put any extra pressure on the spine. If you have a desk job, make sure your chair has a soft headrest.
11 Best Office Chairs That Recline For Naps
Now that we know the important features of an office chair that reclines for naps, let's discuss a few options and see which one will best suit you.
1. Herman Miller Aeron Ergonomic Office Chair with Tilt Limiter
Herman Miller is the boss when we talk about comfortable, stylish, and long-lasting office chairs.
This company makes chairs after extensive research and comes up with the best.
This Herman Miller Aeron chair comes in three sizes, which means it isn't limited to any body type. You can pick a size as per your physique and enjoy the result of 20 years of research that HM has put into it.
This chair is made from breathable mesh that offers good ventilation and doesn't block your body's blood circulation. Its high-end 8Z seat comes with 8 zones of pelvic tension that separately target different regions of your spine.
When you sit in this chair, you'll feel different pressure zones and a reliable reclining feature in its back that soothe your muscles and offer comfort as well.
Its 3D curved back is best for lumbar and sacral support, which reduces your hip and lower back pains. Also, if you face stretched neck or pain in the upper back, this cured chair will ensure you always sit comfortably.
Herman Miller Aeron chair is ideal for home offices where you want comfort and style altogether. Its carpet caster wheels protect your flooring and don't leave any scratches as you move.
However, this Aeron chair doesn't have a footrest, which can be a turn off for those who have extended work stints. If you frequently take naps during the work, you'll have to use a stool for easy sitting.
Pros
3 reclining positions
Ergonomic PostureFit lumbar support
Breathable mesh back
Adjustable seat
Comfortable armrest
Cons
Somewhat poor lower back support
2. Flash Furniture Contemporary Multi-Position Recliner
When you seek comfort and style from the same chair, there's nothing better than a Flash Furniture contemporary multi-position recliner. 
This big and tall office chair is best for executive work desks where you have ample space to adjust.
Its wide seat is comfy and supportive simultaneously, making it an ideal choice for extended work hours. When you have to spend over 8 hours in the office, get yourself a Flash Furniture contemporary recliner, and you'll love its feel.
This chair comes with a weight limit of 250lbs, which is good for most people. However, if you weigh more than this, look for a bigger counterpart.
This fully padded leather chair is best for keeping the body warm and an office chair that reclines for naps.
Its plush upholstery is ideal for body pain management as you won't have to use an additional cushion while sitting in this recliner.
This chair has a large, round mahogany base for easy movement that doesn't disturb your flooring and offers a stable positioning alongside.
This bulky chair easily reclines in your desired angle and proves to be the long-time buddy for your tiring days.
Pros
Fully padded
Soft, retractable footrest
Multi-position recliner
Accessible adjustment lever
Firm mahogany base
Cons
Not suitable for narrow spaces
3. REFICCER Big and Tall Reclining Leather Office Chair
When your work exhausts you, take a power nap on this REFICCER, and it'll prepare you to finish out your work day strong. This heavy-duty chair is made from bonded leather that can endure the rough usage without losing its beauty.  
Its wide seat is ideal for bulky people who cannot adjust in light-frame chairs and need something supportive.
It has a waterfall seat that facilitates you during the reclining position and doesn't stress your muscles when you stretch.
Its soft headrest makes sure your upper body is stress-free, and you enjoy a comfy nap during those free hours.
Its adjustable lumbar support keeps your back pains at bay and makes sure you enjoy normal sitting and reclining positions alike.
Also, the quickly retractable footrest makes your nap time more comfortable without taking any additional space.
This REFICCER chair has a firm base to support your reclining position without making you struggle.
Pros
Adjustable lumbar support
Padded headrest
Waterfall seat
Solid metal base
Bonded leather upholstery
Cons
Not good for lower backaches
4. HomCom Reclining PU Leather Executive Home Office Chair 
When you cannot compromise comfort and style while choosing your office furniture, this HomCom reclining chair comes to the rescue. 
Its exquisite PU leather construction adds to your office's charm and offers excellent comfort while you nap.
This fully padded chair alleviates your body pains and proves to be a reliable fellow during tiring work stints.
You can easily enjoy 90-150 degrees reclining position without stressing yourself. Simply access the adjustment knob located below your right hand and choose your preferred angle when it's time to nap.
This plush chair is best for extended hours when your body needs good rest to continue. You can quickly pull the footrest out to give your eyes and brain a good rest.
Its chick design makes it ideal for desk work and gaming alike so that your office becomes your peaceful space with no extra efforts.
Its 264lbs weight limit is good for most people as its sturdy base amicably supports the chair as you move.
Also, the shiny PU leather is easy to clean and always looks new-like, maintaining your office's elegance.
Pros
3-position reclining
360 degrees swivel
Caster wheels
Accessible levers
Pull-out footrest
Cons
5. Sihoo Ergonomics Office Chair Recliner Chair
When elegance and comfort are your priorities, Sihoo ergonomic office chair is the answer. 
Its sleek design adds a spark to your office, and the soft body helps you get a good power nap when you're free.
Its wide seat comes with a comfortable seat cushion that supports your back and prepares you for the strenuous work activities.
If you frequently swivel while sitting in your office chair, this elegant Sihoo chair is best.
Its speedy caster wheels let you easily move and maintain a good posture throughout the day.
This reclining chair is made from a breathable mesh material that doesn't stop your body's blood circulation and keeps it well-supported.
The aluminum alloy base offers a good grip so that your chair doesn't move when you sit/nap.
The soft headrest adds to your comfort and makes sure your head doesn't receive unnecessary stress while focusing on the computer.
Its padded footrest is ideal for power naps as you can easily pull it out and get a comfortable position.
Pros
3D curved back
Breathable mesh construction
Perfect lumbar support
360 degrees swivel motion
Comfortable footrest
Cons
Not good for heavy people
6. Flash Furniture Contemporary Multi-Position Recliner
Having an exquisite chair doesn't mean you'll have to spend a fortune because this Flash Furniture contemporary recliner is here to fulfill your wish.
If you want to add some class and comfort in your office cabin, get your hands on this multi-position recliner.
Its elegant brown upholstery is made from high-quality PU leather that doesn't lose shine and keeps your body comfortable as you recline in it.
Since it's bigger than regular office chairs, you'll need ample space to fit it in. But once it's adjusted in your office, you'll love its vibe for sure.
It comes with a separate footrest that can be kept under your work desk and pulled out when it's your power nap time.
It's best for home offices where space isn't an issue, and you can keep the footrest anywhere. However, if your office cabin is compact, you'll struggle while setting it.
The fully cushioned body warms you up and relaxes your muscles after a hectic work stint.
No matter if you frequently shift while working because its 360 degrees swivel motion is here to facilitate you.
Pros
Plush seating
Soft head and footrest
Easy to clean
Contemporary style
360 degrees swivel
Cons
Not ideal for compact office spaces
7. Hbada Reclining Office Desk Chair 
If you need an inexpensive but high-quality reclining chair, look no further than this Hbada office desk chair. 
Its sleek design will add more elegance to your office and provide impressive comfort during your strenuous work hours.
Its innovative tilt locking mechanism lets you enjoy a comfortable posture while you work/nap without hassling with the levers.
The ergonomic lumbar support alleviates your body pains and supports your nap time like a pro.
Its easily accessible levers don't ask for extra effort while you adjust the tilt or height and come handy when you have to recline.
The high-quality caster wheels protect your carpets and prevent any excessive noise while you move around your cabin.
The heavy-duty metal base offers a stable sitting position without exerting any additional pressure on your lower body and keeps you well-supported throughout the day.
Pros
Breathable mesh construction
Padded armrest
Rotatable headrest
Soft footrest
Lockable tilt mechanism
Cons
The plastic body isn't ideal for heavier people
8. Bilkoh Mesh Office Chair Ergonomic Office Chair
If you want to rest and recline without worrying about your office chair's weight limit, this Bilkoh mesh chair is your answer. 
Its breathable mesh construction provides good ventilation and support simultaneously, eventually reducing your body aches.
If you frequently stretch your back during the work hours, this mesh chair's curved back will ensure your spine is always well-supported.
Its adjustable armrest is suitable for all work desks as you can quickly alter its height and keep your arms comfortable while working.
This lightweight chair comes with caster wheels that quickly move across your office cabin without creating any scratches on the floor.
Its sleek body adds to every office's class and proves to be a worthwhile investment in your personal space.
The ergonomic headrest is curved to hug your neck muscles and protect them from getting stiff during long working hours.
However, be mindful that this Bilkoh chair doesn't have a footrest; if you want to lie down during the break hour, this one might not suit you.
Pros
3-position recliner
Accessible knobs
Curved lumbar region
Waterfall seat
Breathable body
Cons
 9. JULYFOX 170 Degree Reclining Ergonomic Office Chair
If you have a backache and need a long-term buddy to control it during the work hours, this JULYFOX chair is best for you.
Its PU leather body keeps your spine in place and doesn't exert pressure on your joints.
If you don't get to leave your office throughout the day, this plush leather chair will ensure you get proper rest in-between the work hours.
Its thickly padded seat, backrest, and headrest collectively support your posture and offer impressive comfort while you nap.
Its waterfall seat edge keeps your knees comfortable and offers a stable posture to your lower body.
You'll get 3 reclining positions in this JULYFOX chair that are best for napping and working alike.
Since this can offer up to 170 degrees reclining, it is good for even lying down when you are tired.
The ergonomic levers offer speedy adjustments so that you can comfortably change its reclining level and rest.
Pros
Wide seat
Heavily-padded lumbar support
Steel frame and heavy-duty metal base
Curved headrest
Executive look
Cons
Not ideal for warmer regions
10. STARSPACE Big & Tall Office Chair with Footrest- High Back Executive Computer Desk Chair
When you have a broad physique paired with long working hours, finding the ideal office chair is no cakewalk.
Luckily you have this STARSPACE big and tall executive chair that beautifully curves your lower back and keeps you comfortable when you sit. 
The premium quality leather doesn't lose its shine and remains new-like for a considerable time, proving to be a worthy investment.
The soft overall seating relaxes your muscles and feels incredible when you nap during a tiring day.
Its waterfall seat edge keeps your lower body comfortable and gives you a good stretch when you want it.
It's perfect for frequent stretching during the day, as you won't have to get up or move several levers to do this.
The ergonomic armrest is also here to make your life more comfortable and pain-free during office hours.
Pros
Adjustable built-in lumbar support
· Removable pillow
· Thickly padded headrest
· Accessible adjustment levers
· Heavy-duty steel frame
Cons
Not ideal for people with shoulder pain
11. Duramont Reclining Leather Office Chair with Lumbar Support
When we talk about comfort and style in office chairs, Duramont stands tall because of its ergonomic furniture. 
This leather chair is exclusively designed for prolonged work hours, where you have no option but to stay in the office.
Its waterfall seat edge is best for lower back pains and proper blood circulation throughout your spine.
The premium quality leather relaxes your muscles and adds to the beauty of your office alongside.
Its quickly retractable footrest lets you enjoy power naps without leaving your work desk, which is ideal for strenuous workdays.
You get 3 reclining positions in this chair, which prevent your body from any additional stress and keep it well-curved as you nap.
Pros
Comfortable seating
Plush leather upholstery
Ergonomic headrest
Quick adjustments
Good lumbar support
Cons
Not designed for tall people
If you don't want to end up with sore back and leg muscles after completing your work stint, get yourself an ergonomic office chair for napping. The above-described napping chairs are equally perfect for active working and comfortable napping, making them a wise investment in office furniture.
All of these chairs are selected after detailed research and are best in terms of quality; the only thing that differs is the price range. So, decide how much you can spend on an office chair that reclines for naps and choose accordingly.