Today's Best Office Chair for Overweight People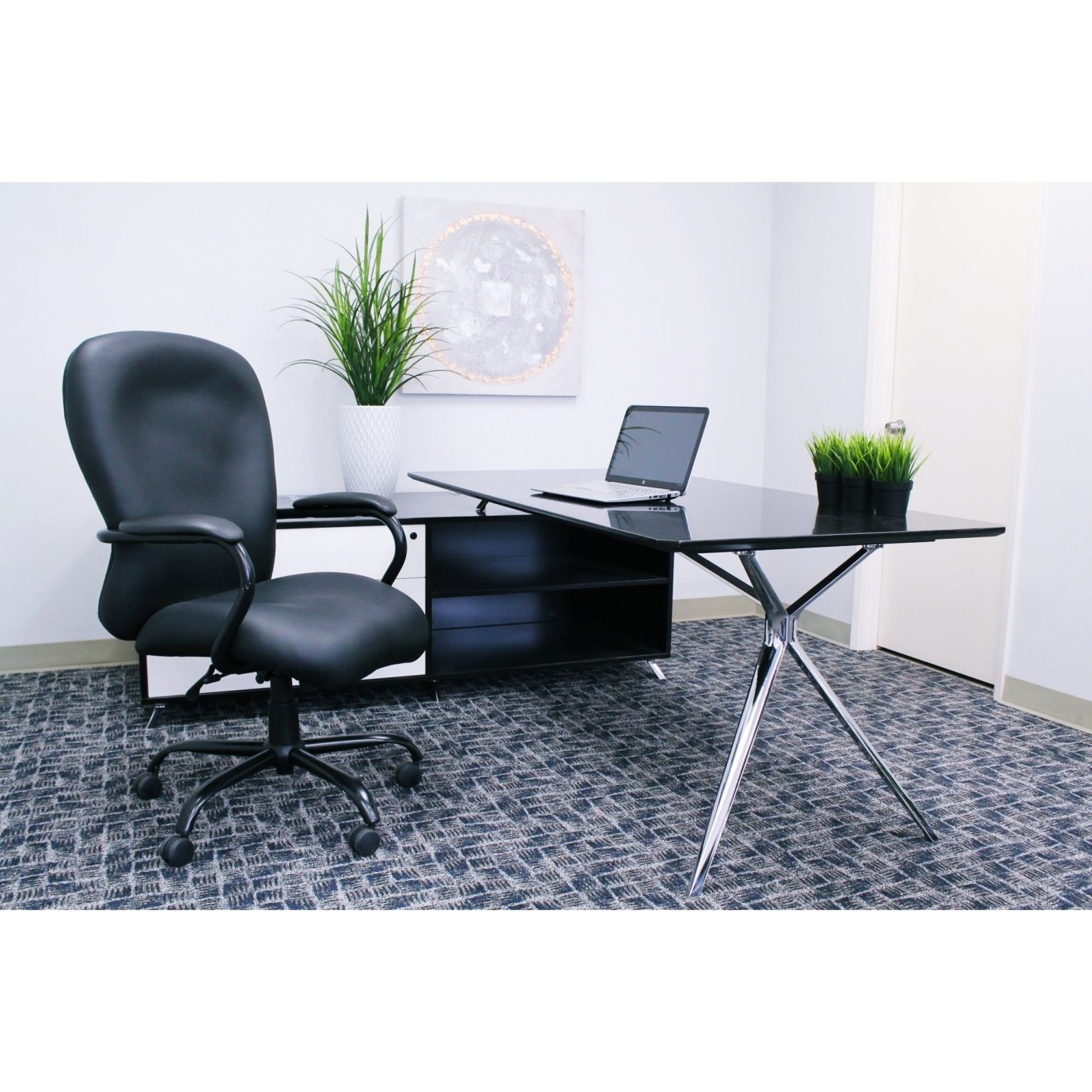 Today's best office chairs for overweight people are uniquely comfortable and built for a larger frame. Everyone working the usual nine-to-five job understands how difficult sitting can be. The case is much worse if you work in a customer care center or government office where there isn't much chance to walk around. Our spines are not built to endure long sitting hours, but the computer age we live in requires that.
There is nothing like being comfortable in your place of work – it gives a balance that enhances productivity and well-being. Physical ergonomics, which deals with arranging the furniture in your workspace in a way that creates posture support, work efficiency, and comfort, is a vital consideration for every office.  
Related: Today's Best Office Chair Under $100
Being stuck with an unsupportive chair can cause severe damages to the back, spinal cord, and nerves, especially for overweight people.  Larger bodies have significant pressure points that become painful, especially during prolonged use.
It is necessary for businesses to invest in appropriate seats for larger employees. If employees feel awkward and cannot sit conveniently in the chair or if the chair breaks apart, it could cause unwanted and embarrassing situations.
Before we delve into the best office chairs for overweight people, let us examine the features you should look out for when buying.
Factors that Make an Office Chair Ergonomic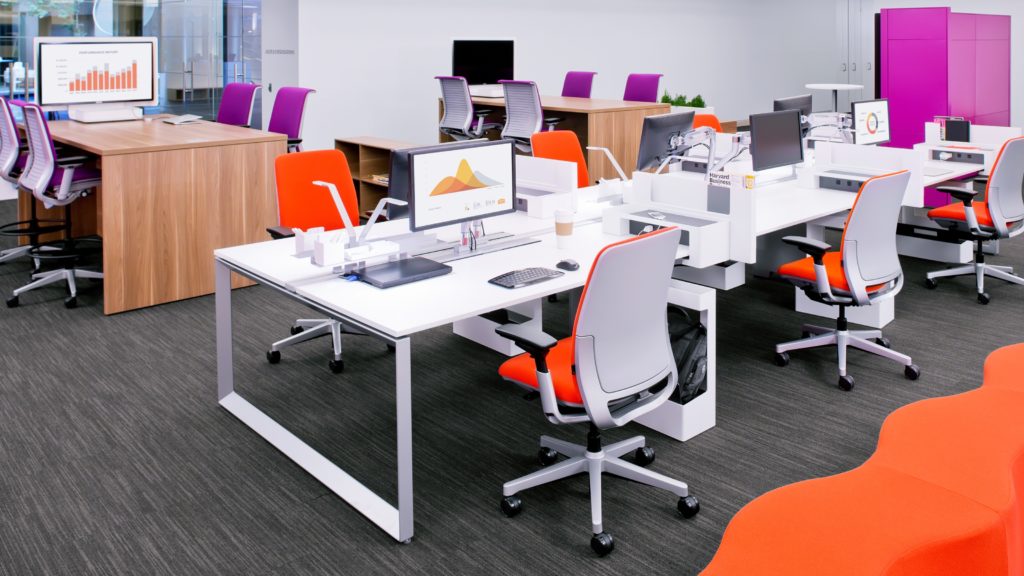 When it comes to finding the right ergonomic chair, there are crucial factors to consider. However, some requirements will need to be based on your personal situation, such as your place of work, the amount of space available, and your office desk.
A chair is ergonomic because your body says it is, not because the product says so. There is no one-size-fits-all scheme because we all have unique body shapes and sizes, and a chair is ergonomic when it suits your size, height, and body shape.
This is a huge yet underrated feature when looking out for the best office chair. Most retailers do not even include weight capacity in their listing and most office chairs are designed for people below 250 pounds, so it is very easy to develop chair trust issues when you are overweight.
Purchase a chair that has a more substantial weight capacity than your weight. If you weigh 300 pounds, get a chair that has an ability for 350 pounds or 400 pounds.
The width is equally as important as the weight capacity. The chair that you choose should be wide enough for you to sit comfortably in any position.
A good chair should be able to support your back and neck. Therefore, the height of the chair is the next factor to note. If you are tall, you will want a chair that can be adjusted to a higher position to stretch your legs and avoid cramps, and if you are short, you don't want a chair that is too tall, so your feet can touch the floor.
Lumbar support is the support given to the lower back when sitting or lying down. Even if you experience back pain when you sit for long hours, lumbar support is a necessary tool. An ergonomic chair should ideally have adjustable lumbar support that can be positioned where your back needs support. To know whether the chair has good lumbar support, you should sit up straight with the head, spinal cord, and butt in a straight line and sit all the way back against the backrest to check.
Related: Best Lumbar Support Cushion For Office Chairs
For an overweight person, a chair is a lot more comfortable if it has armrests and more so if the width and height of the chair are adjustable.
Stronger and high-quality materials will be needed to make a chair of this standard. The fabric used should be a heavy-duty material, and the padding should be firm because more pressure is applied. The best office chairs for overweight people should be durable and sturdy.
Ergonomics for Sitting
Are you working in an office or any workplace that requires a lot of hours sitting at a desk?
That can be very stressful to the body if you do not take proper precautions. Estimates show that about 50% of people in corporate workplaces suffer from some different forms of back pain, and these are mostly a result of poor sitting etiquette.
The long-term effects of poor sitting posture can have very harmful effects on health and wellness, especially when you are overweight. The way you sit and the things that you sit on affect the health of your spinal cord, especially the lumbar region that has the most massive-sized bones and is the most frequently affected.
Related: The Best Ergonomic Office Chair
By observing proper sitting ergonomics, including how to sit on your chair and the type of office chair to use, these effects can be avoided. Choosing the best office chair for overweight people will not help if you do not know how to sit correctly. Here is what you should know.
When you sit, observe the following:
   Do not bend your head forward – it prevents neck injury.

   Make sure your chair has lumbar support.

   Use armrests for your forearms – this prevents shoulder and back pain.

   Move wrists to avoid them cramping up.

   Place knees at a 90-degree angle to the torso and set feet on the floor.
When you sit on a disproportionately high chair:
   It disrupts body equilibrium and causes tiredness.

   It places pressure on your thighs and can cause varicose veins and swelling in ankles.

   It makes the lumbar support ineffective.
When you sit on an extremely low chair:
   It prevents easy blood circulation in legs and causes cramps and swelling.

   It intensifies pressure on the butt and makes you uncomfortable.

   It places pressure on your internal organs.
Best Office Chairs for Overweight People
The best office chairs typically exceed regular expectations. They present you with immense ergonomic advantages, exceptional lumbar support, and breathable mesh back while concurrently giving you a wide array of customizable options ranging from colors to contours, just to ensure you get the best experience.
No, they are not going alleviate your burden all-day long, yet the customized suspension and suitable aesthetic make a remarkable difference in the long run. Here are the best office chairs for overweight individuals that provide optimal support for long work hours. Let's get started.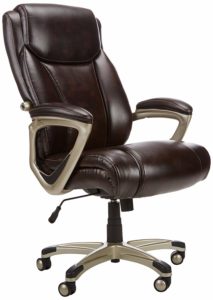 This is a high-quality design for big and tall users. It gives you a sleek and professionally styled appearance along with an advanced support system made for your comfort. It is durable enough to withstand everyday use.
It weighs 44 pounds, and it supports up to 350 pounds. This is a 360-degree swivel chair with dual caster nylon wheels for smooth rolling over carpets and wooden floors.  It has very firm padding and great height advantage. This chair is designed to keep your back properly aligned all day long and is also equipped with padded armrests for extra comfort. There is a dial on the right side of the backrest that provides infinite locking adjustments for setting the chair to a comfortable tilt angle
Also included in this chair is a curvy seat base that provides adequate lumbar support, adding to your productive work hours because you can now sit for a more extended period and remain comfortable. It has a hydraulic lever positioned conveniently below the seat pan to adjust the seat to your preferred level. To raise or lower the seat, step out from the chair and pull on the pneumatic control handle. This seat adjusts from 18.75 to 22.25 inches high.
Pros
   Easy to adjust

   Cushioned for comfort with firm padding and leather covering

   Smooth rollers and a 360-degree swivel

   Durable

   Thick form to support up to 350 pounds

   Has extra features like a tilt mechanism with a lock

   Height adjustable seats

   High-quality components for durability and strength
Cons
   The armrest is not adjustable.

   The seat will need to be used for some time before it gets entirely comfortable.
Check The Latest Price
---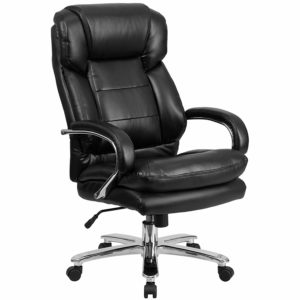 This chair is built with a sturdy metal base that provides a weight capacity of up to 500 pounds. It is known as a multi-shift task chair; it is versatile for any type of workplace and can be used 24 hours around the clock. Its large and tall build gives it the ability to support just about any size, shape, or height.
It has a high back which includes a headrest for neck and shoulder support, a broad seat pan of 22 inches, and built-in lumbar support. The minimum seat height of this chairs 21.5 inches while the maximum height is 25 inches.
Comfort is guaranteed in this model with its four-inch padded seats and tilt mechanism. It has a tilt adjustment knob which puts the chair in a cozy reclined position for when you need to take a break from work and relax a little.
The contoured seats help to distribute the pressure points that the weight applies to the chair, and this brings balance and enhanced comfort for the user. It also has a 360-degree swivel for maximum use of the office space provided without any extra stress, and the pneumatic levers at the base of the seat are there to raise or lower the chair when you need to.
Pros
   Optimal comfort provided

   Adjustable height

   Easy maneuverability

   A headrest is included.

   Ability to recline into a resting position

   500lbs weight capacity
Cons
Check The Latest Price
---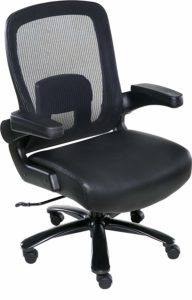 This type is one of the broadest and tallest office chairs available. It offers more advanced support for working comfort.  Equipped with a pocket coil cushioning that is suitable for any body shape or contour and weight capacity up to 500 pounds, this is your ultimate package.
It has a width of 30.5 inches, more padding than the average chair, a bonded leather seat with a fully adjustable lumbar support system, and a strong pneumatic lever for height adjustments. There are additional features like a tilt angle which can be locked with an adjustable knob from a single butterfly operation tool. The backrest is composed of layered mesh for extra hold and airflow. It has heavily padded armrests that can be drawn up or down at the user's convenience.
Pros
   Wide seat and comfortable backrest

   Easy to assemble

   Made with breathable, durable mesh fabric

   Integrated with adjustable lumbar support

   Available height adjustments

   Padded armrests to relieve tension of elbows and forearms

   Curved backrest to support the spinal cord
Cons
   This chair can be hard to recline.

   The armrests can only be adjusted vertically.
Check The Latest Price
---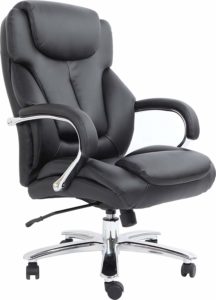 With an extra wide seating area, a reinforced pneumatic lift, an extra sturdy base and body, the Admiral III Big and Tall Chair is designed to stand firm and supportive while you sit. This easy-to-assemble chair is made with a heavy-duty chrome base, and its body is upholstered with black-bonded leather that layers the foam padded on the seat and backrest.
Related: Best Big and Tall Office Chair
This 500-pound capacity chair features a wide seat and lower back area with a long-lasting seat cushion for a spacious and comfortable sitting position while working. The pneumatic seat lever lowers and raises the chair as needed, and the swivel feature increases mobility while sitting. The chair is held up by a thick and durable iron chrome base with double coated twin wheel casters that roll smoothly on most surfaces such as chair mats, carpets, linoleum, etc.
Pros
   Five-point support base

   Provides lumbar support

   Thick padding for armrest and backrest

   360-degree swivel to easily maneuver in the workspace

   Designed for extra comfort

   Durable construction

   Armrests to reduce shoulder tension

   Easy to assemble

   Tilt, tilt lock, and lock swivel features available
Cons
   No added headrest

   Non-adjustable armrests
Check The Latest Price
---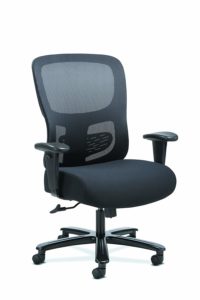 This Sadie seat design is where quality meets value. This comfortable 350-pound weight capacity is ideal for a workplace or a home office. It has an upscale, sophisticated look and is one of the most supportive and versatile office chairs for overweight people.
The black mesh fabric used to make the backrest is sturdy, durable, allows for air flow, and stretches out to dissipate the pressure points of the occupant, while the seat pan is wide and thickly padded. That way, the user can work for long hours and not feel fatigued. It offers adjustable lumbar support for your lower back and an adjustable armrest. The strong, smooth rolling casters can move quickly over any surface.
It also has a 360-degree swivel for maximum use of the office space provided without any extra stress, and the pneumatic levers at the base of the seat are there to raise or lower the chair when you need to.
Pros
   Adjustable armrests

   Breathable, air mesh backrest

   Well-padded, wide seat pan

   Hassle-free assembling of parts

   Durable fabric

   Three-year warranty

   Built with a lot of metal parts that make it sturdy
Cons
   Only 350-pound weight capacity

   No available headrest

   Instructions for assembling the chair are not explanatory.

   The back seat does not lock when reclined.

   May not be ideal for short people.
Check The Latest Price
---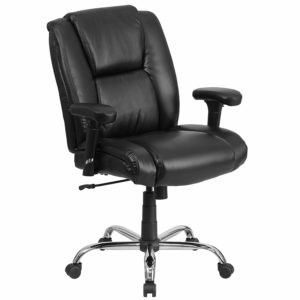 The Flash Furniture Hercules series offers maximum ergonomic support and is very affordable for those on a budget. There are a lot of features that make this one of the best office chairs for overweight people
It is designed for 400-pound weight capacity and has a durable metal base that makes the chair sturdy and well balanced. The backrest is well contoured to relieve stress from pressure points on the occupant's body, and the rounded lower part provides lumbar support with a knob that can adjust its firmness: At the lowest level, you will barely feel it, and at the highest level, it becomes stiff and sturdy. The firmness of the lumbar support needed varies for male and females occupants and for different weights as well.
The armrests are not adjustable, but they can be drawn up or down when the occupant needs them or not.  The minimum arm height from the seat is six inches, and its maximum height from the seat is 8.75 inches
This chair is spacious because of its broad seat pan and is very comfortable. It is covered with a durable mesh fabric for improved airflow and is thickly padded with three inches of foam
It has a waterfall seat edge that relieves you of pressure at the back of your legs and improves blood circulation in the feet, reducing the chance of muscle pulls and numbness.
Pros
   Quality, durable design

   400-pound weight capacity

   Adjustable lumbar support

   Adequate width and height for tall users

   Comfortable enough for long hours of work

   360-degree swivel to easily maneuver in the workspace

   Tilt adjustment knob

   Waterfall seat for added comfort and convenience
    Cons
   Non-adjustable armrests

   The back seat does not lock when tilted.

   Feedback shows that there is some difficulty in assembling the chair
Check The Latest Price
---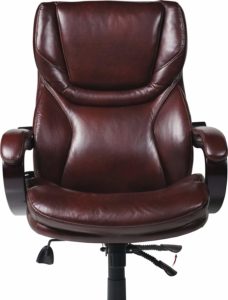 This classy, eco-friendly, brown leather look is just the kind of contemporary style that an office setting needs. It is designed with a stylish wood base, soft body pillow cushions embedded in the seat pan and the backrest, and a soft leather covering to wrap up this chair package.
Assembly is required. The chair has a seat height of 18.75 inches and a 350-pound weight capacity. The lumbar support in this chair is adjustable for the occupant's needs. The height can also be adjusted with the pneumatic lever positioned just below the seat.  A 360-degree swivel mechanism is provided by the smooth rolling casters for maneuverability in the work zone.
It is durable with industrial grade components used in its construction, so it can withstand the strain of constant use. The armrests are thickly padded and coated in rich espresso to support the occupant's forearms and wrists.   There is a tilt feature included with an infinite lock control system that allows the chair to relax at any angle. The pneumatic lever situated at the base of the seat adjusts the height of the chair.
Pros
   Stylish and modern layout

   Strong and durable construction

   Ergonomic tilt feature with an infinite lock

   Broad seat and height

   Soft-bonded leather

   Cushioned waterfall seat

   Five caster wheels
Cons
   Non-adjustable armrests

   Only 350-pound weight capacity

   Not made for short people
Check The Latest Price
---
The Morpheus is a 500-pound capacity office chair designed for overweight people. It lives up to its name with its high back and wide seat design. It can withstand 24/7 usage and yet remain comfortable, balanced, and sturdy. It is the heavy-duty iron base material that gives it this much tenacity; it is well-padded on the seat and on the looped armrest.
It has a wide seat pan covered with soft, black-bonded leather and an iron chrome bases that houses the five smooth-rolling caster wheels. It adjusts to a minimum height of 21.5 inches and a maximum height of 25.5 inches
This chair is equipped with ergonomic features that enhance health and well-being while working. It has a tilt lock mechanism with an adjustment knob that allows the chair to recline to any position and lock at that convenient angle. It features a built-in lumbar cushion for lower back support, a 360-degree swivel seat to save time and space when moving through workspace, and a pneumatic lever for seat-height adjustment. All these features enable you to work long hours while sitting without creating any fatigue, body pain, or stress.
The Morpheus office chair comes with detailed instructions for assembly, including pictures, which is a significant advantage.
Pros
   Easy to assemble

   Design can fit into any workspace

   Tilt lock mechanism

   Wide seat pan

   Adjustable height

   500-pound weight capacity

   Contoured seats to relieve pressure points in the body

   Thickly padded seats for comfort

   360-degree swivel

   Headrest is available
Cons
   Non-adjustable armrests

   Hard to recline

   Not made for short people
Check The Latest Price
---
In Conclusion
Buying an appropriate office chair designed for work that gives you adequate comfort and good posture is a useful and wise decision, especially if you are overweight.