Todays Best Office Chair For Long Hours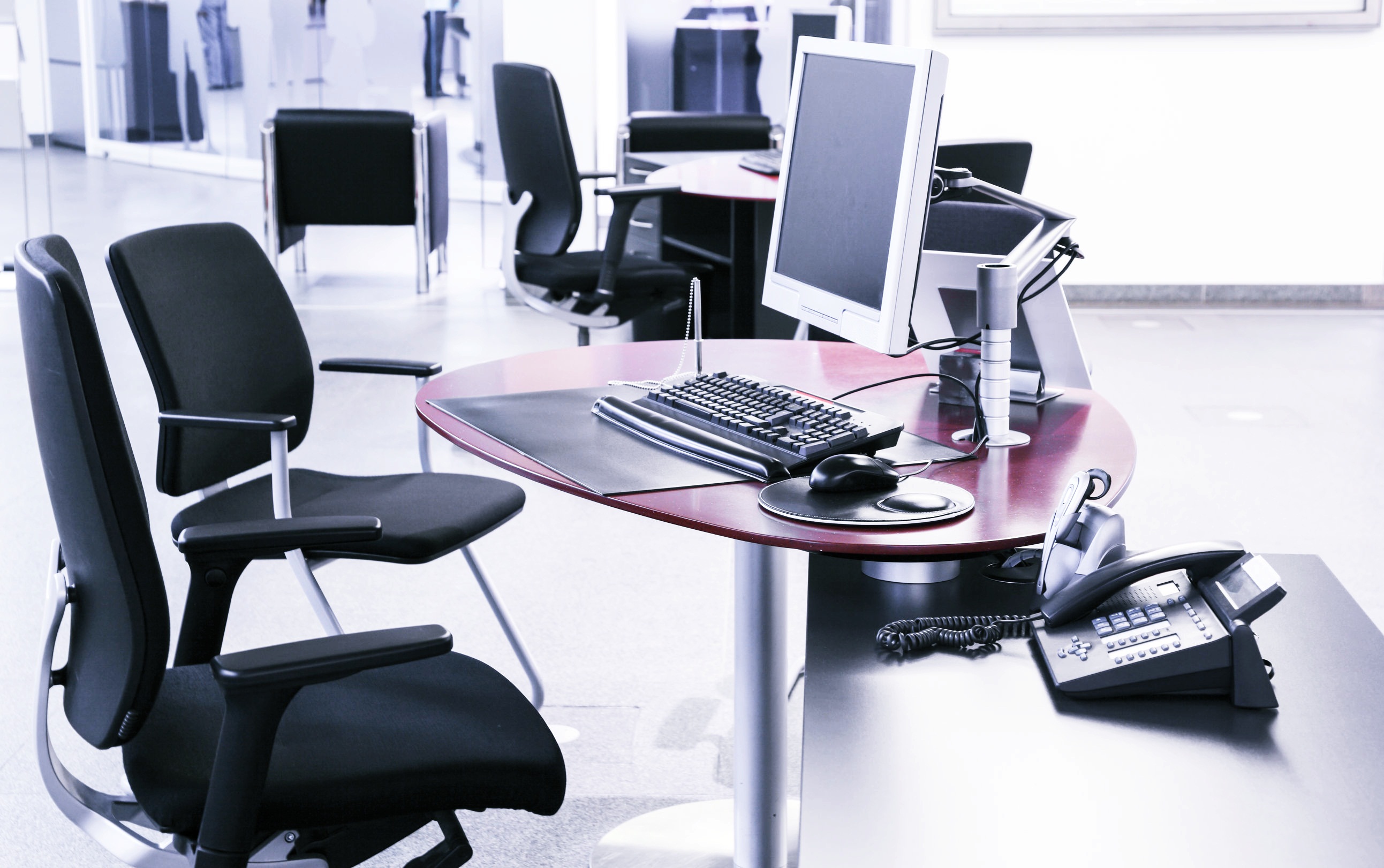 A chair is usually one of the most overlooked furnishings of any establishment. Yet, the best office chair for long hours can make all the difference to your everyday experience at work. Office chairs are perhaps the most important chairs of all. While they may be commonly overlooked, just think about how long you sit in your chair each day.
Office chairs can make a huge difference when it comes to your productivity and your overall performance. An uncomfortable chair can very easily take you out of your flow and keep you from giving your 100% when it is necessary. A chair should be comfortable and functional so that you do not face any difficulties and can give your 100%.
Related: Today's Best Reclining Office Chair
It's true that no chair can give you all the functions that you would need or be as comfortable as the bed you sleep on. But it must hit that sweet spot in-between to ensure that you can give your best. A bad chair can really put a dent in your productivity and your performance.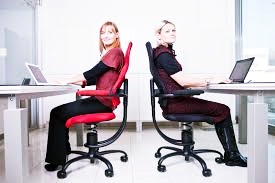 Moreover, an uncomfortable chair can give you a multitude of aches and pains, some of which can lead to long-term adverse effects. Even if you are a person who prefers to work at home as an entrepreneur, you don't have to put your body through the strain of a bad chair.
Keeping all that in mind, you need a chair that is comfortable, durable, functional, and maybe a little stylish. Because why not? If you're spending money on a chair and it's not stylish, then there is no real point, is there?
Chairs come in all different shapes and sizes, and the most expensive ones have prices that range from $7,000 to a ridiculous $500,000. Most of these chairs often throw comfort out the window and tend to cater to a more stylish perspective. Since these chairs take on a more stylish rather than functional approach, bringing one of these highly stylish, expensive, and rather uncomfortable chairs into an office is probably not a good idea.
Taking all this information into account, what should you look for to find the best office chair for long hours? It shouldn't have too many bells and whistles to make it look more like a Swiss army knife than a chair, neither should it be too expensive. An office chair should cater to your specific needs such as style and comfort and should strike a reasonable balance between the two. So in order to help you understand the many different types of office chairs, here is a guide to help you choose the best office chair for long hours.
Best Office Chair for Long Hours: Types of Office Chairs
Thanks to the third industrial revolution, which brought massive improvements in products and their quality, chairs come in all different shapes and sizes. Some are small, some big, others wide and many slim; there is a multitude of chairs to choose from, but each has their own purpose.
The office chair – quite self-explanatory – is for the office and is made in a way that promotes comfort for long hours to help you work better.
Now there is an incredible variety of office chairs; each one focuses on a different aspect of a person to better suit their needs. Some are relatively shorter, some are relatively wider, and some are relatively taller. Each chair tends to compensate where a certain person is lacking and tends to give them a more comfortable experience.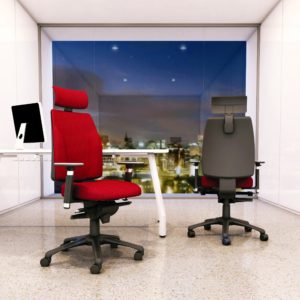 A computer chair has a more comfortable padding, but that comes at the expense of some ergonomic features, which makes it the best to pair with computer desks.
These two are just cups of water compared to the very large pond of office chairs. There are executive chairs, big and tall chairs, drafting chairs, conference chairs, and kneel chairs just to name a few. With the vast variety of chairs at your disposal, it can seem like a very tough task to get the right chair, something that has all the features you are looking for.
If you are the type of person who prefers to have a more comfortable chair that tends to your many customizable needs, you should get an ergonomic chair. An ergonomic chair has all the bells and whistles that you would expect from a customizable office chair. Some ergonomic chairs have three levers, and some even have five, each set for a different of type function. Aspects like knee tile, seat depth, back height, seat height, and lumbar support are all customizable, making these chairs the highly versatile.
Related: Today's Best Office Massage Chair
If you are short, you can get a petite chair which will not make you feel uncomfortable and will allow you to work better. Petite chairs help compensate for the relatively short stature of a person who will sit in them. These chairs are often very comfortable, but might lack some of the functionality that one would expect from an office chair.
A chair is a very significant investment, as an office chair can cost somewhere around $500 to upwards of $2000. Seeing how potentially expensive a chair can be begs the question, why bother? Do office chairs really tend to make that great of a difference?
Since you will spend most of your day at the office working, you expect nothing less than the best office chair. So, to properly cement the idea of how necessary an office chair can possibly be, let's look at some of the benefits that some of these more customizable chairs can provide.
Health Benefits of Office Chairs
Office chairs are very different from regular chairs or dining chairs since you are likely to spend a large chunk of your day simply sitting there and working. To better allow your creativity to flow from your mind into your career or work, you will need a nice and comfortable chair. The best office chair for long hours can offer many surprising health benefits.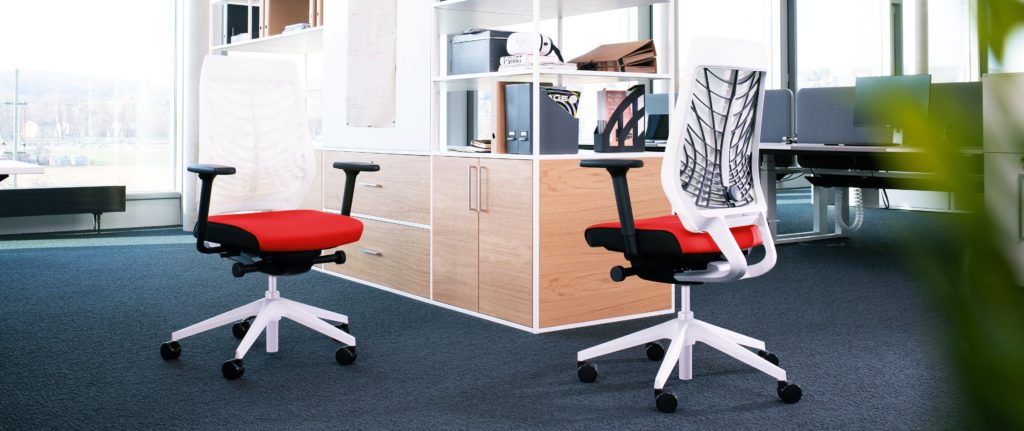 A comfortable chair can make a good day even better, and an uncomfortable chair can make a bad day simply miserable.
There are a lot of health and recreational benefits to all these different types of office chairs. However, seeing as there are so many different types of chairs, a complete list can emerge simply about all the benefits each of these chairs individually hold. So, in order to keep things short and simple, rather than looking into all the chairs individually, let us look at the benefits that a general office chair provides.
An office chair is one of the most essential furniture pieces in the office, and it is what gives the workplace a more professional feeling. As an integral part of the office, a chair has many health benefits that most people tend to take for granted.
Most office chairs offer lumbar support. For some people, this may just be another feature in an expensive chair, but for others, this is a very important part of the chair. A lumbar cushion covers and supports your lower back region while you are sitting. This cushion offers immense comfort that can prevent or stop back aches that a person can experience while they are sitting. If you have ever had the privilege of working in an office for a multitude of hours, surely you have felt the difference between an ordinary chair and an office chair.
Another great health benefit of one of the best office chairs for long hours is posture correction. Due to humans coming a long way since the chivalrous times of knights and kings, it is very common for people to have a bad posture. A bad posture can make you feel tired very quickly and can have adverse effects on your bones, especially your back.
Office chairs are built to improve and promote better posture in order for people to work more comfortably. Furthermore, a good posture promotes significantly longer sitting times and allows you to do work more productively.
Related: 50 Best Productivity Tips
Speaking of posture, another benefit that office chairs have for your health is reducing the pain in your neck. Neck pain is very common among people who sit and work long hours. There are a multitude of things that can cause neck pain, such as wrong posture, no support for the neck, and keeping your neck in a constant state for long periods of time. Lucky for you, an office chair can solve all the aforementioned problems quite easily.  
The best office chair for long hours can also help improve the blood circulation in your body, as you can adjust the height of your seat. Due to the changes in height from person to person, it is quite hard for people to find a chair that perfectly fits their size, which is why most office chairs let you adjust the height of the seat to a level that is more pleasing. This allows for your blood to flow more easily and more effectively.
10 of the Best Office Chairs for Long Hours
Now that you understand the differences between the multiple office chairs and understand how important an office chair can be to your working environment, it's time to move on to the products themselves.
The list of 10 different chairs will cover most of the different types of office chairs and will describe the many features that each of them has.
Each chair in the following list is in the price range of $500 to $2,000, which is the average range for office chairs. With all the pandering out of the way, here is a list of 10 of the best office chairs for long hours.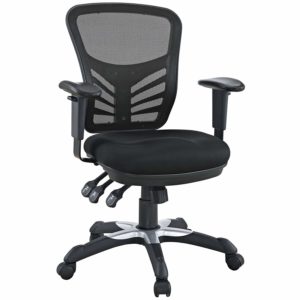 Starting off with one of the best office chairs for long hours, the Modway Articulate Ergonomic chair strikes the perfect balance between style, functionality, and comfort. The chair features a mesh back that allows unmatched comfort with an exceptional breathing material to avoid staining your back with sweat. The back of the chair reaches just below the shoulders, giving an immense sense of comfort.
That sense of comfort is further improved upon with the help of the six-inch mesh-padded seat. These mesh-padded seats promote long hours of productive and comfortable work without putting your comfort at risk.
The chair also has a slew of many functional levers that you can use to further enhance your overall work experience.
With a total of three levers, you can greatly customize the experience that you get when it comes to your chair. One of the levers controls the height of the chair. It does so with the help of the pneumatic gas cylinders that allow the seat to stay steady in one place for a longer period of time.
The pneumatic gas cylinders also make the process of lifting your chair or pushing it down quickly easy, with very little resistance or friction that you would otherwise feel in other office chairs.
The Modway Office chair can also be properly adjusted, allowing for a more comfortable working experience. You can also adjust the height of the armrests, something that other chairs take for granted. The armrests can go all the way down to the seat level or as high as your average elbow length.
Moving on to the build quality of the chair, the Modway office chair features hard plastic around the edges of the chair at both the back support and the seat cushion. The chair also features a two-tone base that has an impeccably sturdy feel to it.
The ergonomic chair also gives the person seated a sense of mobility with the help of its dual wheel hooded casters. The wheels are very durable and can withstand a weight of 250 pounds.
Thanks to the breathable back and well-padded cushions, the Modway office chair gives an unmatched comfortable feel. This comfortable feel is enhanced thanks to the slew of different functional levers and wheels that allow for mobility and a customizable seating experience. Thanks to all these amazing qualities that the Modway chair holds, it is one of the first chairs on this list.
Check The Latest Price
---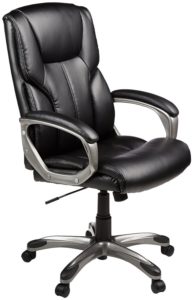 Since their inception as an international online marketplace, Amazon has come a long way in terms of services and products. From home appliances and other types of electronics, to their more recent line of home furnishings and office furnishings, they have adapted along their journey and have become much more than just a simple online marketplace. Case in point: the Amazon Basics lineup of office chairs.
Amazon shows off their premium quality and design choices that help make for this gorgeous chair. The Amazon Basics High Back Executive Chair gives you amazing comfort with all the functions that you would expect from an office chair.
The executive chair boasts impeccable style without having any sort of flashy features. The executive has a plain, simple, and minimalistic design that perfectly complements the deep black color that saturates the chair. The black color of the chair offers an unmatched sense of style and individuality without the use of unnecessary accessories.
Nevertheless, style isn't the only thing that Amazon has taken seriously with their Basics lineup of chairs, as their executive office chair offers comfort along with bold black accents. The Amazon Basics Executive chair is upholstered with the help of leather and PVC. Leather and PVC protect the cushions underneath from damage. The double-layered seat cushion provides you with excellent comfort to improve your productivity. The back hides behind its comfortable memory foam that adjusts to the way you sit to offer you a great sense of comfort.
To further improve your working experience, both armrests also have leather and PVC on top of them to avoid aches in your elbows and chafing. The back of the chair curves around your back in order to give your back the support that it requires, so you can operate at full capacity for long hours. Thanks to the curved seatback, you can save yourself from those dreadful upper and lower back pains that you would otherwise experience.
A chair's comfort always leans a little on functionality in order to provide an overall great experience. The Amazon Basics chair offers a lever for you to properly adjust the height of your seat to your liking. This offers a great customizable feel to your seating experience, as you can easily adjust the height of your chair depending on the task at hand.
The chair is also capable of withstanding a weight of nearly 250 pounds, making it a great seat for a heavier individual. The executive chair also provides you with a proper tile knob from which you can control the tilt of the chair. You can change it from rocking back and forth to completely stationary; this not only gives more customized feel to your chair, but it also makes it highly functioning.
At the base of the chair, you can find nylon coasters that allow for mobility while you're sitting and 360-degree swivel. The swivel and nylon coasters make for a very versatile range of motion. The executive chair will allow you to move around the office without having to get up.
Although the Amazon Basics lacks some of the functionality that you would find in other office chairs, it more than makes up for it with its bold colors and amazing comfort. The upholstered PVC and leather beneath it conceal highly comfortable foam that wraps around your entire back to give you great comfort.
Check The Latest Price
---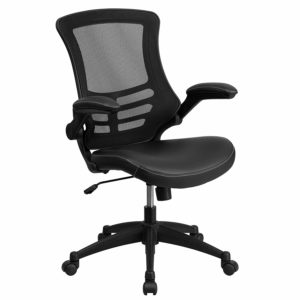 Flash furniture is a household name when it comes to office furnishings. Throughout the entire time of their operations, they have come up with amazing furniture pieces for both the office and for homes. The Mid-Back Black office chair is possibly their best office chair yet.
Flash Furniture's Mid-Back Black chair comes equipped with the best features in order to make for an overall great sitting experience.
The Mid-Back chair offers great comfort despite its decreased height. The back rests just below the shoulders, offering a great and comfortable seating experience. The chair also features built-in lumbar support, which will further improve comfort when you sit, and you won't have to buy any external cushions for your lower back region.
While the seat does not have any cushions in its back, it does have a breathable mesh back. The mesh back will keep sweat stains at bay and will surround your back when you sit, making for a very comfortable experience.
The seat cushion for this task chair not only takes into consideration your comfort, but it also takes into consideration your health. A mesh-upholstered seat holds up well in a waterfall position; this waterfall position adds to the comfort of your chair, and it also improves the overall circulation in your body. Unlike other chairs on the market, this task chair by Flash Furniture allows you to comfortably work without the fear of high blood pressure, blood clots, or high blood sugar. The waterfall seat ensures that your legs stay in a position that promotes comfort and proper circulation in your body.
The mesh allows for marathon work hours where you have to sit for long periods of time, and it maintains your body's posture and circulation to maintain a healthy body. To further improve the overall comfort of your chair, Flash Furniture also added mesh cushions on the armrests. These armrest cushions allow you to work at your full potential without having to give up on your comfort.
A chair's comfort is only as good as the functionality that it provides; this is something that Flash Furniture took very seriously. The task chair features a lever to allow you to adjust the height of your chair, as well as a knob that allows you to adjust the tilt of your chair, offering a more customizable sitting experience.
The pneumatic seat-adjust mechanism in the Flash Furniture chair ensures that you get consistent seat height. It is also very durable and allows you to stay at a certain height for a longer period.  
Other than the very obvious seat adjustment lever and the tile adjusting knob, the armrests on the task chair posses the ability to properly kick up. This not only gives you a more customized seating experience, but also caters to the different style that a person wishes to sit in. Though you cannot change the height of the armrests of your chair, it more than makes up for that with the comfortable padding and the capability to fold in line with the back of the chair.
At the base of the chair, you have heavy-duty nylon coasters that can support a weight of more than 200 pounds without the risk of breaking. The nylon coasters also provide a great sense of mobility, which means that you won't have to get up to grab something close by in the office.
Check The Latest Price
---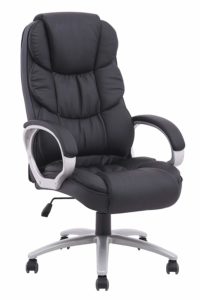 An office chair for an executive or chairman should always radiate personality, power, and leadership, things that this chair strives to exude. The BestOffice brand of office furniture is a relatively small business that prides itself in making durable and amazing office chairs that promote productivity and comfort at a relatively low price. This is very apparent in the type of office chairs that they produce.
BestOffice is a company that mostly focuses on bringing consumers quality office equipment at low prices, something that they have achieved with their latest chair. BestOffice brings you a truly excellent executive chair, equipped with all the functions that you require in the best office chair for long hours.
The chair boasts impressively bold style and amazing comfort put together in a nice box with a ribbon of functionality on top. The chair is black with hints of silver on different parts. The bold and deep black and silver colors add to the overall aesthetic of the chair.
However, the style of the chair is only as good as the overall comfort and the functionality of the chair. This executive chair contains built-in lumbar support at the back of the chair, which also has padding fit for long hours at work.
The padding at the back of the chair keeps your back in a comfortable position to improve your productivity and increase the time that you can sit in the chair. The high-rise back also offers you a place to keep your head comfortable when you are working. Most executive chairs often take this small, yet important feature of adding comfortable headspace for granted.
Moving on to the seats and the armrests, the seats of this office chair were made to provide a seating experience unlike any other. First of all, the chair has waterfall style seats that provide you with the best comfort as well as a healthy body.
A waterfall style seat keeps the circulation in your body flowing and saves you from a slew of different diseases that can be a result from sitting too long. The cushions also have great PU foam with hand-tied coiled springs that offer great comfort, even after long hours of sitting. The following chair is best for marathon work sessions where you must sit for long hours and work.
With the sheer amount of different functions that the executive chair provides, anyone can almost mistake it for an ergonomic chair. Other than the pneumatic height adjustment mechanism that is in almost every chair, the BestOffice executive chair offers a great knob that allows you to adjust the tilt of the chair and lock it to your liking.
Another unique feature of the chair is the ability it gives you to properly adjust the seatback to your liking. The seat can lay back at 120° that allows you to rest during a stressful work session.
At the base of the chair, you can find incredibly sturdy and durable nylon coasters that can withstand a weight of nearly 250 pounds and provide you with great mobility. The BestOffice chair is one of the most attractive and functional chairs that offers a premium sitting experience at a fairly reasonable price.
Check The Latest Price
---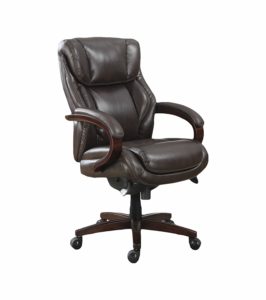 Another entry into the category of executive chairs, the La-Z-Boy Bellamy Executive Office Chair gives you one of the best seating experiences with the help of great and comfortable seats and an immensely stylish body.
While it is true that most executive chairs are more style than substance, the Bellamy executive chair offers premium quality seating without compromising on the style of the product. Thanks to the waterfall cushion of this Bellamy executive chair, you not only feel comfortable as you sit, but your body gets a wealth of benefits as well.
A waterfall cushion promotes blood flow to the legs, preventing your legs from going numb and keeping your body healthy so you can work for longer periods of time.
Speaking of cushions, this particular executive chair also contains nearly five layers of padding that will both help you stay comfortable and work for longer periods of time.  The first layer consists of polyfiber that provides you with a premium look and is the first of many layers to add to the overall comfort. The second layer is memory foam that helps keep your posture intact and proper. Third and fourth layers are all the same PVC comfort foams.
The back is also very comfortable to sit in and keeps your back in top shape while you are working. The back also contains memory foam that settles in shape and covers the entirety of your back to provide premium comfort.
The high back has extra layers of padding that make for a great sitting experience. The high back also gives you a place to support your neck.
Another great factor about this executive chair is its amazing detail in the armrests and how they seamlessly make it incredibly comfortable.
Although you cannot change the position of the armrests or raise/drop them to a certain level, the Bellamy executive chair more than makes up for it with the comfort and position.
The La-Z-Boy executive chair also boasts some very essential functions that improve the overall experience. Beneath the chair is a knob that allows you to adjust the tilt of the chair to your liking and a lever that lets you adjust the height of the chair to your preference.
These features allow you to make for a superior and customizable experience. While some may argue that the functions are not as abundant as other chairs, the functionality is only one of the many factors that influence the overall product.
Below the chair you will find immensely durable and stable nylon coasters that provide you with the mobility that you would expect from a sleek-looking office chair. The chair also has premium wood finishing that looks good and adds to the overall durability of the product.
The Bellamy office chair is capable of sustaining a maximum weight of 250 pounds, which makes it very good for people who are on the heavier side.
Check The Latest Price
---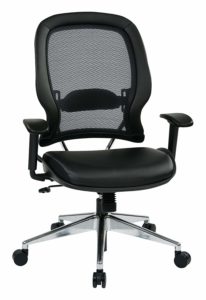 Space Seating is a great company that provides you with one of the best seating experience that money can buy. Their quality throughout their products remains great and is one of the reasons they have become a household name in office furnishings.
The newest installment that comes in their line of office chairs comes in the form of this beautiful, yet equally comfortable and functional manager's chair.
A simple, yet elegant design provides the chair with a comfortable mesh back, great nylon coasters, and a bevy of functions.
Starting with comfort, Space Seating has truly made a wonderfully comfortable seating experience. The seat cushion consists of a great polyester and nylon mix that provide both comfort and a great look. Space Seating is a company that also takes into consideration the many problems of the current day and the importance of recycling. Therefore, they also reuse and recycle old leather into their products, helping environment.
The back of the chair consists of mesh that allows air to pass through and keeps your back from sweating. The mesh also gives a very comfortable experience, as it shapes according to the person's body who is sitting in it. This gives it a greatly customizable experience and a very comfortable experience as well.
With all this talk about comfort, we can't forget to talk about the slew of different functions that this chair carries. Other than the obvious height-adjusting lever and the tilt knob, you can also adjust the height for your armrests to match your personal preference. This adds a layer of comfort and functionality that most chairs take for granted in this somewhat oversaturated market.
Below the chair are nylon casters that give you the mobility to move around without having to get up. Beneath the chair, you will also find very durable and sturdy legs that can withstand a weight of nearly 200 pounds.
A stylish look, great comfort, and amazing functionality mean the Space Seating manager's chair is not only a great office chair for long hours, but it is generally a great chair to sit in regardless of the task at hand.
Check The Latest Price
---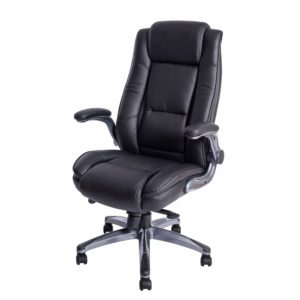 With so many different companies making office equipment, it can often be very hard for someone to choose the right office chair. However, when it comes to KADIRYA, they manage to stand out in this oversaturated market thanks to their attention to detail and the many functions that they provide with each of their chairs. Their recent endeavor into the market has been in the form of this functional, comfortable, and stylish executive chair.
Starting off with what is arguably the most important feature of any executive chair, the style of the chair and the appearance is superb. The chair comes in a dark black color that radiates a sense of professionalism and style.
The dark and bold accents of the chair also complement most of the interiors that you would find in an office or a professional space.
Moving on, though this chair may look amazing, appearance can only take you so far, which is why comfort is also one of this chair's strong suits. Both the back and seat cushions feature amazing upholstery that manage to set it apart from other leather seats.
The seat cushion is very plush with the addition of memory foam that improves the overall seating experience. The padded leather seat cushion takes the shape of a waterfall. The waterfall shape of the cushions not only makes for a great overall experience, but it can also save you from certain medical conditions that most people are susceptible to after sitting too long. The cushion allows your blood to flow properly from your legs, which keeps them from getting numb.
The back of the chair has an elegant shape with added lumbar support. In the office chair industry, a factor such as lumbar support is often taken for granted. That said, KADIRYA understands the importance of chairs that need to be comfortable in order for you to work properly.
In order to add to the overall comfort of the chair, lumbar support comes built in. The padding of the back of this chair is also very good.
Now that we have gone over some of the more important features of this chair, it's time we talk about the elephant in the room: the functionality. A common misconception among people is that only ergonomic chairs can be incredibly functional; this is a fact that Kadirya throws out the window.
Their executive chair comes with a multitude of different functions that cater to working individuals. Apart from the bare-bones height adjustment lever and the tilt-adjusting knob, other functions also include the armrests that happen to flick up or down and a reclining feature that can go as far as 120°.
Below the chair you will find nylon coasters that give you the mobility that you would otherwise want in a chair. These coasters are very durable and can sustain nearly 250 pounds.
Check The Latest Price
---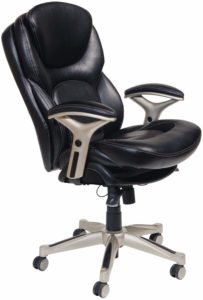 Throughout the 75 years that Serta has been manufacturing office furniture, they have become a homestay thanks to their impressive craftsmanship and their amazing attention to detail. They are also famous for their many hybrid chairs that take great traits from two different types of office furniture and combine them seamlessly.
Their newest addition to this collection is no different thanks to the strange, yet excellent combination.
What if you always wanted to have the style and comfort of an executive chair, but always wanted some of the functionality of an ergonomic chair? Well, you are in luck since Serta brings to you all these traits and much more with their new ergonomic executive chair.
The ergonomic executive chair comes with excellent back padding and seat padding. The seat cushion is simply beautiful to look at and has three layers of cushion that provide it with the comfort that you require to spend a long day.
The back padding is extremely comfortable and completely covers your back, giving you the feeling of sinking into the cushion. The seat also comes with built-in lumbar support, which keeps your back erect and healthy even after you have been working for long hours.
Another one of the more unique features is their active seating technology. AST keeps your back in motion and continues to support your back, regardless of which position you are sitting in. AST can also keep your pelvis in a very comfortable position, so you do not experience discomfort when you are sitting. This gives your back the support for comfortable seating for multiple hours.  
The ergonomic executive office chair by Serta or the Back in Motion (BIM) has a very comfortable height adjustment system that doesn't give any resistance when in use. The armrests are also very comfortable with padding on them for an excellent experience. There is also a lever that allows you to recline the chair, so you can nap or better improve your back position.
With good looks, excellent padding and back support, and plenty of functions, the Back in Motion chair gives you an amazing sense of comfort and support that most brands take for granted. This makes the Back in Motion one of the best chairs to sit in for long hours.
Check The Latest Price
---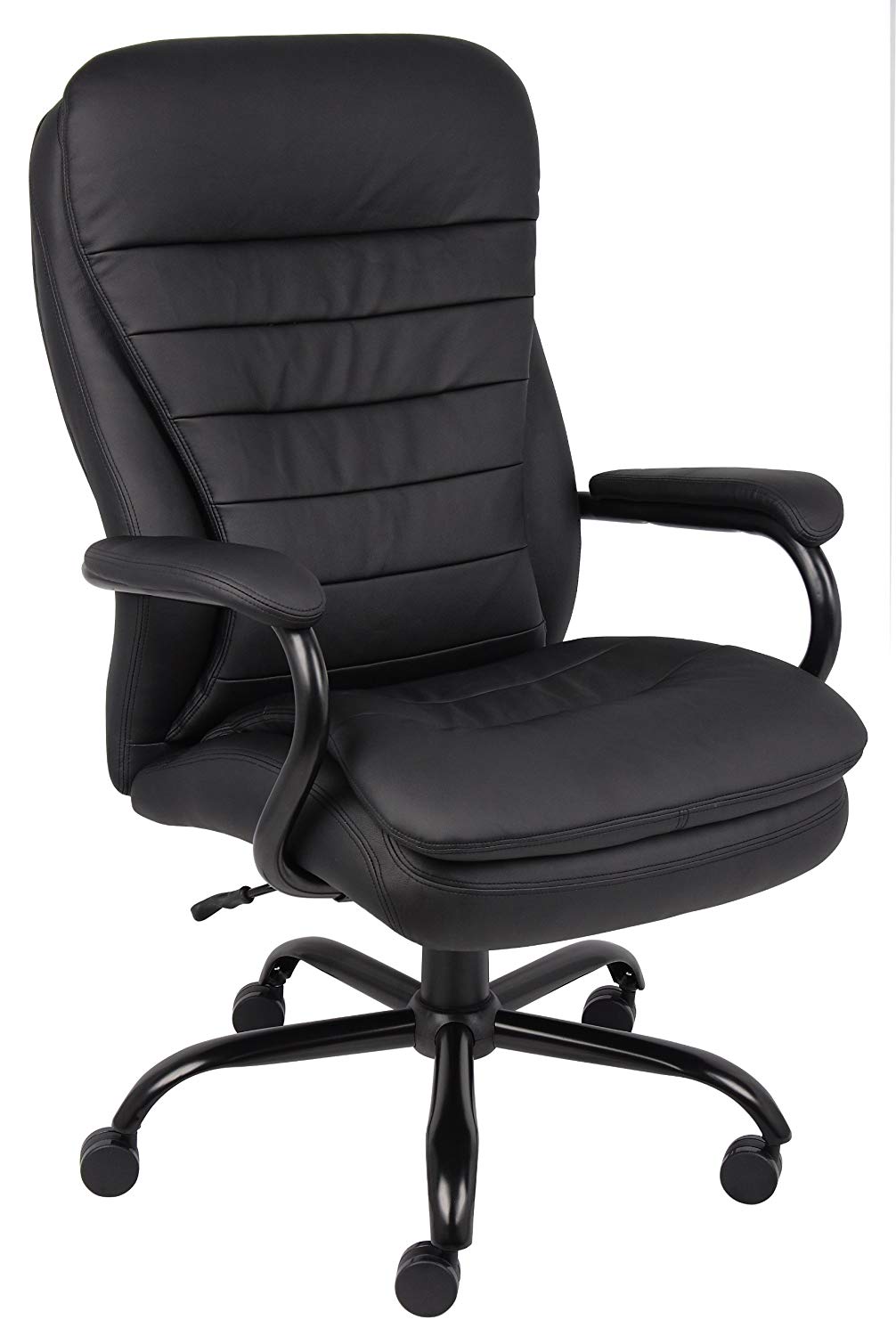 A chair for a boss should radiate a persona of power and leadership, something that Boss Office Products promises to provide with the heavy-duty chair. As the name implies, this chair is for the person in charge. Its amazing sense of style shows off its amazing comfort and the functionality that it possesses.
The chair supports a pneumatic gas lift that allows you to seamlessly adjust the height of your chair without any friction or resistance. The cushion also allows you to be productive at work through its immensely comfortable layers and exterior cushion that further cements the comfort of the chair.
The back support is also amazing with nearly two layers of padding in the mesh back seat and an exterior cushion that further improves your comfort. The entire seat is upholstered in black caressoft that will not only keep you comfortable while you are working, but it will also keep your back healthy at the same time.
Other than the seat cushions, the armrests also have padding on them and make for a very comfortable sitting experience. The chair also accompanies the somewhat cliché, yet important tilt function. You can adjust the tilt of the chair according to your liking.
Beneath the chair, you will find nylon casters that allow you to move freely while sitting without having to get up. They provide you with the mobility that you come to expect with an office chair. The pneumatic gas lift mechanism paired with the nylon coasters makes for an incredibly durable and sturdy office chair.
It is designed to maintain a weight of nearly 350 pounds, which is great seeing how comfortable the final product is.
Its capability of managing significant weight is marvelous; this makes it great for people who are a little heavier. Its capability to manage weights of over 300 pounds coupled with its incredibly comfortable seating and functions make this chair one of the best of its kind.  
Check The Latest Price
---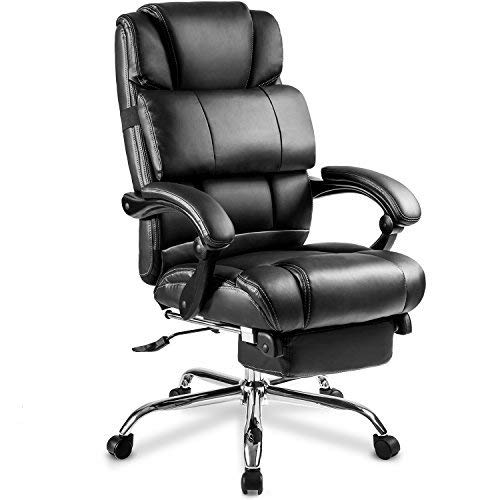 Throughout the years of service that Merax has poured into the office furniture industry, it has now become a household name thanks to their excellent products and emphasis on customer satisfaction.
Their newest addition to their expansive line of products comes in the form of the Portland Executive chair that allows you to be your most productive at work while being incredibly comfortable.
The chair is simply gorgeous and stunning to look at, thanks to the bold and dark black that encapsulates the entirety of the chair with slivers of silver and grey in select places. The padding, armrests, and the levers all go in the same style as the chair and have a large emphasis on an ergonomic design.
Speaking of padding, there are some chairs on the market that do not have enough padding, and there are some that have too much of it. The Portland manages to hit the silver lining as it offers just enough padding to keep your back, arms, and neck all stable. It does so thanks to the immense padding you can find on both the seat cushion and the back of the seat.
The seatback has built-in lumbar support, with nearly three layers of internal comfort. All of these layers combine to make for what is an amazing sitting experience. The seat cushion also offers you three layers of padding that can keep your back and spinal cord in the right position. There is also an extra cushion that the company ships out for free with the package.
You can add this detachable cushion to any part of the seat, giving you an immensely customizable experience unmatched by other companies.
However, with all this talk about customizable experiences, you must also consider the slew of different functions that comes with the chair. Thanks to the pneumatic gas lift mechanism, you can easily adjust the height of the chair without having to face any friction. The chair also has a tilt knob that allows you to adjust the tilt of the chair.
With two very prominent features, there is another feature that complements all the padding that you find on the chair. The chair also includes a reclining feature that allows you to take a nap with a small cushion underneath the chair that kicks up as you push the lever. The cushion allows you to keep your legs straight as you sleep.
Beneath the chair, you can see the pneumatic gas lift mechanism and the nylon coasters. The nylon coasters give you the mobility that you require from a proper office chair. Moreover, the nylon coasters can also hold a weight of nearly 250 pounds, making the chair great for people who are a little heavier. Merax has truly outdone themselves with this amazing work of art that you call the Portland Executive Chair.
Check The Latest Price