Today's Best Office Chair Under $300 | The Top Rated Office Chairs Under 300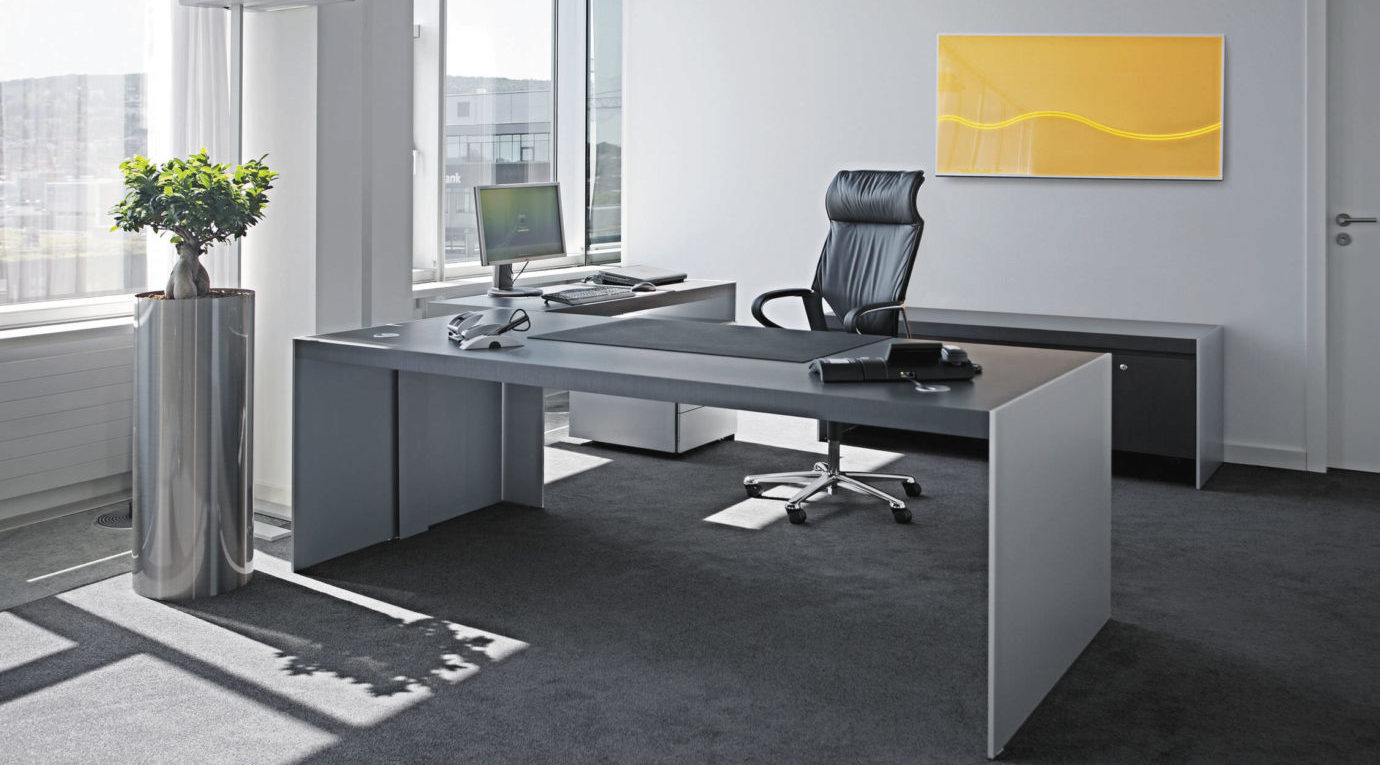 If you sit for many hours at your desk you need today's best office chair under $300. Perhaps you spend your days taking care of bills, balancing expenses, or writing content. No matter what you do at your desk, you need to have the best office chair available to keep your body comfortable. It is hard to concentrate when you have aches and pains, and a lousy chair just adds to that. So, we investigated seven of the top-ranked chairs that you can easily find available on Amazon for $300, or less. Simply click on the accompanying title links for more information on any of the chairs detailed below.
What you should look for to find your new favorite chair?
The best office chair under $300 should offer good back and seat padding, as well as good arm and elbow rests. Make sure you have some padding for your lower back and the lumbar region. This prevents your spine from losing muscular support between your upper back and your hips. Be sure that you have good support for your upper back too, including shoulders.
You should feel that you can rest back against your chair while you are sitting there, and that you do not feel you must hold up any part of your upper body without anything to rest on. If you are spending four to eight hours (or more), then you must be relaxed. You don't want to strain any part of your body while you concentrate on your work.
Each of the reviewed chairs below offer something that will work for every type of body. We've found chairs for people who suffer from problems with their back, hips, and spinal alignment. Make sure to test your chair as soon as you receive the delivery. That way, if you must return it, you can do so within the stated timeline. Also, make sure that each of the parts you need to put the chair together is included in the package upon arrival.
The 7 Best Office Chairs Under $300
Introduction
This is a beautiful chair with padding in all the right places, including a waterfall seat that relieves pressure on the backs of your knees and legs as your feet rest on the floor. The luxurious Coffee brown bonded leather feels smooth and supple to the touch, and the ComfortCore Plus advanced five-layer memory foam for the seat lets you avoid any pressure-point developments when you must sit for hours on end. It makes working much more enjoyable when you are comfortable.
The upper part of the back has a plush padded neck/head rest for when you want to just lean back for a bit to relax and think about your project. The sides are curved in and padded, giving you a feeling of being held, with plenty of side support. The padded arm rests allow you to keep your elbows planted in comfort while you type on the keyboard. The complete back, 27.5 inches high from the seat, supports your whole back, shoulders, and your neck and head in comfort.
Related: Best Office Chair Under $100
The final touch is the lovely solid marble mocha wood that forms the base of the arm rests, as well as the five-legged base, that maximizes your balance so you never feel you will tip over. The support under the seat is the heavy-duty plastic base where you access levers to make adjustments to how you want to sit in the chair for a more natural sitting position. You control the height, tilt, and lift to just the right position for you. Five heavy-duty casters in the 60-millimeter size, ensures a firm placement on the floor as well as ease of movement when you want to roll your chair to another spot while remaining seated.
When you are done for the day, why not spend a few hours getting rid of any work stress, by playing video games in comfort.
Price
The price is $299, down from the top price of $429.99 at other outlets, so this is a real bargain. Also, you save $130 if you are a Prime member with Amazon. You can also get expert assembly for $79.51, if you need help putting it together, such as having disabilities or injuries that make you unable to bend or carry any of the parts.
You can also buy a 5-year Accident Protection plan for $43.19 or a 3-year Accident Protection plan for $25.48. There are links to get the installation manual as well as for the warranty that the maker provides on this chair. You can also buy different colors but the pricing changes, as well as for the Big & Tall versions.
Approach
Customers say that it is easy to follow the instructions for putting it together, although you should always check the packing list against what you get in the package when it arrives. One note is to make sure the cover plate for the bottom of the seat is installed before joining the seat with the frame.
Effectiveness
The back, as previously mentioned, is 27.5 inches. While the seat depth (front to back) is 19.5 inches. The seat width is 22 inches across. Inside the arm rests, and outside the arm rests, the measurement is 28 inches. According to customer reports, the leather covering tends to hold up well for over a year without any flaking or cracking. The rise for the chair adjustment is between 18 inches at its lowest, to 24 inches at its highest. The complete chair is 44.50 inches at full height.
Features
Very plush seating and back rest, along with good lumbar support. Very comfortable for sitting while working for many hours or playing video games as well. The chair swivels as needed, and rolls smoothly over a hard surface and short pile carpets.
Assembly Speed
Have everything organized and placed by you ahead of time, along with any tools needed, according to the directions provided to you with your package. Barring any problems, it can take you an hour or less.
Overall: Is this one of the best office chairs under $300? Yes!
Consensus from those who have already owned it for a year or more, is that it is a great buy for the money and comfort.
---
Introduction 
The LCH Reclining Chair is covered with a split (PU) leather covering, made for plush comfort while sitting for long hours. It easily turns into a reclining chair with its manually extendable footrest that you pull out from under the chair, then flip over to access the padded comfort you need for your heels and feet.
The PU leather is a mixture of leather covered with a polyurethane layer applied on the surface and then embossed for extra support. The seat has a waterfall edge, giving greater comfort to the knees and legs when feet are placed on the ground. If you get tired and just want to take a quick refreshing nap, then you can recline the chair from 90 degrees to the resting point at 165 degrees with the footrest extended. When you recline your chair to 165 degrees, there is a locking system to keep it in place, should you need to get up. It also locks again at the upright point of 90 degrees to keep the seated position sturdy.
Related: Best Ergonomic Office Chair
The chair base is made of heavy duty nylon, while the chair post and extending floor base, with five steel legs, keep the chair very stable. It also comes with five sturdy nylon rolling casters, allowing you to move the chair when needed while still seated.
The chair seat has formed padding making it very comfortable. The back of the chair provides lumbar padded support along with the arm rests which slope slightly downwards at the very end. There is also a padded headrest, which when you stretch out on the chair for a nap, gives you a pillow effect and helps keep you lined up.
Price
Currently, pricing on Amazon is unavailable until the supply is restocked.
Approach
You can find both the installation guide and the user manual on the Amazon page, along with the warranty offered by the manufacturer. The installation guide appears straight-forward and you want to make sure to find and place all your parts close to you ahead of time before putting it together. A common complaint among users was that the arm rests screws did not always go in as desired. So, be mindful to make sure the screw angle is very straight before trying to screw it in to avoid stripping the threads. The chair supports up to 250 pounds.
Effectiveness
The chair presents a great opportunity for resting, particularly if behind closed doors at the office, work or home office. The padding appears very plush and supportive at the same time.
Features
The height of the chair rise from the seat is from 19.5 inches to 22.4 inches. The product dimensions show that the chair is 30.3 inches (H) by 27 inches (W) by 21.3 inches (D) and weighs almost 60 pounds in shipping, with 49 pounds after installation.
Assembly Speed
As with anything you must put together, always lay out all your pieces in an organized manner, according to the instruction papers. Make sure you have all your tools. Installation tends to take about an hour or less.
Overall: Is this one of the best office chairs under $300? Yes!
This appears to be a good chair although customers varied in their opinions about the construction. The chair has not been on the market for long. It was first offered in September 2017, but perhaps with a few fixes, we will see it again soon. The highlight factor for this chair is the ability to rest in comfort when needed. Always be sure to contact the manufacturer should there be problems with your purchase.
---
Introduction
The Duramont Egonomic Adjustable Office Chair is perfect for sitting in for many long hours. If you need to be cool, the mesh backing gives constant air flow to your back and shoulders. That way, you never develop pools of sweat while working up a storm, or playing that tense high-action video game. There is also built-in lumbar support so that your lower back has proper support right where you need it. You can adjust the back to match the lumbar area to where you need that support.
Adjust the curved head rest to fit your neck and head right where you need it. This allows you to rest momentarily while thinking over processes in your work. If you need to take a snooze, the curved sides make sure your head is held securely in place, especially when you recline the chair back to a 45-degree angle, or less.
Related: Best Executive Office Chair
The slightly-padded arm rests allow you to rest your arms, while leaving your wrists and hands free to work on your keyboards. Plus, you can pull up closer to your desk. These adjust from a low height of 2.6 inches, and extend to 3.7 inches from your seat. The width across the seat, including the arm rests, is 22 inches. The arm rests can also extend out from the seat, giving you plenty of seating space. Alternatively, if you need more seating area, or want to pull up close to your desk, you can choose to remove or leave off installing the arm rests.
Full height of the chair goes to 46 inches from the floor and can be adjusted lower to 42 inches. The seat height from the floor is adjustable from 17 inches to 20.8 inches. The seat has a soft well-padded, slightly-curved seat cushion so you do not irritate pressure points after long hours of sitting while working.
This chair supports up to 330 pounds and has rollerblade caster wheels that allow you to move around easily on hard floors and short-fiber carpets. However, longer fiber carpets may cause a reduction in mobility.
Price
The price for this chair is $239.99 with Amazon Prime and you can have it delivered in about two days for free, if you are a Prime Member. There are no offers for extended warranties, but there is a 90-day guarantee on the chair so that you can return it if you find it does not meet your needs. It is an excellent choice for the money.
Related: Model # DDC312 Best Ergonomic Office Chair Under $300
Approach
Customers have found this chair very easy to put together, including only needing the simple tools provided with the kit inside the package. Many customers noted the white gloves included for putting the chair together. This shows that the manufacturer has put a lot of thought into providing customers with the best service possible. One customer noted that the box came with a tape-cutting device attached to the outside of the box, which was for cutting apart the tape that held the box securely closed.
All customers who reviewed the chair found it easy to read the instruction manual and put the chair together, usually within one hour or less, using a simple allen wrench that is provided in the kit.
Effectiveness
This is an excellent chair that holds up well over time. The wheels work best on a hard floor or tiled floor. The chair provides plenty of seating space as well as sturdy frame support with the mesh that makes up the back section. The back of the chair tilts while the seat stays in place.
The back of the chair, along with the head rest, gives full support for your spine, shoulders, neck and head. Thus, ensuring that you stay physically aligned while working long hours, or playing video games.
Features
This chair is very sturdy, with a steel post for the seat base, and five legs to give a proper balance on the chair, making it hard to tip it over. The sturdy mesh backing gives excellent support while allowing air to continuously flow through for a more cooling effect. You also get a full supporting experience from your head and neck, to the base of your spine, keeping everything aligned. The firm plush seat cushion gives you more support while seated for many hours at a time, including less pressure on your tailbone (coccyx).
Assembly Speed
Assembly time takes an hour, but usually less if you are organized and have read or worked out the instructions first. All parts are provided to you, including the instruction manual, gloves, and the allen wrench needed to put everything together.
Overall
This is one of the best ergonomic office chairs available on the market for under $300.
---
Introduction
The HON BSXVL721LH10 Exposure Mesh Task Chair is ergonomically designed to support your whole body so that, once set, you do not need to keep making readjustments while you sit for hours working on your latest project. The curved backing is made of a tight weave mesh design, that lets in air to keep you cool. It also offers excellent sturdy support, enhanced by a sturdy frame. The upper back is wide enough to support even the widest shoulders, as you relax back against it, and the designed lumbar support is adjustable to add support where you need it most.
The firm seat uses a sandwich mesh material that is resilient under conditions of constant use, and gives added support to your back by keeping your hips aligned and comfortable while sitting for long hours at your desk. Your knees and legs are more comfortably supported with the slight waterfall edge which reduces pressure that could lead to blood flow constriction in your legs with different seat edges.
The short lengths of the arm rests allow you to pull forward to your desk to work comfortably with your keyboard and mouse, and you can also adjust the heights and expand the arm rests out to the sides. This allows more space for comfortable seating without feeling confined in one spot.
Price
The price is very reasonable at $205.01 for Amazon Prime members, down from the manufacturer's website, which offers it at $455.  Amazon also offers the leather seat version for another $22.00 added on. You can buy a 3-year Accident Protection plan for $25.67 should something happen that would destroy it beyond any further use. This excellent chair has the HON Lifetime Warranty, making it a rarity among other chair manufacturers on the marketplace.
Related: Model # HVL721, Best Ergonomic Office Chair Under $300
Approach
Almost all consumers who bought this chair said it was easy to put together, using the kit that came with it, along with the instructions enclosed. Lay out all the parts first before beginning installation.
Effectiveness
The dimensions of the total chair are 42.5 inches (H) by 26.5 inches (W) by 26.75 inches (D). The frame of the back, base of the seat, the chair post, and the 5-leg base (or star), are made from molded reinforced synthetic resin (plastic) that increases durability, according to the manufacturer's website and product information. The chair uses dual-wheeled casters.
This HON chair does tilt back but does not have a locking mechanism, meaning when you sit upright again, the chair will adjust back up with you. You can adjust the tension for the tilt for the pressure you want available. It is, however, not designed to be a lounging chair, but you can relax in it for as long as you like. The back can be adjusted outwards at the base to give more depth (front to back) allowance in the seat area. Adjustments of the seat height from the floor are completed with the integrated pneumatic system at the seat base. The tallest height for the seating position is at 26 inches while the shortest is at 18 inches from the floor
Features
This is a sleek, well-designed chair with a firm foam seat cushion and a well-designed back support that gives you many hours of comfort while working at your desk. The chair base swivels at 360 degrees and rolls well over flat or tiled surfaces. The dual-wheel casters give added support to the base during any rolling around, and there is little likelihood that this chair would ever tip over.
Assembly Speed
Consumers of this chair say that it is very easy to put together. It typically takes an hour or less, depending on organization and preparation of the tools and parts needed to do so.
Overall: Is this one of the best office chairs under $300? Yes!
The sleek lines of this chair will enhance any home office design and give you many hours of comfort as you work at your desk or relax while reading, or even while playing video games.
---
Introduction
This office chair by Serta is one of the best office chairs under $300. Serta has been well-known for decades for its manufacturing of popular sleep products, offers a product covered in supple black bonded leather. This chair gives you that plush, but supported feeling when you settle down into the seat. If you have a mattress by Serta, you might think you were moving from one bed to another, only now you are sitting up.
This office chair will pad every part of your connected body with an ergonomic layered pillowing effect, along with a gently cushioned neck rest support and padded arm rests. Contrast stitching gives more formation of the padding for better support while staying plush. Serta designed this chair using the Active Seating Technology (AST) which supports your pelvic area and allows for the lumbar support, attached to the seat, to move with you as you change positions. The lumbar support is also removable should you not need to use it.
You can adjust the height and tilt of your chair using the easily-reachable hand controls on either side of the chair base. The arm rest height is adjustable with the touch of a button found on the outer sides of each armrest.  Once you find your comfort spot, the adjustments will lock in place. You use the hand lever on the left to release the tilt to where you want it, and lock back in place once you have the tilt you want.
This chair states it is a mid-back chair, although it does give support to the back of your neck where you need it most while looking at your computer screen.
Price
The pricing for this chair is a bargain at $234.97. You can buy a 5-Year Accident Protection plan for $42.78, or a 3-Year Accident plan for $25.79.
Related: Model # 44186, Comfortable Home/Office Task Chair Under $300
Approach
Most consumers of this chair say that it is relatively easy to put the chair together. You might want to consider using a 10mm socket wrench as an alternative to the supplied allen wrench. Make sure that you review your packing list and instruction manual. Also, organize your parts and tools in the order of putting it together before you get started.
Effectiveness
This chair is considered a task chair, and back support goes up to the back of the neck, but there is no head rest. If this is an issue for you, then this chair may not be the one for you. The size of the chair, according to the manufacturer, is 40.25 inches (H) by 26.25 inches (W) by 27.75 inches (D).
Features
This is a very plush and comfortable chair, especially for those with lumbar issues. The lumbar support is removable if not wanted, but when in place, it moves with you as you adjust your body.
Assembly Speed
The time for putting together this chair typically ranges between 20 minutes to an hour. You may want to solicit an extra person to help you with putting the chair together.
Overall
This chair is commonly used by people with lower back issues as it is very comfortable and supportive to the lower spine region.
---
Introduction
This chair is called a computer task chair and is ergonomically designed to give support on your back, along with an adjustable padded neck/head rest. The sturdy polyester mesh backing allows for air to continuously flow through on your back, keeping you cool during many hours of working at your desk.  This office chair gives you a tilt from upright at 90 degrees to a more-relaxed 115 degrees back, which you can access with the lever on the right side under your seat.
The arm rests are not padded but can be adjusted to the height you want them to be, by using the controls on the outer sides of each arm. A lever control on the back of the chair gives you access to adjusting the lumbar support to where it is most comfortable for you. Adjust the height of your chair with the lever on the left side, that activates the pneumatic system found in the base pole supporting the seat platform.
The seat, slightly lifted on either side, is covered in a soft flame-retardant material over a high-density sponge cushion. This gives excellent support to your spine and hips, reducing pressure on the tailbone.
The base is made of a durable black nylon plastic composite and has the five legs (star) with five heavy-duty 360-degree rolling casters.
This INTEY office chair was first offered for sale in March 2018 and quickly sold out but should be back in stock soon (fingers crossed!).
Price
Priced at under $300, this chair comes with a 24-month warranty.
Related: Model # NY-YZ3, Ergonomic Task/Executive Office Chair Under $300
Approach
This is a very simple chair to put together and would take about half an hour to assemble, once all the parts are organized according to the instruction manual.
Features
This chair is great for sitting at work for long hours, although if you have any back or hip issues, you may prefer to buy a better cushioned chair than this one. It is easy to adjust to your needs, and does give both lumbar and neck/head support, which for many people, may be just fine.
Assembly Speed
This simple chair can be put together very quickly in about half an hour, especially if you get someone to help you.
Overall: Is this one of the best office chairs under $300? Yes!
This makes a great chair to have in your home office and it will be worth the wait if you decide to choose this one.
---
Introduction
This Sieges task executive chair comes complete with a sturdy mesh back, as well as for the seat platform. This allows air flow on your back as well as from underneath the chair to keep you cool everywhere. There is just enough give in the seat to avoid pressure point pain after sitting for a long time at your desk. This is particularly important for those customers with tailbone issues and curved spines.
The back of the chair can tilt back another 45 degrees (135 degrees) from the upright 90 degree sitting position and can be locked into position if you need to take a little snooze. The back frame and mesh is also curved ergonomically to match the curve of your spine to give it full support. You can also adjust the neck/head rest for a perfect alignment from tailbone to your head. If you like the more solid feel with just the right amount of give in the mesh, then this chair might be the best office chair under $300 for you.
The chair comes with a high-density solid plastic base under the chair seat, which is repeated below in the 5-legged platform for added balance security. A steel rod connects both the seat base and the five-legged mounting. Dual-wheel casters give an easy roll across hard floors and low-fiber rugs. As with all the chairs we have reviewed, each allows for the 365-degree swivel so you do not have to change the whole chair position.
Price
The price for this chair on Amazon is $229.99 for Prime Members. There are no offerings for accident plans. Although, there is a warrantee included with the chair
Related: Model #601, Ergonomic Task/Executive Office Chair Under $300
Approach
This chair is very easy to put together and you can watch the video to see how it is done. Best practices for putting together your chair are to read the instructions and line up all the parts ahead of time before you get started. This also ensures that you did receive all the parts you need to complete the task.
Plus, the kit comes with a hex key tool for tightening the screws for the arm rests and the head rest.
Effectiveness
This is a very well-designed ergonomic chair with a solid frame that could take quite a beating. The chair style will fit into any modern home office, or at work too. However, we don't recommend it for customers who are over 6'2". If you really want this chair but are 6'2 or taller, you could add a flat cushion to raise the seat an extra two inches from the floor. The maximum seat height goes up to 21 inches. The dimensions for the chair are not listed but, based on popular consensus, the chair supports up to 250 pounds.
Features
If you want to adjust the tension for the back rest so that it gives you more tension when you lean back, or less tension, then turn the knob found under the seat. Then sit down in the chair, release the lock on the right-side lever, and push the chair back to the desired angle. Again, press in the lever on the right to lock that angle into place. You use this same lever to adjust the height of the seat from the floor for comfortable placement of your feet on the floor.
You can adjust the arm rest height using the slide buttons on the outside of each arm. An added feature is that you can also twist the arm tops to face outwards or inwards, depending on whether you need more sitting space, or want a more enclosed feeling while sitting.
Assembly Speed
You can watch the video for how to put this chair together, which shows you how fast and easy it is to put it all together. Organize all your pieces ahead of time, read the instructions, and lay it all out. It will take you between 20 to 40 minutes, barring any unusual problems.
Overall
This is a great chair to sit for long hours while working and playing video games. The 135-degree angle is great if you want to relax while playing your games or if you want to take a nap. The reinforced mesh covering for both the back and the seat, is great for allowing air circulation in all areas, keeping you cool everywhere. This chair was first introduced for sale in January 2018. One drawback is that there is very little information available about the seller, both on Amazon and via online research. At the least, you can always return the chair to Amazon if it does not work for you.
---
Summary: Finding The Best Office Chair Under $300
If you work many hours seated daily in front of a computer, then finding the best office chair under $300 is essential to help you endure those long periods of time. While you can shop for one online, you can help yourself make a more educated choice by going to a store that sells office chairs and trying out different ones. This will give you an idea of what works best for your physical needs. Each person is unique in physical build, so you must decide what will work best for you.
First, decide what pressure point pain areas you are most likely to have. Supporting the spine in an aligned manner is essential to keeping your back strong, along with the muscles that support it. This also is important for your legs too. If you have infirmities, such as slipped discs, curved spine, or uneven hip alignment, you will want to support those by choosing the best chair possible with the budget you have. It is not always the most expensive chair that works best, which is why we made the above selections. A chair built to support your problem areas will be the one to make you the most comfortable while you sit, and do the least amount of physical damage.
While we all want to be comfortable while seated for long periods in front of a computer, make it a habit to get up and move around a bit, perhaps for five minutes each hour, or for 10 minutes or more every two hours. Stretching and walking around gets your blood circulation going again, regardless of whether you feel like moving or not.
Design an exercise routine to engage in before you must sit down in front of your computer to work. If you have worn yourself out a bit beforehand, then sitting down will be even more enjoyable as you get to work.
Oh yeah, and don't forget to keep water close at hand so you can stay hydrated during your day. When you take a break after an hour or two, walk around for a bit so you can stretch those tendons in your legs, ankles, and feet. Blood circulation is very important to keeping your body and mind healthy, so engage in activity whenever you can manage it.