Today's Best Computer Desk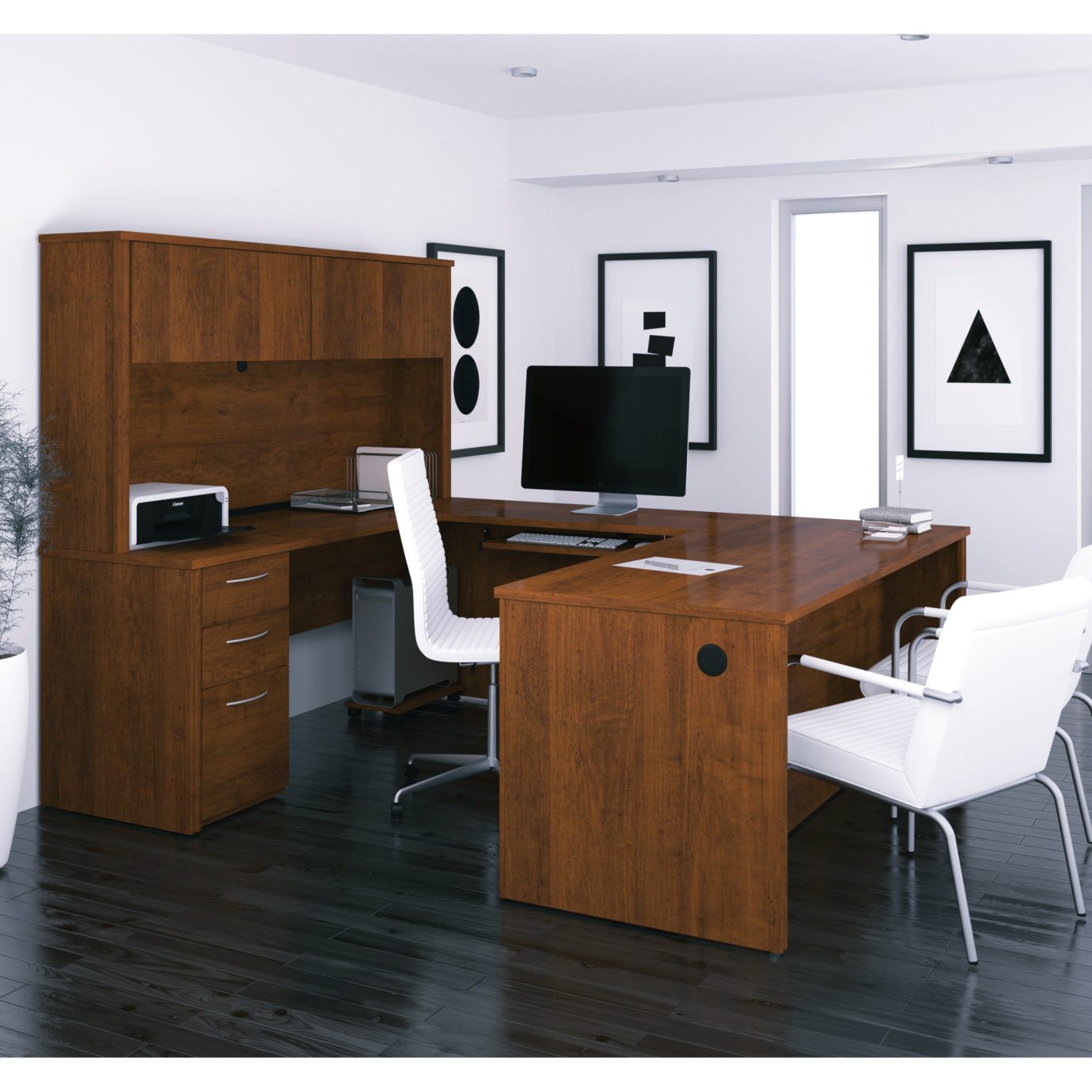 How Do You Find the Best Computer Desk?
Finding the best computer desk can be very difficult. There are many factors that can make a computer desk awful or great, to live and to work with.  You must find the desk that is the best computer desk for you. And there is a desk for every type of person. There are gamer computer desks, office computer desks, family computer desks, standing computer desks, space efficiency desks, large surface desks, and many more options.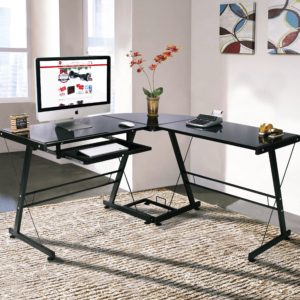 It may be that your computer desk is the center of your life. For many people, it is the hub of life at both the office and at home. It is a place where people spend the greater part of their days. Maybe like them, the way your desk functions, looks, and feels are factors that can influence your entire day.
First you must define your purpose for your desk and then select the best computer desk for yourself in that category. In order to find your best computer desk, it is important to figure out which features are important and create a list of your prefered features. This will make reading the specs for each desk a little easier to understand.  
There are many preferences you should consider. Deciding what your intended use for the desk is will determine your preference list. If you're looking for something that fits in with your healthy lifestyle then the best desk may be CASIII Height Adjustable Standing Desk Riser.  This desk allows the user to go from sit to stand in one motion.
Related: Today's Best High Back Office Chair for Utmost Comfort & Support
For a lot of people, the time has come to make the desk a healthier place to be since we spend so many hours a day at our desks. Ergonomic desks are all the rage and are appealing to the health-conscious. People have gone so far as to blend treadmills and desks.
Gamers might feel completely different though. They usually seek desks that offer comfort and easy accessibility to snacks and drinks. Walking or standing while gaming just doesn't seem to be appealing to that group of desk users.
Another factor to consider is the number and type of monitors that you need. Many people now use two monitors and if they do much with graphics, they're apt to require three monitors. Gamers typically need space for a large monitor a keyboard, food and drink space, room for cord storage, many outlet options and extra storage.
Some basic factors to consider in finding the best computer desk:
How much does the desk weigh?

Is the desk easy to set up?

Is this desk compatible in the room?

What is the desktop capacity whether it's weight or width?

Can it be used for more than one purpose?

Is it an easily cleanable surface?

Is it adjustable?

How much space does it take up?

Does the size fit what it's intended for or who it's intended for?

Is it oriented correctly for your room?
Desk Basics
Most desk models are made from wood composite, particle board, wood and/or metal. Solid wood and metal desks offer some of the best durability. However, wood composite and particle board offer a more economical price while still providing all the whistles, bells, and luxury.
Many of these desks are constructed only with aesthetics in mind though and actual functionality and durability suffers.  And no one enjoys buying something that looks good in the store or on-line only to find that it is aggravatingly non-functional once set up in their home or office.
Related: Best Lumbar Support Cushion For Office Chairs
Another desk basic is to find a desk that fits your body. There are tiny desks and there are huge desks and a thousand choices in between. Don't get hung up on what you think you want until you've actually had a chance to either sit at the desk and try it out or do some online research into others' experiences to ensure that the desk with work for someone like you.
Don't forget about desk orientation. Many times, people forget to match the desk orientation to the room or office orientation.  You may have fallen in love with that U-shaped desk only to find that the only way it fits in your office space is backwards with your back to the door. Many desks have orientation options available at the time pf purchase. You just have to know to look for it and to match it with the best orientation configuration for your room.
Consider your chair options, wants, and needs.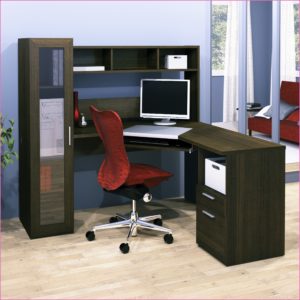 A desk without a chair is useless, unless you're trying out the new standing desks! But in the more standard desk options a chair is required and if you have already purchased your chair or are still using an old one that is too good or favorite to let go of, you need to know the dimensions of your chair.
If you would like your chair to slide into the desk when not in use, you must make sure that the arms on the chair and the seat width will both fit into the leg space opening of the desk. Otherwise you may wind up with a chair that doesn't fit the desk.  This can also cause discomfort when sitting at a desk in a chair that either sits too high, causing you to stoop, or too low, causing you to stretch.
So, What Do You Do?
So how do you find the best computer desk for you? Factors to consider are height, weight, color, desktop surface and durability. Compatibility with your lifestyle and job functionality are also critical points to consider prior to making a purchase.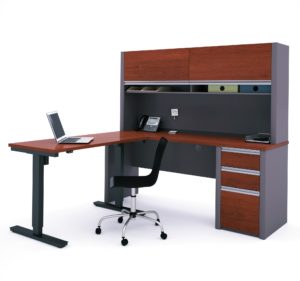 Questions to ask yourself are:
Where am I putting this desk? Will it be for my home or office?

What is the decorating theme that the space will have?

Do I want the desk to be a heavy focal point or to be light and modern?

How much flash am I going for?

Are there job positions that I hold that require me to adhere to a modicum of décor?

How much does weight matter to me?

Especially important for apartment dwellers and college students.

Also important for single people or elderly or weaker people.

Am I going for "heirloom desk" or a "good enough for now desk"?

Do I want my kids to remember this desk?

How critical is desktop surface to me?

This question requires true consideration. Many people do not realize how much desktop space they actually require to be comfortable doing job activities such as brainstorming, sorting, organizing, planning, and other tasks.
These are all very important questions to ask yourself before buying a new desk. Impulse buys based upon aesthetic appeal alone will most usually end in an unsatisfying purchase. Many people waste their first desk buying experience by saving up and buying an overpriced behemoth of a desk that caught their eye and that they just fell in love with.
Related: Today's Best Leather Office Chair
Often, this desk gets dragged around, multiple moves breaking it down until what was once a desk to be proud of is now a shamble that the owner is eager to replace. It is probably best to consider the practical aspects of a desk first, then consider the beauty of the desk and its visual appeal.  
This is the time to purchase true heirloom pieces.  Once you have tried and found what you don't like in a desk, what doesn't work for you, then you find the desk that works perfectly for you. The only caution is that, since the perfect desk for you is perfect for you, an heirloom desk may not be as treasured by your offspring as by you.
Now, let's look at the current best computer desks available on the market.
Best Simple and Modern Desk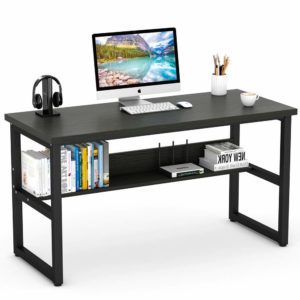 Tribesigns has designed this computer desk with storage and functionality in mind. While the aesthetic of this desk is very modern, the addition of a storage shelf underneath adds classical function.  

The dimensions make this desk compact while maintaining a large useable surface area.

The desk is 55 inches long, 23.7 inches wide, and 29.5 inches tall.

The Tribesigns Computer desk with bookshelf weighs in at just 49 pounds but has a load capacity of 500 pounds.

This desk is easily assembled and has adjustable feet pads for uneven floors, allowing for a 1 to 2 centimeter raise or lower.

Many different computers can fit on the top face of the desk.

The legs are made of metal and the desktop is made of E1 standard particle board.

The metal legs make the desk very stable.

There are rounded edges which makes it a great desk for young children and adults with young children as this helps to avoid the bumps and bruisers that can happen when children and toddlers get around desks.
Basic, classic, and hard to beat, Tribesigns Computer Desk with Bookshelf is one of the best computer desks available for practicality and classic functionality and aesthetics.
This desk is not just a simple desk but it's a desk and bookshelf in one. The desk itself is straight and the bookshelf is hanging under the desk face. It leaves a lot of room above the desk and keeps the storage out of the main sight lines. Even though the shelf is under the desk there is still tons of leg room and the desk legs are made of hard metal that supports high weight load. Each leg has an ABS resin foot pad that complements the solid legs. The foot pads can be adjusted from one to two centimeters to keep the desk even and stable.  
The wooden parts of the desk are made of particle board that has been treated with a wear and heat resistant coat.  This desk is fairly compact with the dimensions of 55 inches long by 23.7 inches wide by 29.5 inches tall and only weighs forty-nine pounds. The Tribesigns Desk can hold up to 500 pounds. The top surface of the desk is a pleasant color and has a very lustrous sheen. The desk overall has a great durability rating and will last for many years.
Not only is this desk efficient regarding storage and the amount of space it takes up with in a room, but it is easy to assemble too. The only parts that need to be assembled are the four legs which are attached with a hex key.
It's very minimalistic and adds lovely hints of wood and metal to any room. The desktop itself is decently thick measuring 1.18 inches or 3 centimeters and has a lovely black finish that is wear resistant, heat resistant and has a surface that makes cleaning easy.
Insider tips for the Tribesigns Computer Desk with Bookshelf
Make sure

when putting this desk together that you do not tighten the bolts all the way. Place each bolt on only a little bit so all of the holes fit and there is not a power struggle.

Be careful with the edges when removing it from the packaging, it is easy to damage or scuff the edges.

The desk, when built properly, is very sturdy and can sit on hard floors or carpeting.

The average assembly time is 30 minutes and one person can easily assemble it alone.

This desk is a great size for kids and adults and no matter who uses it the surface is easily cleaned.

It will need to be wiped down due to dust, once opened for the first time.
Check The Latest Price
---
Best L-Shaped Desk Metal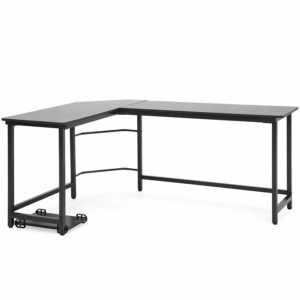 Best Choice Products L-shaped computer desk is reminiscent of architecture tables and streamlined modern furniture giving this desk a classy professional style.

The "L" shape of this desk design adds extra workspace within an easy swivel of the chair and the desk also offers a slide-out keyboard drawer, saving space even further.

The matte desktop is very strong and durable and looks good in any office or home space.

The Best Choice Products L-Shaped computer desk's overall dimensions are 59 inches long, 55 inches wide, and 29.5 inches tall.

The desk is made of metal and weighs 46.3 pounds.

This desk is perfect for gamers, office personnel, designers, and students.

Perfect desk for using multiple monitors.

Get the maximum from this desk by purchasing two and putting them together in the "U" shape.

The desk is easy to adjust and customize some of its features, such as the CPU tower brace which can be used or left off, and the keyboard tray can be customized as well.

The Best Choice Products L-Shaped computer desk is easy to assemble and takes about 45 minutes.
Best Choice Products Metal L-Shape Corner Desk is one of the best computer desks because of its outstanding surface space and its ability to accommodate three monitors.
Insider tips for the Best Choice Products Metal L-Shape Corner Computer Desk
A great tip is when you are pushing two desks together to make a "U" desk, it's helpful to tie the legs together with zip ties so they don't separate or wiggle with average use and movement.
This particular desk model and brand is known for having very safe packaging. There are rarely complaints of pieces that are shipped damaged.
If you do find that you are having an issue with the desk, the manufacturer that makes this desk has a great customer service line.
If you are a researcher or gamer, there is a great and efficient way to house three monitors, all you have to do is sit facing the corner and it makes a perfect arch for three monitors.
With all of the uses for this desk and the quality of the materials it is constructed from, the price perfectly matches the product.
On average, it can be assembled in 45 minutes with two people working on it.
Check The Latest Price
---
Best Gaming Desk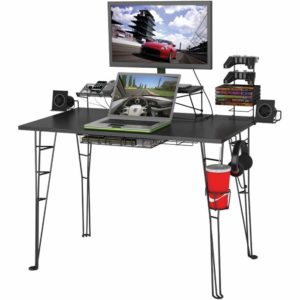 Atlantic's Gaming Desk is designed for serious gamers only.  Attention was clearly given to all gaming peripherals.

This desk features a station for your tablet or phone complete with charge ports.

The charging station is 8.5 inches wide.

It also features speaker stands, games storage for up to five games, a storage container suspended underneath, and a controller stand accommodating two controllers.

The gaming desk comes with wire management trim plates.

Atlantic also added a wire management system. This is in addition to the power connection ports, a drink station, and audio and visual connections that support new innovative gaming technology such as virtual reality experiences.

The monitor and smart phone stand fits up to a 27-inch monitor and can accommodate up to 40 pounds.

This gaming desk has a contemporary style that is both fun and highly functional.

The dimensions are compact at 40.25 inches tall, 26.75 inches wide and 49.25 inches long.

The desk weighs 43.6 pounds.

The gaming desk speaker brackets are 4.25 inches by 5 inches.

There are four adjustable, non-marring, leveling feet to help you level and balance your desk.

The Atlantic gaming desk has a steel rod construction with a silver metallic finish.

It also has a carbon fiber work surface and steel rod construction with a metallic finish makes this desk look perfect in a modern and futuristic environment.

Atlantic, the company that designed and manufactures this gaming desk, is a well-established company in the USA with 30 years of experience and a great customer service department.
The Gaming Desk by Atlantic is as fun as it is functional. It has everything you need to organize your space while letting you interact with your environment in a very gaming supportive way. Serious gamers know just how critical it is to have a comfortable and effective gaming desk.
The top of this desk is made of carbon fiber that is charcoal colored and has a laminated surface. There is room for two monitors, a CPU tower, speakers, and external hard drives. The top tier is typically used for a monitor and is 15.5 inches long and 7 inches wide and has a 6-inch gap from the main desk itself.
There are other great features built into Atlantic Gaming Desk.  To the left side, hanging above the desktop, there is a charging station that is perfect for charging tablets and phones, it can fit about three average sized phones or cameras. To the right of the charging station is the monitor tier.  The monitor stand can fit up to a 27-inch monitor that weights upwards of 40 pounds. There is also a power strip, and to the right of that is a small wired tower that was built to hold controllers and game cases.
There are also little metal chambers.  One on the left side of the charging station and one on the right side of the game controller tower. These mini frames are for housing speakers. These speaker stands are perfect for allowing surround sound to be evenly distributed. Underneath the middle of the main desk where a keyboard platform typically sits is, instead, a sliding mesh drawer.
The desk itself isn't the only part of the structure that is good at conserving space, even the legs hold purposes other than holding the desk in place. On the right side the back leg, there is a hook where headphones and cords can be stored and on the right front leg there is a cleverly included cup holder. This particular cup holder placement is genius, because if it spills there is no way it could harm any of the electronics. This desk allows for use of laptop and a desktop at the same time.
It's nice and refreshing to have everything for gaming in one place and to see a desk geared exclusively for the gaming community.
This desk, though it has many add-ons and features, is still easy to assemble and lasts many years.
Insider tips for the Atlantic Gaming Desk
Every aspect of this desk is customizable. If you do not like the cup holder or speaker setup, just move them.

This desk is sturdy with plenty of desk space and cable management.

The whole unit has a carbon black finish which  goes well with almost any décor.

The monitor mount supports a 32-inch TV, even though it says 27 inch maximum in description, and the cup holder holds a 32 oz cup.

If you somehow damage the desk you can easily attach another desktop piece on top.

It's easy to assemble, and it takes, on average, two hours to assemble.
Check The Latest Price
---
Best Standing Desk Riser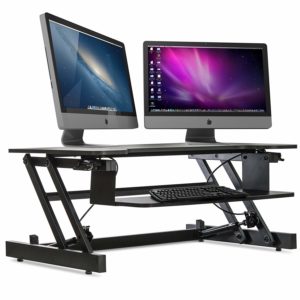 If you are ready to try the new standing desk movement, CASIII offers one of the best computer desk risers.

The riser sits on top of your desk and requires a surface space of 31.4 inches by 20.4 inches.

It adjusts for user heights ranging from five feet to six feet and one inch tall.

This riser is built with industrial grade MDF materials and can hold up to 40 lbs.

The CASIII comes fully assembled and it is easy to adjust. Once you get your settings locked it, it won't move again until you re-set it.

The CASIII Height Adjustable Standing Desk Riser weighs 35.2 lbs.

Its dimensions while flat are 7.2 inches tall by 31.4 inches wide by 24.6 inches deep.

Its dimensions when extended are 16.1 inches tall by 31.4 inches wide by 30.7 inches deep.

It has a maximum extension height of 16.1 inches for the display surface and 10.9 inches for the keyboard deck.

Its work surface measures 31.4 inches wide by 20.4 inches deep.

The keyboard deck measures 23.6 inches wide by 10.4 inches deep.

The CASIII Height Settings are unlimited in the range of 7.2 inches in height to 16.1 inches in height.

Proprietary and award winning CASIII's Adjustable Locking Gas Spring technology (CALGS) is featured.

This desk is sturdy and built to last.

The CASIII makes it easy to transition from a sitting to standing position.
It has been proven that standing at your desk to work is much healthier than sitting in front of your desk all day. The CASIII Height Adjustable Standing Desk Riser is a great way to turn your existing desk into a standing workstation.
The CASIII Height Adjustable Standing Desk Riser is not a full desk; instead, it's the perfect top addition to add to an already great desk. It allows the user to stand while working. It is great for keeping the blood flowing and it still holds all the tools that would be featured on a normal desk.
The CASIII Height Adjustable Standing Desk has the capacity to hold two monitors and accessories. This desk is easily adjusted.  On the sides of the riser, it has metal pieces that raise and lower the top. It can range from 7.2 inches to 16.1 inches using adjustable locking gas spring technology.  This allows a smooth transition into any positional height. This is great for anyone with a height of five feet to six feet one inches tall.
This desk riser is on the cutting edge of the new wave of ergonomic designs sweeping the world. The company CASIII claims that they are the company that creates the workplace of the future. They also claim they are visionary designers and engineers who build what consumers want before they even know what they want. They pride themselves on innovation and like the concept of health and seamless lifestyle integration.
Here are some important health benefits of a standing workstation:
It allows muscles to work and stretch properly allowing them to flex and get stronger.

It improves blood circulation.

It alleviates or vastly improves neck and back pain.

It encourages weight loss or maintenance and helps to prevent cardiovascular diseases.

It burns more calories than sitting.

It fights fatigue.

It improves posture.
Insider tips for the CASIII Height Adjustable Standing Desk Riser
This desk promotes a healthy lifestyle and many users feel a drastic improvement in energy levels after consistent use.

The desk also helps the way a person stands and strengthens the spine potentially

saving you from losing time and money on visits to the chiropractor.

The desk is a well-made and has a sturdy composition. Nice touches are included such as: there is a thin foam pad that runs along the bottom edge, so it doesn't scratch the desktop.

The surface of the desktop allows plenty of room to work.

Users say they are much more productive and positive with less sitting and more standing.

The unit can be installed in only a few minutes and when changing from up and down the red arrows indicate the "steps" and the locking/unlocking lever.

The proprietary CALGS mechanism makes it secure and rock solid when in the various positions.
Check The Latest Price
---
Best Economy L-Shaped Wood Desk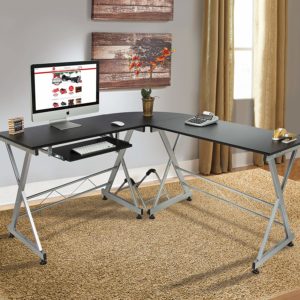 Just like in the metal L-Shape category, Best Choice Products has the best Wood L-Shape computer desk.

This desk is functional and practical with classic features that allow it to look great in any environment.

If more surface workspace is needed, simply buy two of these best computer desks and put them in a "U" shape to really give them an impactful upgrade.

The desk is 53.25 inches long by 20.75 inches wide by 28.75 inches tall and can hold 50 pounds.

It weighs 59 pounds.

The Best Choice Wood L-Shaped Desk is considered a space saver desk.

It has two shelves to accommodate books, papers, printers, scanners, and other peripheral devices.

It is strong and sturdy.
The Best Choice Products L- Shaped Corner Computer Office Desk is a compact desk with a great design that only requires a small amount of space and yet it offers a large amount of work space. This space saving desk is very functional and is "L" shaped.
There is plenty of work space and the desk itself is made out of thick pieces of wood, so it's very sturdy. On the right side of the desk is a built-in shelf that has two levels. These were built with housing printers and scanners in mind.  They can also fit books and boxes that hold files. This lovely and efficient desk is designed to maximize any corner office space. It fits in almost any home office or business office space.
Insider tips for the Best Choice Products L- Shaped Corner Computer Office Desk
This desk manages cables very well.

It can easily be assembled within an hour and only requires a screwdriver or drill.

It is great for users with toddlers because there are not any doors or drawers to play with.

The desktop is slip resistant.

The desktop allows guided adjustments and does not scratch or scuff easily.
Check The Latest Price
---
Best Mid-Level L-Shaped Wood Desk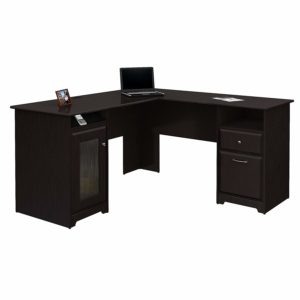 For a slightly more elegant wood desk, Cabot L-Shaped Computer Desk in Espresso Oak is a very good choice.
It is simple, elegant and timeless in appearance.

It is perfect for the home office or the workplace.

This desk has a large and very durable surface area for working.

This L-Shaped desk has a concealed storage cabinet with a stylish fluted glass cabinet door and extra open storage with a large box drawer featuring a flip-down front and an open shelf for extra storage.

This beautiful and traditional desk also has a file drawer that rides on ball bearings and accommodates all standard business file sizes.

The Cabot L-Shaped Computer Desk in Espresso Oak is 59.5 inches long by 59.5 inches wide by 30.2 inches tall and weighs 77.4 pounds.

This desk is available in both a standing and sitting desk.

The Cabot L-Shaped Computer Desk comes with an integrated 4-port USB hub.
The Cabot L-Shaped Computer Desk is an elegant addition to the list of today's best computer desks. This desk is timeless and understated and yet is still space saving and versatile.
This large desk is very sturdy with thick wood construction and large panels. It is "L" shaped and has two storage cabinets built into it. On the left side where the leg wall stands there is a cabinet with a full door panel with a glass front. This space would be great for housing paper, books, video games, and controllers. Really anything depending on what the desk itself is being used for.
Above that there is an opening slot, that is somewhat like a space for a drawer without the actual drawer. This is great for housing phones, cords, pens or snacks. On the right side, there is a different cabinet and shelf combination with even more storage.
This desk is very durable and has a large work space. A nice feature helping to make this one of the best computer desks is that this desk features a 4-port USB hub that makes connecting devices easier than having them reach down the back of the desk to an outlet.
This desk has a more traditional look that fits in a lot of popular room styles. The Cabot L-Shaped Computer Desk comes in two other finish options besides Espresso Oak: Harvest Cherry and Heather Gray. This desk has great storage and organizational options keeping the work space clean and efficient.
The Cabot L-Shaped Computer Desk also qualifies as on of the best computer desks available today because it is:
Stylish

Note the style of the desk and what it is made out of. There is a stylish glass panel and lovely chrome finished hardware in the form of door handles.

Smart

Note the pull-out drawer that is great for setting up a keyboard or laptop.

Integrated

The 4-port USB hub that sits on the desktop integrates the work space with a well-known necessity, charging ports. In most desks, there are never enough charging ports. Whether it's for a phone, camera, tablet or charging bank, this desk has room for everything without having to use up valuable USB ports on the computer.

Organized:

There are many special allocated spaces to store various items that help keep everything organized, like the small spot for cell phones and several storage cubbies.
Insider tips for the Cabot L-Shaped Computer Desk
The back of the desk is made out of fiberboard, so the desk should be placed against a wall.

It takes on average 2 hours to assemble it with one person.

A power drill and rubber mallet can be used but are not necessary. They just make everything a lot easier.

This desk arrives in two separate heavy boxes.
Check The Latest Price
---
Best Contemporary Computer Desk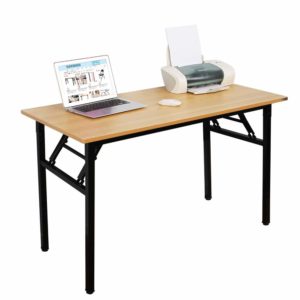 This contemporary particle wood and metal frame desk has a lot of surface work area and is large enough to hold two monitors.

This desk is 55 inches long by 23.7 inches wide and 29.5 inches tall.  It weighs 46 pounds and has a carrying capacity of 900 pounds.

One thing this desk really has going for it is its versatility. This desk can be good for gamers, business office workers, and architects and artists as a draft table.

It has a high gloss finish and is waterproof and anti-scratch.
The Need Computer Desk is contemporary and modern and is a wonderfully versatile desk option.  The clean lines and abundance of surface area make this one of the best computer desks around.
This desk is as simple as it is timeless. It has four legs and one straight flat desktop.  The dimensions are 55 inches in length by 23.7 inches in width and 29.5 inches in height. Though this is not a storage heavy desk, there is still lots of room to hold the necessities like books, computers, a monitor and printer. This desk is great because it is not heavy, weighing in at forty-nine pounds and yet it can hold up to nine hundred pounds!
The Need Computer Desk is made of a panel wood, which is classified as E1 standard particle wood and has a glossy finish and is also waterproof and has a coating made to prevent scratches. It has a heavy-duty powder-coated metal and this strong construction can hold up to around twenty times its own weight.
This desk is very easy to assemble. First unbox the desk and place all the separate pieces out on the floor so they are all visible and accessible. Locate the four legs and the hex key. Attach and install the legs to the top with the hex key. Next adjust the legs with the adjustable leg pads to make sure the desk is stable on the floor it is to be standing on. It has a range of 1-2 centimeters in adjustment. The desk manufacturer recommends adding two bolts for each leg to make it as sturdy as possible.
Insider tips for the Need Computer Desk
The table is very sturdy.

It comes packaged very well.

Simply attach each leg with the included bolts with the included allen wrench. Be careful to not tighten each bolt until all the legs are finger tightened and assembled. At that point, you can then go back and tighten each bolt down.

This desk is easy to clean, and the manufacturer is a great company to order from.
Check The Latest Price
---
Best Mobile Computer Desk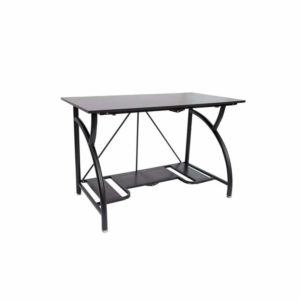 Origami creates foldable and mobile computer desks.  These amazing desks actually come assembled and simply fold out in less than 2 seconds.

The design is created so that the desk can blend well in any environment and just like the company name, the desk does resemble a piece of origami in metal.

The structure is solid and can hold up to two monitors and up to 100 pounds in weight.

This desk is perfect for those looking for the ultimate space saver.

Unfolded, the Origami Desk is 47.2 inches long by 23.6 inches wide and 29.9 inches tall. It weighs 38.3 pounds.

Folded, the Origami desk is 6.25 inches wide and 23.6 inches deep and 51 inches in height.

It is constructed with a steel frame and has the patented Origami Connection Clip which supports the desk's stability.

The Origami is durable enough for everyday use.

It has a removable table top.

Utilizes the patented Origami Connection Clip to ensure stability.

The desk does fold completely flat.

It has integrated shelves.
This compact and mobile desk by Origami is one of the best computer desks because it does what it was designed to do, and it does it well.
The Origami Foldable Computer Desk is a pretty simple desk in practice, however, it does have some unique features. This desk has a flat desk top and the most notable feature is that is folds in half with one motion and can be stored in a very narrow space.  The desk has a weight capacity of 100 pounds. This means it could easily hold a tv or two monitors or dozens of books. And even though the desk can hold a lot, it only weighs 38 pounds.
The folding and unfolding feature is very simple, in order to unfold the desk, you grab each side and move them away from each other. It is very much like a folding chair. Once you have it set on its legs, then latch the clamps on each side. Next, attach the desktop by sliding it onto the stand. All the latches are very secure, and they prevent the desk from collapsing.
This desk is perfect for those who live in small spaces and allows them to set up the desk when they need it and take it down when they do not.  It's also works well for housing gaming systems and work files.
Insider tips for the Origami Foldable Computer Desk
This desk was created to be effortlessly comfortable and functional.

The Origami computer desk opens and folds in seconds.

It typically arrives on time and requires no assembly.

This desk is very durable.

The Origami computer desk keeps the CPU tower safe by design.

This desk is very sleek and, surprisingly, there is ample leg room.
Check The Latest Price
---
Enough About Desks, What About You?
The best computer desk in the store or on-line can easily become the worst if it doesn't fit your space, your needs, and even your body type. Many of us have never really thought about how to select and purchase the right desk for ourselves. Unless you worked in the Human Resources or supplies area for a business, you probably only remember the teenage desk you had that your parents bought for you. Maybe you bought a new desk once or twice in your life but most of us don't usually get to select our own desks enough times to properly experience finding the best desk type through trial and error.
This means that a thorough understanding of yourself and some time given to research will go a long way in helping you find the best computer desk for you!
The first question to ask yourself is: what space are you buying this desk for? Do you have an office away from your home that this desk will be going to or is this for your home office? Determine which room and area the desk will stay in permanently. Many cases of buyer's remorse stems from buying the wrong desk for the wrong room.  What works in one location doesn't work in another.
Next, examine your needs. How do you need the desk to function? Are you a gamer who takes long beta testing jobs and needs a desk that accommodates with comfort and side holsters for drinks and notepads? Or maybe you're an architect who needs a large usable surface area able to hold blueprints and large format drawings. Need is the best driver for ultimate satisfaction with your purchase. The desk needs to work for you.
Another factor to consider is your body type. Many people don't realize that different desks fit different people's body types differently. A small person trying to work with an over-sized business professional desk will feel very differently about that desk than a large man who requires lots of space.
On the other hand, a large person forced to work at a tiny desk without leg room and other accommodations, will grow uncomfortable and this will affect their ability to focus while working at the desk.
After giving attention to these three areas of consideration, then an examination of the desk's aesthetics can be performed. First, determine if the desk will be used to receive clients or personnel at any time. Knowing how far you can express yourself through your furniture choices is wise.
Next, think about colors and themes that inspire you and motivate you. With the Internet today, you can find almost anything in any design you prefer. Do you like classic dark wood desks with a very professional feel or do you require a light and bright environment for creativity and energy? Maybe yellow drives you and keeps you moving forward.
There are people who like a sterile white and clean environment to work in and with metal desks, there are many options available to these people that present the types of clean lines and uncluttered appearance that allows for their minds to work.
Whatever motivates and energizes a person is very specific to that person. That is where aesthetics comes into play. Aesthetics is concerned with the appreciation of beauty and it is extremely important. In fact, the aesthetics of a person's desk is probably the biggest thing about the desk that brings the person joy about the desk.
However, aesthetics is such an overwhelming experience for the user that the other needs should be considered and placed first because once aesthetics comes into the decision-making process, it will reign supreme, possibly steering the user away from the perfect desk function-wise because the aesthetics catch the buyer's eye.
Looking at the desks listed in this article. All eight desks are very durable and are great for a variety of uses. They can all be used as basic computer desks. All the desks accommodate at least one pc tower and/or monitor. They can all house enough supplies for basic gaming that would keep most gamers somewhat satisfied. Within these eight desk selections alone, there is enough of a different stylistic difference to satisfy most users.
There are more traditional options like the Tribesigns Computer Desk with Bookshelf, the Simple Modern Style, and the Cabot L-Shaped Computer Desk in Espresso Oak for those traditional users.
There are the modern options for those looking for a desk add-ons and tech centered connectivity, such as the CASIII Height Adjustable Standing Desk Riser, and the Best Choice Products Wood L-Shape Corner Computer Desk, Atlantic Gaming Desk, Origami Foldable Computer Desk, Best Choice Products L-Shaped Corner, and the Need Computer Desk.
All eight of these desks qualify as the best computer desks available today. They are very durable and have a good value for the price.